A long-haul trucker on Sept. 13 became the first South Carolinian convicted of storming the U.S. Capitol during a Jan. 6 attack that sought to prevent Congress from certifying the results of the 2020 presidential election.
Andrew Hatley, of Newberry, pleaded guilty on Tuesday to the federal misdemeanor of "parading, demonstrating or picketing in a Capitol building," a charge that carries up to six months in prison and a $5,000 fine.
"This seems to be the least bad option available," Hatley, 34, told Judge Thomas Hogan in the 30-minute hearing.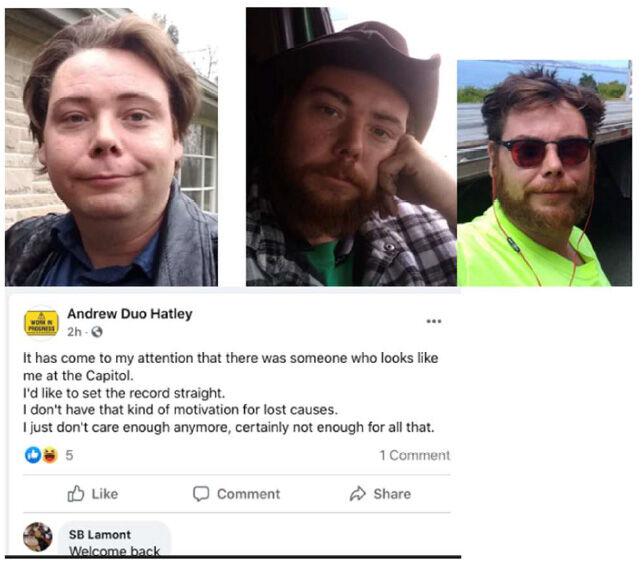 Hatley is one of 10 South Carolina residents prosecutors have charged in connection with the attack. 
Most, if not all, are supporters of former President Donald Trump who traveled to Washington to protest his defeat in last November's election. They subscribed to unfounded conspiracies that strategic fraud in several battleground states swung the election for Democrat Joe Biden.
Hatley was the first from South Carolina to be arrested, on Jan. 19, less than two weeks after participating in the riot at the seat of federal democracy.
Hatley is best known for taking a selfie in front of a statue of former Vice President John C. Calhoun inside the Capitol building. In that photo, Hatley's face is partly visible between a cowboy hat and gas mask.
Judge Hogan said Hatley entered the building by climbing through a smashed window just before 3 p.m. on Jan. 6.
"Obviously, you had to know that was not the proper way to get into the Capitol," Hogan said.
Investigators used those photos, plus cellphone GPS data that pinned Hatley inside the Capitol building on Jan. 6, to file four charges against him for his participation in the riot. Prosecutors agreed to drop three of the four charges in exchange for his guilty plea.
A judge will decide Hatley's punishment later, likely in two or three months.
Hatley's attorney, Joseph Conte, declined to comment after the hearing.
Hatley previously apologized for his involvement.
"I am sorry for everything that happened that day and all the vitriol and division it's caused within our country," Hatley told a Washington judge on July 20. "I feel that it has put us on a bad road that doesn't lead to anything good for anyone."
Nine other S.C. residents face similar charges. They are:
William Norwood III, a Greer man who bragged about assaulting police officers in a family group chat. He was arrested on Feb. 25.
Elias Irizarry, a Citadel cadet from Fort Mill who was photographed inside the Capitol building, prosecutors say. He was arrested in March.
Elliot Bishai, an Army recruit from Fort Mill who stormed the Capitol alongside Irizarry, prosecutors say. He was arrested in March.
Nicholas Languerand, a 26-year-old Little River resident accused of throwing objects at police as they defended the Capitol. He was arrested on April 15.
John Getsinger Jr. and his wife, Stacie Hargis-Getsinger. They were arrested June 15 after storming the Capitol and posting about it on Facebook, prosecutors say.
George Amos Tenney III allegedly stormed the Capitol building with a Texas man. Surveillance footage shows the men scuffling with Capitol police officers during the riot.
Derek Gunby, a 41-year-old Army veteran from Anderson who posted about storming the Capitol on Facebook, investigators say.
James Lollis Jr., a 44-year-old Greenville real estate agent and companion of Gunby who allegedly stormed the Capitol building and taunted police officers.