ISLE OF PALMS — A resident of 23rd Avenue said a coyote recently attacked the family dog and left two puncture wounds on the pet's hindquarters.
A veterinarian gave the wheaten terrier, Stella, a rabies booster shot and contacted the state Department of Health and Environmental Control.
"The Department received a bite report from a local veterinary office on Oct 18, 2017, of a dog that was attacked by a coyote," DHEC spokesman Tim Kelly said in an email. "The animal in question is a pet that was quarantined by the owner and recently released by the department from quarantine. The animal is not suspect  for rabies."
Shannon Nawabi said the quarantine was not a hardship.
"They just said to limit her activity with other dogs. We have five kids, and other pets. It wasn't necessary to keep her from them," Nawabi said.
DHEC did not have an opinion as to whether the animal that attacked Stella was a coyote. The protocol is the same for any wild animal bite if the animal can't be located, Kelly said.
The vet that treated Stella and contacted DHEC did not respond to voice messages seeking comment.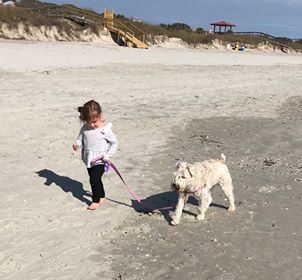 Stella weighs 45 pounds but the coyote appeared to be larger. The coyote and Stella circled, Stella broke away and the coyote chased and bit her, Nawabi said.
"She wasn't hurt too badly, but the encounter was very worrisome," Nawabi said.
Stella's barking in the backyard drew Nawabi's attention to the coyote. She yelled and screamed at the coyote and slammed a deck chair on the porch to make a loud noise but the coyote did not go away.
"It didn't even look at me. It wasn't scared," she said.
Nawabi said she now goes outside with Stella because of the coyote attack.
"She's a little hesitant when she goes out in the yard," Nawabi said.
Her children are ages 2 to 12.
"I tell them they have to go outside with someone," she said.
She has not seen a coyote since the attack on Stella but hears them at night.
"I find scat in the yard regularly," she said.
The backyard where the attack occurred is a 1-acre piece of property on the oceanfront, she said.
Councilman and Mayor-elect Jimmy Carroll said coyotes are probably the toughest problem on the island.
"Co-existing is not going to be the ticket," he said.
He anticipated the city will hold another coyote forum and invite officials from the state Department of Natural Resources. He has had discussions with Wild Dunes homeowners about a coordinated coyote management effort.
"Something is going to happen," he said. "This is going to be at the top of our list."
The city website has information from the Humane Society about coyotes.
"Coyotes are here to stay — it's up to us to find ways of co-existing with them," it says.
Occasional attacks on pets and rare incidents of coyote aggression toward people can trigger fear for the safety of children and pets, the Humane Society says.
In response, communities may initiate wide-scale programs to trap and kill coyotes.
"These killing programs don't work and are inhumane," the society says.
Coyote populations may bounce back quickly.
"It is nearly impossible to completely eradicate coyotes from an area," the society says.
The city has tried trapping coyotes but so far has caught only one. It asks residents to report coyote sightings at (843) 886-6522.
Island animal control services recommends residents who see a coyote make loud noises, throw rocks, wave a broom or make other threatening gestures. Spraying the animal with a garden hose is an option. Garbage should be secured and pet food kept inside. Experts recommend those sorts of measures to co-exist with coyotes.
The Facebook page Isle of Palms Coyote Control Coalition posts photos of coyotes and stories about encounters. Residents have reported missing cats they blame on coyotes. So far, the coalition has collected 244 signatures for a petition urging aggressive action to significantly and humanely reduce the coyote population.
Police received more than 150 reports of coyote encounters from September 2015 to October 2017, according to unofficial sources.
Coyotes have moved into every county in the state and have been reported in urban and suburban areas around the country. In South Carolina, nearly 30,000 are trapped or shot by hunters annually, state officials said.