Updated with funeral arrangements
COLUMBIA — Iris Campbell, a former South Carolina first lady who became an advocate to find a cure for Alzheimer's disease, died Monday night. She was 77.
Campbell died in her sleep after a brief illness at her home in Georgetown County, said Bob McAlister, a former chief of staff for Gov. Carroll Campbell.
The couple married in 1959 after meeting in Greenville while she was working at a drug store lunch counter and he was selling clothing, according to news reports.
She was by his side while Carroll Campbell's parking lot business took off in Greenville, and then his political career blossomed as Republicans grabbed hold of national and Southern offices during the Reagan administration. Carroll Campbell was in Congress before serving as governor from 1987 to 1995. The Legislature remained in Democratic control throughout his tenure, which included landing the BMW auto plant in Greer that cemented his legacy as a job creator in the state.  
"They were a team in everything they did, and accomplished many great things for our state and nation," McAlister said.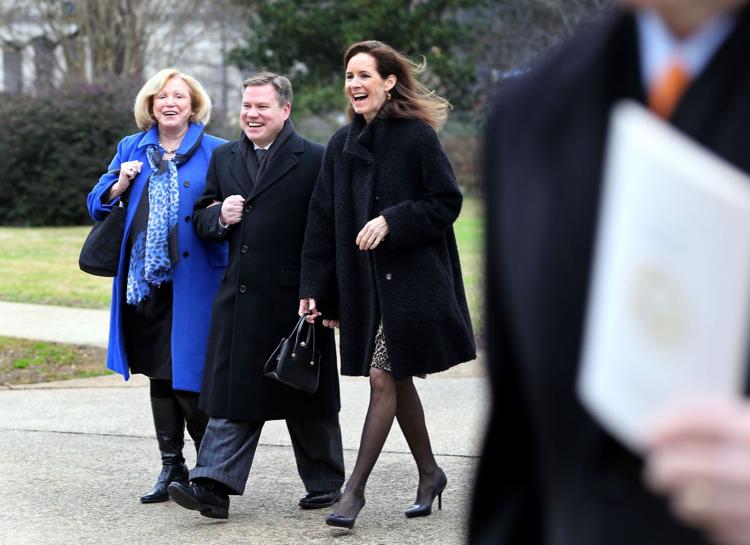 Gov. Campbell passed away after a battle with Alzheimer's in 2005.
"You choose to remember the good times, and that's what I want," Iris Campbell told the Greenville News in 2010. "But I think about it every day, about all these people having to deal with it. And it's so important to me and my boys that we do find a cure."​
She launched a golf tournament to raise money to fight the disease that took her husband's life and spoke at Alzheimer's events.
"Peggy and I are heartbroken to hear of the passing of Iris Campbell." Gov. Henry McMaster said in a statement issued by his office. "We loved her. We were blessed to have called her and her late husband friends, and will miss her dearly. This loss leaves us saddened, but also grateful to know that she is reunited with Carroll and that they are both resting well with their Lord and Savior."
After Gov. Campbell's death, GOP politicians sought her endorsement, especially those running for president as they swung through the state with the South's first primary. Iris Campbell backed former Arkansas Gov. Mike Huckabee in 2008, former Utah Gov. Jon Huntsman in 2012 and former Florida Gov. Jeb Bush in 2016. 
She endorsed then-state Rep. Nikki Haley in her successful bid for governor in 2010. Haley honored Iris Campbell during a 2014 ceremony to sign a bill restructuring state government, an effort started by Carroll Campbell. Haley gave Iris Campbell the first pen from signing the bill that created the Department of Administration.
"Mrs. Iris gave her life to the state we love so dearly — serving as Gov. Campbell's greatest adviser, supporter & fan," Haley tweeted Tuesday. "Michael & I will be forever grateful for her kindness & wise advice. While we will always miss her, we can smile knowing she is alongside her sweet partner again."
Her survivors include two sons, Michael and Carroll Campbell III, and four grandchildren.
Visitation will take place from 4 p.m. to 6 p.m. Sunday with the funeral at 11 a.m. Monday, all at All Saints Episcopal Church in Pawleys Island. She will be laid to rest beside her husband in the church cemetery. The public is invited.