COLUMBIA — An 11th South Carolinian has been charged with storming the U.S. Capitol building on Jan. 6 as part of a violent mob that sought to prevent Democrat Joe Biden's certification as the winner of the 2020 presidential election.
Paul Colbath of Indian Land bragged to friends and family about participating in the Capitol storming before later professing remorse to an FBI agent, according to charging documents.
He appeared at the federal courthouse in Columbia on Oct. 28 to face four misdemeanor charges in connection with the riot at the seat of U.S. democracy. Magistrate Judge Shiva Hodges released him on a $25,000 bond after a brief hearing in which Colbath appeared in shackles.
Colbath joined the ranks of more than 650 people across the country who have been arrested in connection with the Jan. 6 riot. More arrests are expected as federal agents follow up on hundreds of thousands of tips, review thousands of hours of video footage and use GPS technology and cellphone signals to track down members of the mob.
Already, the 10-month investigation is one of the largest criminal probes in American history.
Most, if not all, of the South Carolinians charged with storming the Capitol were supporters of then-President Donald Trump who believed his unfounded claims that the 2020 election was stolen, court documents and social media postings show.
They trekked to the nation's capital that day to take part in a "Stop the Steal" rally where Trump and his allies spoke. Afterward, tens of thousands of people from the agitated crowd marched on the Capitol, overrunning the limited police force that guarded it and poured into the building.
At the front of the pack, rioters battered police with sticks, batons, flagpoles, even crutches — anything they could get their hands on. Tear gas and other chemical irritants filled the air. Members of Congress and Vice President Mike Pence fled the House and Senate chambers, returning hours later to certify the election. 
Most of South Carolina's 11 defendants, including Colbath, haven't been charged with assaulting police. Colbath, like others arrested before him, told the FBI he followed the crowd into the building and left after witnessing violence and vandalism.
The first state resident arrested after the riot — long-haul trucker Andrew Hatley of Newberry, has pleaded guilty and awaits sentencing. At least three others plan to follow suit in the coming weeks, according to their lawyers.
Just one so far has rejected a plea deal offered by prosecutors. William Norwood III, a Greer man who was arrested after bragging to his family about assaulting officers at the Capitol, is ready to take his charges to trial early next year, his attorney told a Washington, D.C., judge earlier this week.
According to charging documents, investigators became aware of Colbath's participation in the riot on Jan. 11. A tipster contacted the FBI and reported Colbath had been boasting to family and friends about storming the Capitol.
When the FBI interviewed Colbath on Jan. 22, his tone had changed. He told an agent he entered the building through an open door but decided to leave after seeing a broken window and vandalism. Colbath told the agent it "felt good to get this off his chest" and he "felt guilt about his participation" even though he didn't think he committed any crimes, according to charging documents.
The agent later reviewed Capitol surveillance footage and identified Colbath in the mass of bodies flowing through the building's hallways.
Colbath's case will be transferred to Washington, where the rest of the Jan. 6 cases are being handled.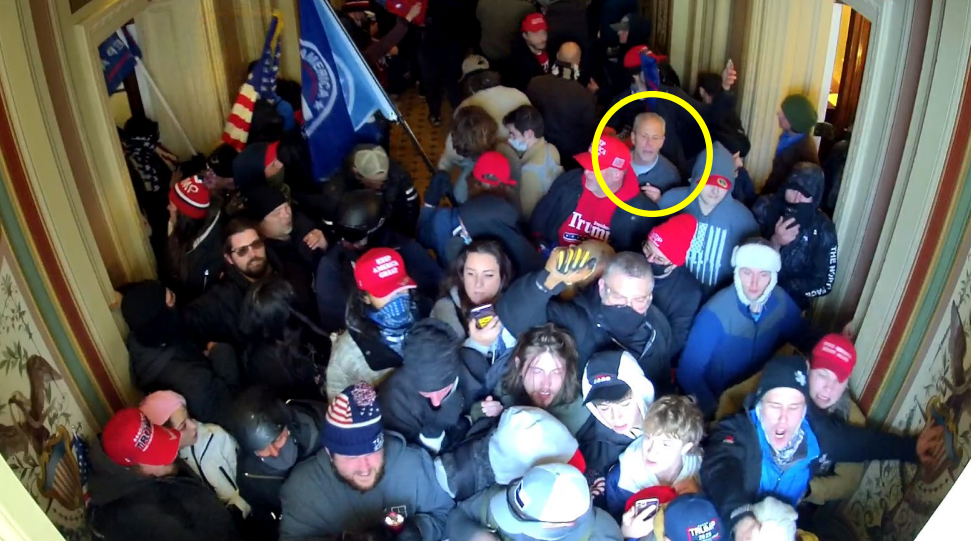 In addition to Colbath, Hatley and Norwood, South Carolina's other Capitol defendants are:
Elias Irizarry, a Citadel cadet from Fort Mill who was photographed inside the Capitol building, prosecutors say. He was arrested in March.
Elliot Bishai, an Army recruit from Fort Mill who stormed the Capitol alongside Irizarry, prosecutors say. He was arrested in March.
Nicholas Languerand, a 26-year-old Little River resident accused of throwing objects at police as they defended the Capitol. He was arrested on April 15. His lawyer has indicated he plans to plead guilty.
John Hubert Getsinger Jr., a 52-year-old Hanahan man who is accused of storming the Capitol with his wife and boasting about it on Facebook. His lawyer has said he plans to plead guilty.
Stacie Ann Hargis-Getsinger, his wife. Her lawyer has said she plans to plead guilty.
George Amos Tenney III, a 35-year-old Anderson man who is charged with storming the Capitol and assaulting police officers inside.
Derek Cooper Gunby, a 41-year-old Anderson man accused of storming the Capitol and posting videos of himself talking about it on the D.C. Metro.
James Douglas Lollis Jr., a 44-year-old Greenville real estate agent charged with storming the Capitol alongside Gunby. He was arrested in September.
All but Languerand have been released on bonds as their cases play out.