Spotting a dead wild hog along the road in the Francis Marion National Forest isn't too unusual. Finding it shot is.
The carcass dumping puzzles and frustrates state wildlife officers, who say it's a recurrent problem.
Awendaw Fire Chief Michael Bowers came across a shot hog carcass recently on Seewee Road. After he posted a photo on Facebook, he heard from others in the Awendaw area who have found them, including one posting saying a few of the carcasses were tied together.
"They're killing them and just dumping them there," Bowers said.
Dumping game just doesn't add up, said John Fuss of North Charleston, who regularly hunts the Francis Marion. Wild hogs, some of which carry a bloodline back to those that escaped when South Carolina was still a colony, are reclusive and tend to stay back in the swamps.
"I am out there a lot and don't see it," Fuss said. "The hunters chasing pigs are not shooting them to let them go to waste. I don't know anybody who would go through the trouble to move any pig they did not intend to bring home."
The sloppy hunting is not unheard of, said Lt. Angus McBride, of the S.C.Department of Natural Resources. The department responds to one or two cases per year of littered animal carcasses. McBride also said he doesn't know why anyone would do it.
"I don't know why someone would kill something and not harvest it," he said. "When you kill something and leave the entire animal by the side of the road, that's unethical and it gives a bad name to hunters and the sport."
It's illegal to transport, sell or donate the live animals, McBride said. Kills can be field dressed and the remains disposed of away from public roads, but dumping them is a type of littering.
Fines are assessed by weight, and if enough carcasses are found, the S.C. Department of Health and Environmental Control gets called in because they are considered a health hazard. Then the fines become very steep.
The shying hogs are hard enough to come across as it is, so finding one along the road is unusual.
This year, a few more sightings — dead or alive — have been turning up. A poor nut crop, which is part of their food, has combined with rain to nudge the hogs farther out on the edges of the wetlands.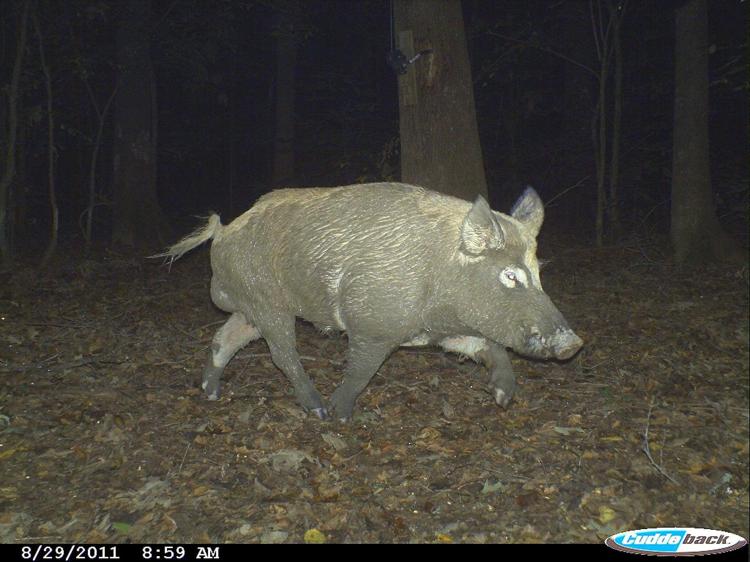 Bowers said he's seen a few on the road. Jeff Watson, an Awendaw Fire Department engineer, watched a sow and piglets cross the swampy Ashley River Road recently.
The sightings "very well could be related to the above normal rainfall and various flooding events we have seen since late summer. This would push hogs to higher ground where they are typically not found, giving the appearance that there are more hogs," said Charles Ruth, DNR assistant wildlife chief.
Along with that, there's just more hogs than ever out there.
More than 140,000 feral hogs now root in the riverlands across the state, based on a 2016 population estimate by Clemson University and the fact that a sow can breed some 30 piglets per year. They can be found in every county, despite tens of thousands being taken by hunters each year.
Clemson researchers also estimated the damage they do to agriculture, livestock and timber at some $115 million per year.
If you live near a swampy area and get enough rain, they could turn out on your yard to munch, as West Ashley residents and others found out in 2015.