In the most significant election upset in South Carolina, suburban Charleston communities that supported Donald Trump in the 2016 presidential election on Tuesday denied his staunch supporter Katie Arrington a seat in Congress.
In vote-rich Mount Pleasant, where Trump won all but three of 39 precincts in 2016, Democrat Joe Cunningham won 21 precincts Tuesday. Arrington, a state lawmaker, carried only half the precincts Trump had won there.
Cunningham, a 36-year-old lawyer, eked out a victory in his first run for office, with just over 4,000 votes ahead of Arrington in a race where 286,125 votes were cast.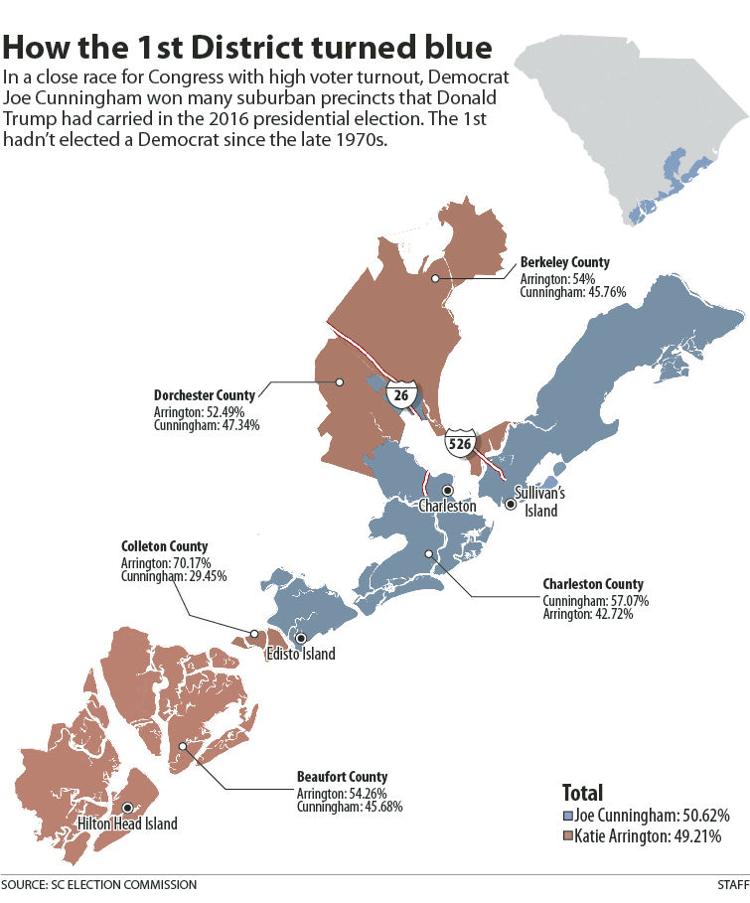 In West Ashley, also in suburban Charleston, Cunningham captured a dozen precincts that were Trump red two years ago. On James Island, Trump won seven of 20 precincts in 2016, but on Tuesday, Arrington won just two.
Citadel political scientist Scott Buchanan said Charleston Republican voters did not seem happy with Arrington, whether it was because she defeated incumbent Republican Rep. Mark Sanford, or because she backed offshore drilling at one point. The same issues dulled her expected leads in the other counties in the district, he added.
"She veiled herself in the cloak of Trump," Buchanan said. "I don't think she connected that well with supporters."
Arrington defeated Sanford, the former South Carolina governor and incumbent Republican congressman, in the primary election, partly by accusing him of not supporting Trump enough. In the GOP-leaning 1st District, where no Democrat had won since the late 1970s, she tied her candidacy to support for the president.
The congressional race, like many contests across the nation Tuesday, was seen by many as a referendum on Trump's presidency and drove larger-than-usual numbers of voters to the polls, from both major political parties.
"I think we took things for granted," said Luke Byars, a Republican political consultant based in Columbia who has worked on a number of statewide campaigns. "The Democrats were out for blood."
Voters in South Carolina don't register by political party, so it's not possible to say how many Republicans may have voted for Cunningham. In at least 33 suburban Charleston precincts that Trump carried in 2016, Republican Henry McMaster won the most votes for governor, but Cunningham received the most votes for Congress.
Who turned out to vote, and who stayed home, was the key.
As the 1st District extends down the coast from Charleston it includes just one polling place in Colleton County, serving the town of Edisto Beach and some unincorporated areas. That precinct had the highest turnout in the 1st District, with 75 percent of registered voters casting ballots, the majority of them for Arrington.
"People were very impassioned about this election," said Edisto Beach Mayor Jane Darby. "We have a very responsible, educated populous, and they are going to get out and vote."
Cunningham made much of his opposition to offshore oil exploration, during the campaign, which won him the support of the Republican mayor of Isle of Palms. But that issue didn't put most barrier islands in his camp.
"Our whole economy is based around being a marine environment," Darby said. "We also have a large Republican base."
More than 70 percent of Edisto Beach voters went for Arrington. She also won Seabrook and Kiawah islands, all three precincts on Isle of Palms, and most of those on Hilton Head.
Sullivan's Island, which was long home to Sanford, went for Cunningham. On Folly Beach, where Trump won the two precincts in 2016, Cunningham picked up both.
Turnout in 1st District precincts, by county:
75%, Colleton County
58%, Beaufort County
55%, Charleston County
51%, Berkeley County
50%, Dorchester County
When the votes were all counted Cunningham carried 50.62 percent of the vote to Arrington's 49.21 percent, with all precincts reporting the still-unofficial results. 
The Republican-leaning district runs up the coast from Hilton Head to McClellanville and inland through parts of Berkeley and Dorchester counties, avoiding some of the more Democrat-heavy parts of Charleston County. It's a congressional district with a population that, as a group, is much wealthier and better-educated than South Carolina, and it's full of people who recently moved in from other states.
"One of the things we're seeing in post-election surveys is that suburban areas swung heavily for Democratic candidates compared to 2016," said Jordan Ragusa, political science associate professor at the College of Charleston. "College-educated women, in particular, seem to have been decisive."
Across the state, turnout in South Carolina was the highest for a midterm election since 1994, when voters were asked to decide if their county should ban video poker machines. Voters generally turn out in lower numbers for midterm elections, compared to presidential elections.
Nearly 55 percent of South Carolina voters cast ballots this year, 11 percentage points higher than the 2014 midterms that included races for U.S. Senate and governor. The election drew 1.7 million South Carolina voters, a state record for a midterm and 455,510 more than four years ago.
Gibbs Knotts, professor and chairman of the Department of Political Science at College of Charleston, said it's also important to remember how many people didn't vote.
"We saw the long lines, but it's really all relative," he said. "Less than half the eligible people — eligible (to vote), not registered — are participating in elections, despite all that's at stake."
York, Lancaster and Horry counties saw the state's biggest increases in voters this year, just ahead of the counties that make up a bulk of the state's 1st Congressional District.
York County, a Charlotte suburb, and Horry County, a retiree-rich area with the Grand Strand, are among the fastest-growing regions of South Carolina. A Lancaster County native, Democratic state Rep. Mandy Powers Norrell, was running for lieutenant governor.
"We're getting so many more people coming from Charlotte, and the people jumping over the North Carolina line are more likely to vote since they're higher income and college educated," Winthrop University political scientist Scott Huffmon said of York County. Plus, the county is home to a large Sun City retirement community.
The Upstate, centered in Greenville, also saw above-average boosts in midterm voting this year, growing by about 40 percent over 2014. The region is known as the state's Republican hub, where they would listen to the calls from the president to vote in the midterms, Huffmon said.
"This is where the local divisions of the Trump super fan clubs are located," he said.
The rise in voter turnout for a midterm could reverberate through to the next presidential election when Trump is planning to seek re-election and U.S. Sen. Lindsey Graham is expected to seek another term.
"We're going to shatter more records in 2020," Huffmon said.