BENNETTSVILLE — As she passed the sign welcoming her to the prison, the inmate's wife gripped the steering wheel and said a silent prayer.
Jenice Green, 35, eyed the walls of the penitentiary where her husband, Barry, was incarcerated. She asked God to help her find patience.
"I try not to bring my day to him. ... I have to say, 'Jenice, this isn't about you; it's about Barry' ... and what he needs that day," she said. "It could be a laughing buddy; it could be a listener. He may want me to be his wife."
During these twice-weekly visits, the two discuss all things big and small. Like how their 6-year-old, Jezziah, is doing in kindergarten or about the most recent movie that Green saw alone. This is how it has been since the two married almost three years ago, right before he was locked up.
Green pulled into the parking lot of Bennettsville Federal Correctional Institution, their daughter sitting quietly in the back.
With her husband behind bars, Green has had to strike a delicate balance, as both a spouse to someone she can't be with outside prison walls and, at least for now, as a single mother.
Green is one of thousands of people whose spouses are incarcerated in South Carolina. Of the 19,198 prisoners in state facilities, the S.C. Department of Corrections said, about 6,335 are married. The same figure for federal facilities is not tracked by the Bureau of Prisons, officials there said.
While about 30 percent of inmates in the state's custody are married, few resources are available for spouses on the outside trying to navigate their new normal.
Some national support groups bill themselves as a communal space for inmates' spouses and families, but Green needed something closer. She needed someone nearby who could empathize with her situation — someone who could offer emotional and social support amid difficult circumstances.
While parenting programs are available in certain facilities, none help married couples and families learn to cope with the jarring adjustment of living apart, state and federal prisons officials said.
"My husband was like, 'Well, if we can't find ... resources to help us,"' she recalled, "'maybe we're meant to be the blueprint ... to help families who are going through the same thing.'"
So that's what they did. Green formed a support group of her own to help other South Carolinians in the same predicament.
Early struggles
When Jenice and Barry Green said "I do" he was staring down a possible federal prison sentence that could span decades for possession with intent to distribute cocaine.
It was July 2015, and the newlyweds knew they didn't have much time.
In the three months between the wedding and the start of his sentence, the couple planned out how they could remain together while they were apart.
He was taken into custody in October 2015. With a plea deal, he avoided an anticipated lengthy sentence and is expected to be released by 2021.
The days and nights they once spent together were replaced with emails, 15-minute phone conversations and visits spent talking to each other in a sterile visiting room.
Soon after her husband was sent to prison, Jenice Green found herself with no job, no income and no partner. And in January 2016, she and her daughter no longer had a home.
The mother couldn't continue to afford the Florence apartment where she lived with her daughter. They stayed with friends for more than a year before finding a new place in Bennettsville — where her husband is serving time — about a year ago.
Green was still regaining her footing when she formed the nonprofit Love Beyond Bars with the help of her church and a local state representative, Bennettsville Democrat Pat Henegan.
The group was formed under the Marlboro County Coordinating Council, which Henegan oversees, in August 2016 and has since expanded with support groups in Columbia, Dillon and Florence. Green said she aims to host three fundraising and networking events annually — events for felons, holiday gatherings for families with an incarcerated loved one and group outings, to name a few.
"Just because a person does something wrong doesn't mean the whole family should be punished for it," Henegan said. "I just felt strongly that her baby should be able to ... know she was loved by a group of people."
As far as Green knows, hers is the only official support group for spouses of prison inmates, save for a sparse number of online forums and communities.
500 miles
Tyrus Pope met Green through church and later became involved with Love Beyond Bars.
Unlike Green, Pope's husband was already in prison when they tied the knot.
Both wives, who have known each other about four years through church, have struggled with similar experiences.
Pope, a Florence resident, had known Antoine Jeffrey Pope on and off for about a decade. They met when they both lived in Maryland, she said, and were casual friends. But they had lost touch over time.
Tyrus Pope took a job as an assistant in the medical ward at a Maryland federal prison in mid-2015, she said.
She didn't know it then, but Antoine Pope was serving time there for felony weapon possession.
"We hadn't talked for years," she said.
She noticed him within weeks of going to work at the prison. Other inmates kept telling him about the new medical assistant in the ward, but it took him weeks to work up the courage to introduce himself, she said.
When the two former friends saw each other for the first time in years, her eyes locked on his.
"I think we knew without ever saying we knew," she said.
Pope was his supervisor, but the two never had any interaction beyond what was required of their duties, Tyrus Pope stressed.
"I could be in my office and hear his voice, and an ease would come over me," she said. "I started to feel something that I knew would compromise my job. I dare not allow my heart or my feelings get in the way of employment or stability to take care of myself or my family."
By the end of that year, she left and ultimately relocated to Florence.
Almost immediately after moving, she and Antoine Pope began exchanging letters. Their mutual feelings became clear as they wrote and talked on the phone.
"There was anxiousness and fear and so many unanswered questions," she said. "Who could I talk to about this? People are going to think I'm crazy. Nobody to get advice from, nobody to listen."
They had been corresponding for less than a year when she went to see him last summer at the Maryland prison. He proposed to her during visiting hours.
"Boy, you have lost your damn mind," she said as she burst out laughing. 
In federal prisons, inmates must ask the facility's warden for permission to wed. The spouse who isn't incarcerated must also verify in writing their intent to marry the inmate, according to the guidelines.
As she ruminated over her own doubts and the negative reactions she foresaw from others, it would be three months before the two would marry.
Tyrus Pope considers her wedding day among the happiest of her life. Yet, keeping a marriage afloat with a man she's never dated, kissed or spent quality time with outside prison walls is often "gut-wrenching," she said.
Being more than 500 miles apart, she said they're able to visit maybe once a month. The relationships she has formed within Green's support group, she added, have been a crucial part of her life.
"A lot of (us) lack that support. I try to ... be that support," she said. "A lot of the families don't understand or their friends don't understand and think they're crazy for sticking by someone who's serving time."
Her husband is expected to be freed in January.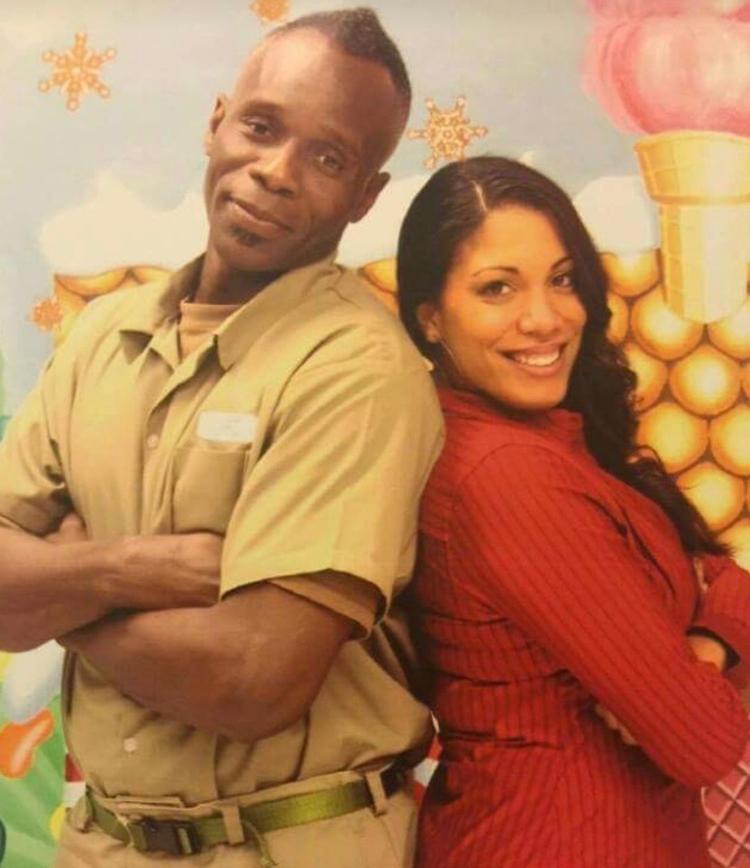 A reminder
On a recent Friday evening in her cramped two-bedroom Bennettsville apartment, Green and her daughter sorted through a pile of letters whose envelopes bear the return address for a federal prison.
It's the first time she has looked through the letters in more than two years.
Sticking out is an ad for a suit, cut out from an issue of GQ magazine.
"This is how I want to be dressed when I'm released!" her husband wrote on the clipping.
In the first two years of her husband's prison sentence, Green would clutch each letter to her chest after reading them over and over, desperate to feel closer to him.
Now, older letters sit in a drawer in her bedroom. For the most part, she avoids rereading them.
They remind her of all the time left before they're reunited outside prison walls.