MOUNT PLEASANT — As commutes that usually take minutes stretched into hours Tuesday, state officials developed plans that would keep at least part of a Wando River bridge on Interstate 526 closed for several weeks to come.
While the extent of damage that prompted Monday's shutdown of westbound I-526 was not yet clear, the resulting traffic problems are likely to stretch longer than a matter of days, high-ranking government authorities said. The sources spoke on condition of anonymity because the state Department of Transportation had not yet announced a plan to fix a break in one of eight main cables that help tie the bridge together.
Travelers on Tuesday saw no easy way around the mess. Parents fought traffic to drop off schoolchildren. Workers bemoaned being hours late. Paramedics struggled to navigate clogged streets and deliver patients to hospitals.
Mount Pleasant resident Mason Riley's commute from his Old Village home to Blackbaud on Daniel Island is usually a breeze. On Tuesday, the 11-minute trek was 90 minutes.
"I don't think there's a way to plan," Riley said. "What are you gonna do? Unless you have a helicopter or a boat, you're sort of left to the roadways that we have."
But Riley said he expected the headache to last only a few days.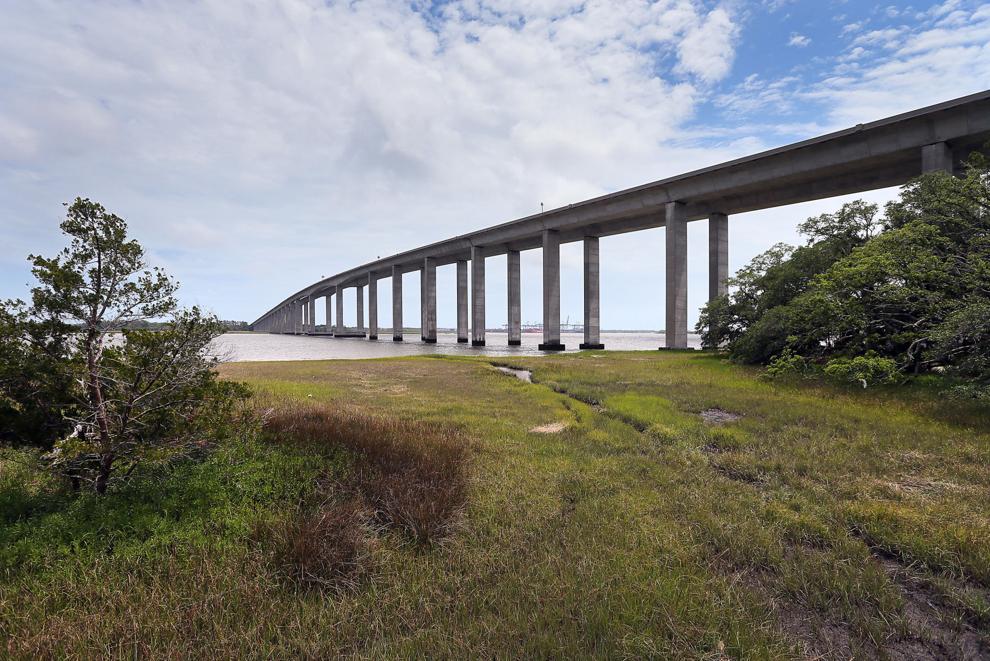 DOT Secretary Christy Hall declined to confirm a timetable that would lengthen the closure, adding that a more certain outlook should emerge during a briefing set for Wednesday afternoon. But she said the state has asked engineers to come up with several options, including reopening only portions of the bridge or shifting traffic to the opposite lanes while repairs are done.
"The request we've made is not only for the immediate short term but to look at ... the longer duration," she told The Post and Courier.
Workers have been carefully inspecting the James B. Edwards Bridge since October 2016, when a damaged cable linking its concrete segments was found, state officials said. More than a year after that, they were still limiting tractor-trailer traffic on the two spans that make up the bridge and working to shore up the road's long-term safety.
Though the bridge's design has garnered criticism since its construction nearly 30 years ago, federal inspection data had shown only minor deterioration, putting the span in fair-to-good condition. It was functional, and it was expected to remain that way "for many more decades," Hall said.
But as part of the increased scrutiny, a weekly review revealed another snapped cable Monday morning near the same spot of the 2016 discovery, prompting the latest closure. What caused the break was not clear, but officials said water had seeped into the structure and caused some corrosion.
The DOT will likely pay for the repairs with federal money, Hall said. That won't require taking any money away from existing projects.
The agency recently learned it will receive an additional $34 million through the spending bill that Congress passed in March. How much of that would be needed for repairing the bridge is unknown.
"We don't know how much the repairs will cost yet, but this is the first place we will look to for funds," Hall said.
A thorough evaluation of the problem was slated to last until Wednesday afternoon, but DOT officials acknowledged early on that a fix could take longer than a few days. That largely depends on whether they find more damaged cables, said Senate Transportation Committee Chairman Larry Grooms, R-Bonneau, whose district includes Daniel Island.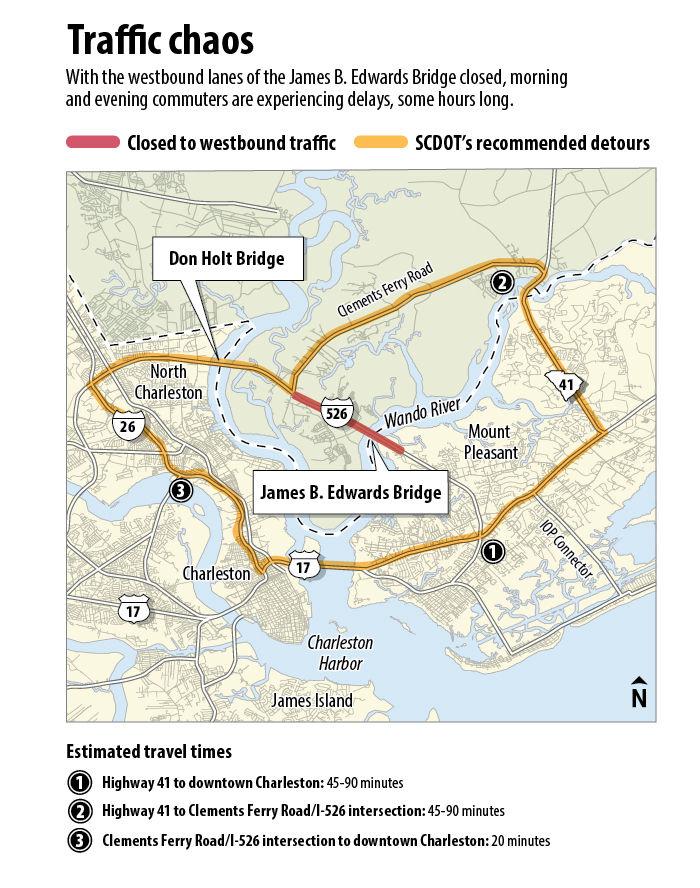 The work is going on mostly unseen; the cables run through the hollow interior of the 1½-mile-long bridge's many concrete sections, where engineers and inspectors can walk.
While the eastbound side of the twin spans is still open, traffic headed toward Charleston from Mount Pleasant was diverted to southbound U.S. Highway 17 and to westbound Clements Ferry Road through Daniel Island, choking both arteries during Tuesday's rush hours.
Throughout Tuesday, travelers reported 45- to 90-minute journeys from Highway 41 south to downtown Charleston — a trip that usually averages about 20 minutes. Taking the northward route wasn't much different.
'Inconvenience for everyone'
Charleston and Mount Pleasant sit at a confluence of rivers, and bridges are crucial to transportation in the region. Residents are accustomed to trouble when they go offline for hours or days, often during wintry weather.
But the prospect of dealing with a lengthier traffic nightmare is daunting to some.
Theresa D'Alessandro planned Tuesday for a two-hour commute from Mount Pleasant to downtown Charleston, where she delivers goods for a bakery, after getting to work hours late the day before.
"It was really frustrating because we have two bridges to get anywhere, but we have plenty of townhouses," she said. "I just feel like the infrastructure is not matching what our community is doing right now."
Some buses serving schools in Mount Pleasant and a magnet campus in North Charleston ran late by a half-hour or more on Tuesday, when students were taking state standardized tests.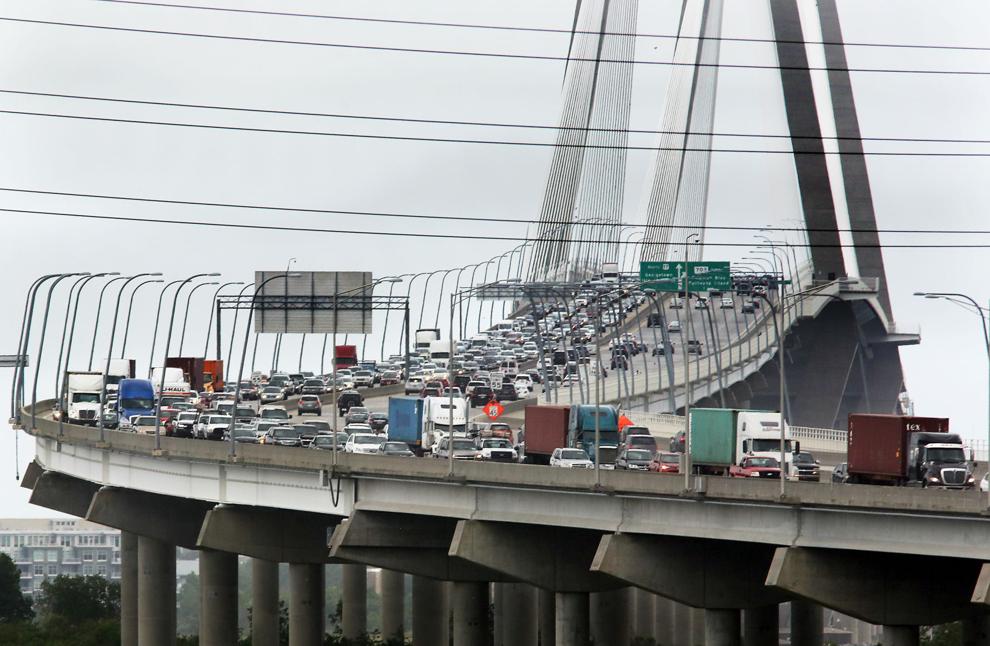 Mount Pleasant Mayor Will Haynie urged the town's largest employers to give workers flex time. Daniel Island businesses also considered adjustments. Police officers were controlling traffic lights at major intersections.
Haynie made a trip to Columbia on Tuesday and met with Gov. Henry McMaster at the Statehouse.
The governor said afterward that the state's response is at "maximum velocity." McMaster has told S.C. Department of Public Safety Director Leroy Smith to deploy all available resources to the Charleston area to mitigate the traffic problems, he said; the number of troopers patrolling the area was later increased from 20 to 32.
"We're in constant communication," McMaster said. "We want to be sure that people are inconvenienced as little as possible and that we have no tragedies connected with this."
Haynie said the governor had offered more help, such as penning executive orders and seeking federal aid. Local governments often seek federal reimbursement for emergency traffic dilemmas.
"It is an inconvenience for everyone, and nobody likes that," Haynie said, "but public safety must come first."
'So many vehicles'
Even narrower roads that offer alternative routes to Highway 17 through Mount Pleasant were jammed.
But the traffic on Mathis Ferry Road has been good for Arthur Brown's roadside fruit and vegetable stand, Ruke's, which he runs next to Holy Trinity AME Church. More customers were stopping to buy zucchini, squash, sweet potatoes and tomatoes.
"They see the stand, so they stop and buy supper to cook when they get home. We had a lot of extra people in here," Brown said Tuesday. "I just sold all the watermelon yesterday afternoon with that traffic."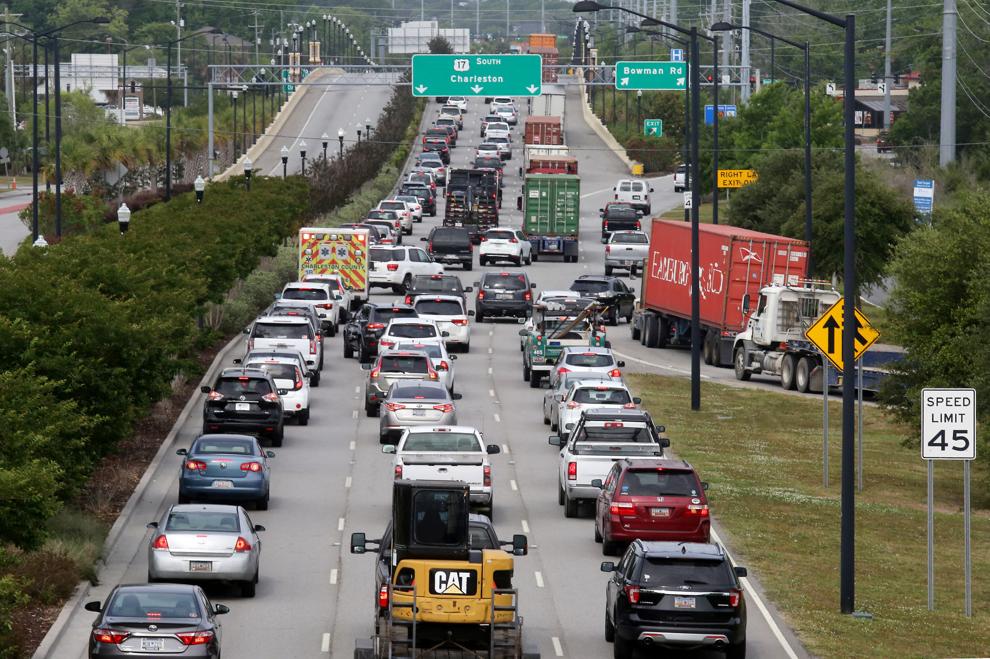 Like Brown, some made the most of it.
After Daniel Island resident Sara Jenkins dropped off her daughter and son at Palmetto Christian Academy in Mount Pleasant, she expected the normal 10-minute drive home to last nine times that. Instead of sitting in traffic, she stayed in town and spent time at Starbucks before retrieving her children early.
She rented the "Peter Rabbit" movie for the 8- and 11-year-olds to watch in the car.
"It's one big, huge inconvenience, obviously, but it makes you grateful for when it will be open," Jenkins said. "I told my kids, 'You know what, we can't change it. Let's make the best of it.' "
Others were growing frustrated.
As the Palmetto State grapples with a rapidly expanding population, McMaster acknowledged that infrastructure will continue to be a significant challenge.
"We know we need more roads," he said. "We need to fix the roads. We need some new roads. We need transportation in order to prosper."
But some residents' patience was wearing thin.
Melissa Killion enjoyed an easy morning commute from Goose Creek to her work at a Mount Pleasant eye clinic off Long Point Road. But she dreaded going home, she said as she fueled up her car Tuesday.
Killion has seen the Charleston area swell with people in recent years. Some two-lane roads she knew during her childhood are now four lanes.
And sometimes that's still not enough.
"There's so many vehicles," she said. "I'm telling my husband, 'Let's look for something out in the country.' I'm over it."