Florida braces for one of the largest and most far-reaching storms in the state's history as the latest forecasts show Hurricane Irma veering northwest while tropical storm and storm surge warnings go up in South Carolina.
At 11 p.m. Saturday, Irma was a category 3 hurricane and moving along the north coast of Cuba at about 6 mph. The storm is expected to make landfall in Florida early Sunday. 
The storm's path made another shift toward the west as of the update Saturday night and was about 90 miles from Key West.
"Irma (is) taking its time moving away from Cuba," the National Hurricane Center in Miami said in its update. "Life-threatening storm surge expected in the Florida Keys and the wet coast of Florida."
More than 50,000 people in Florida are seeking shelter in schools, community centers and churches as record-setting hurricane nears the Sunshine State.
The government-sponsored shelters were open Saturday as officials warned 6.3 million Floridians to evacuate. Those with nowhere to turn headed to the shelters while others sought lodging at hotels or with friends and family.
Forecasters expect Irma's core to come ashore Sunday and strike the Keys, southwestern Florida and the Tampa Bay region, which hasn't felt a major hurricane since 1921.
At 11 p.m., Irma's maximum winds had increased slightly to around 120 mph, with hurricane-force winds extending outward from the eye for 70 miles.
The U.S. National Hurricane Center's latest forecast — which still can change a bit and has a margin of error of dozens of miles — projects Irma's potent eye to make three landfalls into Florida.
#Irma, seen here in this #GOES16 geocolor loop from this afternoon, is now 125 mi. SE of Key West. Latest info @ https://t.co/cSGOfrM0lG pic.twitter.com/QwLqwnYnnD

— NOAA Satellites (@NOAASatellites) September 9, 2017
South Carolina and Lowcountry impact
In the Palmetto State, a storm surge warning was in place from the South Santee River south to the Georgia border, the National Weather Service's Charleston office said. A tropical storm warning was in place for the entire area as well.
Peak wind speeds of 30-40 mph and gusts up to 55 mph are expected in the Lowcountry early Monday morning and into Monday evening, the Weather Service said.
More: What the Charleston area can expect from wind and flooding through Monday from Hurricane Irma
Storm surge of 4-6 feet above ground may happen beginning Sunday evening, the Weather Service said.
The main threat in the Lowcountry is coastal flooding from the likely combination of high seasonal tides and Irma's rain.
"Hurricane Irma is expected to move northwest near the west coast of Florida and through western Georgia through Tuesday," the Weather Service said. "Irma is a large hurricane and will produce far-reaching effects regardless of where the exact center of the storm moves. Sustained category 1 hurricane-force winds are possible near the coast northward to around Edisto Beach."
But other areas in southeast Georgia and South Carolina could see sustained tropical storm-force winds, the Weather Service said.
"Life-threatening inundation from storm surge is likely in vulnerable areas near the coast, mainly south of Isle of Palms," the Weather Service said. "Water levels will produce flooding around the times of high tide, with the highest water levels expected around the Monday afternoon high tide."
The Weather Service also issued a flash flood watch for parts of South Carolina and Georgia effective early Sunday night through late Monday night. In South Carolina, the impacted counties are Allendale, Beaufort, Charleston, Dorchester, Colleton, Jasper, Hampton and Berkeley.
Approximately 44,457 South Carolina residents are affected by the evacuations that went into effect Saturday morning on barrier islands in Beaufort, Colleton and Jasper counties, with the vast majority on Hilton Head Island.
Georgia
Forecasters said Irma could cause widespread damage in the state from storm surge near Savannah to toppled trees and power lines far inland in Atlanta.
Only coastal Georgia was under evacuation orders, even as Irma's center was forecast to pass 100 miles or more inland. Regardless, tropical storm winds from Irma were expected to reach the coast early Monday.
The National Weather Service said southeast Georgia could see 8 to 15 inches of rain, with Irma spreading lesser amounts of rainfall into portions of Alabama, South Carolina, North Carolina and Tennessee.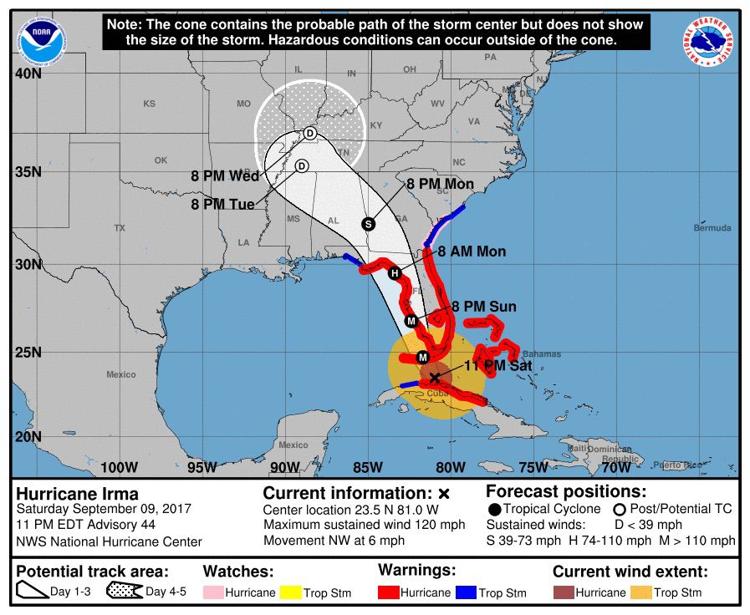 The Associated Press contributed to this report.