Hurricane Irma continued to weaken at 11 p.m. Sunday in west central Florida. Winds had dropped to 100 mph.
With the storm now forecast to stay over land, National Hurricane Center specialists expected the winds to drop to 75 mph, minimal hurricane strength, by Monday morning before the core of the storm crosses the Florida-Georgia border.
By Monday night it's forecast to be a tropical storm crossing the Georgia-Alabama border near the Florida panhandle.
But that doesn't change the forecast for South Carolina much.
"Irma continues to have a large wind field, and exceptional hurricane-force wind gusts are still occurring well to the east of the center along the Florida east coast," said specialist Robbie Berg. 
Irma is a large hurricane, and hurricane-force wind gusts and sustained tropical-storm force winds extend far from the center. Wind hazards from Irma will also spread northward through Georgia and into portions of Alabama, Tennessee, South Carolina, and North Carolina," he said.
South Carolina residents braced for the possibility of tropical storm force winds, and the certainty of heavy rain and flooding on Monday, with gusts that could reach 60 mph. National Weather Service, Charleston, meteorologists upped previous rainfall estimates to 4 to 8 inches.
The weather service said the period of strongest winds, and tropical storm conditions, will last through Monday afternoon, especially near the coast south of Edisto Beach. Gusts could be about 60 mph. Winds and squalls will fade quickly Monday night.
Tornadoes are possible until later in the day Monday, said weather service meteorologist James Carpenter. In Myrtle Beach, gusts as high 41 mph were expected; in Columbia, 44 mph, Greenville, 50 mph and Aiken 55 mph., according to weather service offices.
Storm surge and high tide on Monday could top 9 feet, Carpenter said. King tides are 6.6 feet; tides above 8 feet are capable of undermining buildings and causing serious erosion. The high tide Sunday afternoon in Charleston Harbor rose to 7.39 inches.
Hurricane Irma made landfall Sunday afternoon at Marco Island, Fl. At 5 p.m., the storm's core was five miles north of Naples, Fl., still spinning out dangerous 110 mph winds.
Flyers were distributed in Charleston by city staff on Sunday afternoon urging residents to consider leaving if they are in an area that floods. Heavy rain, high winds and storm surge are expected, particularly Monday from 10 a.m. to 4 p.m., the flyer said.
Meanwhile, a second shelter was set to open 5:30 p.m. at 3841 Leeds Avenue in North Charleston, down the street from a people-and-pet shelter at 3765 Leeds Ave. The second shelter will not accept pets. 
Buses to take people to the shelters are stopping at pre-designated locations listed in the Charleston County Hurricane Guide. The buses will run until 8 p.m. Sunday night and start up again at 8 a.m. Monday, unless storm conditions won't allow for it.
Mount Pleasant public safety officers also went door to door to warn people in flood-prone areas of the city, according to a resident. Earlier, people living along French Quarter Creek in Berkeley County were urged to relocate by emergency crews going door to door.
Gov. Henry McMaster cautioned South Carolinians not to grow complacent despite forecasts shifting Hurricane Irma away from the state.
"As you can tell, this is a serious storm," McMaster said Sunday at the South Carolina Emergency Operations Center. "Fortunately it's not hitting us like we thought it might, but it is still hitting us, and it will hit hard."
President Donald Trump called McMaster from Camp David on Sunday and reiterated that he would provide anything South Carolina needs to handle Irma's impact, the governor said.
McMaster continued to urge any residents in evacuations zones on barrier islands to get out, though he acknowledged there is only so much the state can do.
"As they say, you can take a horse to water, but you can't make him drink," he said. "With the high winds and flooding, it's a dangerous situation… It's not too late to go, and it's time."
The state has now opened 11 shelters for evacuees, including those coming up from Georgia and Florida. Even though the 264 evacuees in those shelters as of noon Sunday is well below the capacity of 7,127, the state will open 12 more shelters tonight, bringing the total to 23 with a capacity of 13,000.
To assist with local law enforcement efforts, the state has now activated 529 national guardsmen, 89 state guardsmen, 100 state troopers and 121 members of state law enforcement agencies.
South Carolina Adjutant Gen. Robert Livingston said the state would be sending 650 troops from an infantry battalion and transportation company to assist in Florida.
Traffic levels on South Carolina roads have returned to pre-storm conditions, "if not lower," said state Transportation Secretary Christy Hall. The only exception is I-20 from Augusta, Ga., where flows have increased as evacuees flee to South Carolina.
"But even with those numbers, it's flowing very well," Hall said.
Hall expects to close some movable bridges later today as winds increase, and they are keeping an eye on others that may need closures later, like Charleston's Ravenel Bridge.
Attorney General Alan Wilson said there have been 250 price-gouging complaints, "considerably less" than in similar past events. Those complaints will be evaluated after the storm passes.
Because of the change in the storm's path, Office of Regulatory Staff director Dukes Scott said electric utilities may now be releasing some crews to help with the efforts in Georgia and Florida.
The creek is a tidal stream in Huger that flows into the East Cooper River. With storm surge, the high tide Monday could rise to 9 feet or more.
During Hurricane Matthew in 2016, more than 60 people in the community had to be moved out by county emergency workers. During the historic 2015 flood, U.S. Coast Guard helicopters had to rescue several residents.
"If people choose to stay, law-enforcement and rescue personnel may NOT be able to get them during the height of the flooding," county staff said in a Facebook post.
Stronger gusts blew across the South Carolina coast Sunday afternoon as Hurricane Irma began to pull winds into the region. Forecasters expected the winds to rise to tropical storm force through the night and into Monday.
Rain was expected to move into the region Sunday night.
At 2 p.m. Irma's strongest winds began to wrack Naples, Florida as the storm closed to within 35 miles of the Gulf Coast city. The winds had stepped up to 120 mph, making the storm again a Category 3 storm capable of catastrophic damage. The hurricane had slowed a bit, moving north through the Gulf of Mexico at 22 mph.
In Charleston, inland gusts on Sunday afternoon were in the range of 25 mph, and a 45 mph, tropical storm force, gust had been recorded over water. National Weather Service, Charleston, forecasters were calling for winds to reach 30 to 50 mph with stronger gusts in the coastal region of the state as the storm moves into and through Georgia.
But even as the gusts blustered, Charleston area residents settled back with a typical Sunday quiet. A couple on a motorcycle towed camping equipment down Dorchester Road through Dorchester County— toward Charleston, not away. The man at the wheel didn't want to talk, he said.
"I've been riding all morning. But yeah, I'm headed back home," he said before pulling into a subdivision.
In the Murray Hill community in North Charleston, Tony Bookard was out in the yard.
"I think all we're going to get is the water and the wind," he said.
Announcing itself with roaring 130 mph winds, Hurricane Irma plowed into the mostly emptied-out Florida Keys early Sunday for the start of what could be a slow, ruinous march up the state's west coast toward the heavily populated Tampa-St. Petersburg area.
"The most important thing is to pray for us," Gov. Rick Scott said on NBC.
The National Hurricane Center in Miami said the center of the massive hurricane made landfall on Cudjoe Key in the lower Florida Keys at 9:10 a.m. with top sustained winds are 130 mph. Forecasters say a gust of 106 mph was reported on Big Pine Key.
More than 100,000 people were estimated to be huddled in shelters statewide. Florida utility officials said more than 1 million customers have lost power.
While the projected track showed Irma raking the state's Gulf Coast, forecasters warned that the entire Florida peninsula — including the Miami metropolitan area of 6 million people — was in extreme danger from the monstrous storm, almost 400 miles wide.
Irma was at one time the most powerful hurricane ever recorded in the open Atlantic with a peak wind speed of 185 mph last week. It left more than 20 people dead across the Caribbean and as it moved north over the Gulf of Mexico's bathtub-warm water of nearly 90 degrees, it was expected to regain strength.
Meteorologists predicted Irma would plow into the Tampa Bay area Monday morning. The area has not been struck by a major hurricane since 1921. Forecasters warned of storm surge as high as 15 feet.
Hurricane Irma became tied for the seventh strongest storm to make landfall in U.S. history by a key measurement of atmospheric pressure.
Irma made landfall with a minimum central pressure of 929 millibars. Atmospheric pressure is one of the major measurements meteorologists use to describe storms. The lower the pressure, the stronger the storm.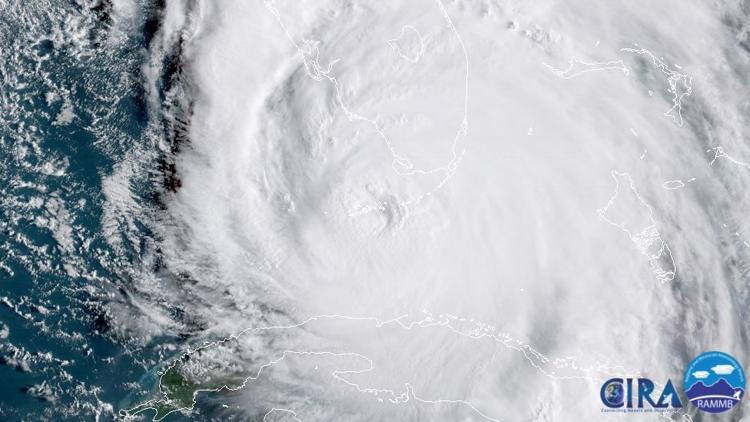 South Carolina and Charleston area
The Charleston area is under a tropical storm warning and storm surge warning from the National Weather Service, meaning dangerous conditions could develop. As a result, many businesses and popular attractions are shut down today, and residents and visitors still in the Charleston area are advised to watch weather conditions closely.
Wind gusts could reach 34 mph Sunday, strong enough to move objects left outside or bring down tree limbs. Tropical storm conditions are possible Sunday night. The chance of rain Sunday night is 90 percent, with up to three-quarters inch possible.
NEW: Explained - What the Charleston area will experience from wind, rain and storm surge
The chance of rain Monday is 100 percent, with up 2-3 inches expected. Tropical conditions are not only possible but expected Monday, according to the weather service. A flash flood watch is in place for Sunday evening through Monday.
The heavy rain combined with high winds could cause widespread flooding Monday, especially around high tides. A flash flood watch has been issued for Sunday night through Monday night.
High tide in Charleston Harbor is just before noon Sunday, just before midnight Sunday and shortly after noon Monday.
As late as last Thursday night, the path that the National Hurricane Center was projecting for Irma went straight through South Carolina. The projection shifted significantly west Thursday night and even more so Friday and Saturday. But the storm is hundreds of miles wide, and its path remains uncertain.
Irma is expected to hit the west coast of Florida as a Category 4 hurricane Sunday morning and continue up the coast through Georgia, passing by Charleston Monday night.
This story will be updated throughout the day.
Dave Munday and The Associated Press contributed to this report.