At 11 p.m. Thursday, Hurricane Florence had weakened to Category 1 hurricane with 90 mph winds off the North Carolina coast.
The storm continued creeping at 6 mph to the northwest. Federal forecasters expected it to turn overnight to move more westward then begin to crawl down the coast toward the South Carolina-North Carolina border, where earlier forecasts suggested it would move inland on Friday.
But federal meteorologists couldn't rule out that Florence might make landfall farther south. Three computer models still indicated the storm would straddle the South Carolina coastline before turning in closer to Charleston.
"While that is not shown by the official forecast, it cannot yet be ruled out as a possibility," said National Hurricane Center specialist Robbie Berg.
Florence was 50 miles south of Morehead City and 60 miles east southeast of Wilmington. Its wind field continued to span 80 miles at hurricane force and 195 miles at tropical storm force.
The North Carolina coast was getting hammered. A wind instrument at Fort Macon, in Atlantic Beach outside Morehead City, was registering 77 mph winds and gusts near 100 mph, according to Charleston-based meteorologist Shea Gibson, of the private companyWeatherFlow.
The National Weather Service reported a storm surge of 10 feet in the Neuse River near New Bern.
A flare-up of thunderstorms before 7 p.m. Thursday, stirred by the warmer waters of the Gulf Stream, had meteorologists watching to see if the already dangerous storm regained any strength, but the 8 p.m. National Hurricane Center advisory kept its winds at 100 mph, a Category 2 hurricane.
By Tony Bartelme, Andrew Knapp and Chloe Johnson tbartelme@postandcourier.com aknapp@postandcourier.com cjohnson@postandcourier.com
Earlier, tropical storm warnings were issued for Charleston, Berkeley and Dorchester counties Thursday afternoon.
A warning means those conditions can be expected within 36 hours. Tropical storm winds are 39 mph or stronger. The Weather Service office in Charleston called for 35 to 45 mph by Friday morning, with gusts up to 55 mph.
The main threat for most of South Carolina continues to be flooding rains as the storm moves across at least the upper portions of the state on Saturday and Sunday, as well as river flooding later in the week.
Bands of torrential rain associated with #Florence are expected to move into the Charleston tri-county area Friday, peaking Friday night into Saturday. @NWSWPC has that area outlined in a Slight to Moderate risk for excessive rainfall. #scwx #chswx pic.twitter.com/lXR2aNRCM9

— NWS Charleston, SC (@NWSCharlestonSC) September 13, 2018
The area of greatest concern for river flooding will be the Pee Dee River basin, said Alvin Taylor, S.C. Department of Natural Resources director.
"It will have the greatest rainfall over the shortest period of time," he said. That plus downstream flow from North Carolina could cause problems, as the Little Pee Dee and Lumber rivers did after Hurricane Matthew in 2016, when inland Horry County towns flooded.
The Great Pee Dee "takes a lot of water from a lot of different rivers. It is the most vulnerable," Taylor said. After that, the Catawba and then the Edisto River basins are priorities. But he said that may change once the rain starts falling, as his agency will get real-time information.
"At the end of the day, it depends on how much rain falls in one particular area," Taylor said.
On Thursday afternoon, the Hurricane Center advisory estimated the Pee Dee region in the northeastern part of South Carolina could see anywhere from 20 to 40 inches of downpour. The rest of the state could see anywhere from 6 to 12 inches.
The hurricane was 100 miles east southeast of Wilmington, North Carolina, and 155 miles east of Myrtle Beach. It had lost a little more strength but was still a Category 2 storm capable of extensive damage.
At 5 p.m. Florence had slowed to a crawl and maybe stalled, an expected development.
The storm was forecast to stall off North Carolina near the South Carolina border, raking the coast before making landfall. The area of uncertainty for landfall still extended over most of the South Carolina coast because the storm could drift south before coming in.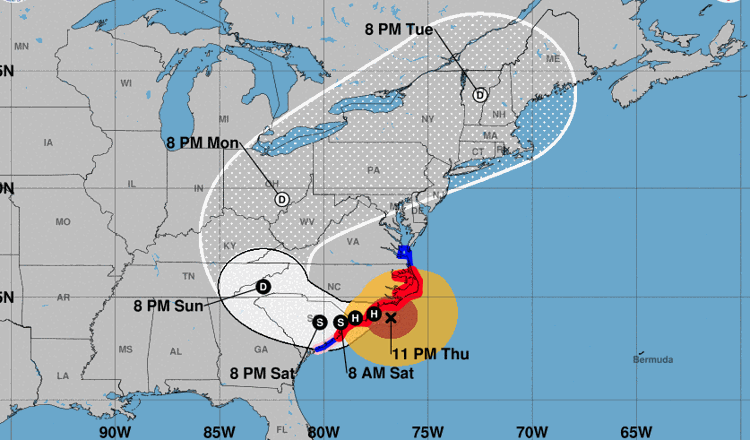 By Jamie Lovegrove jlovegrove@postandcourier.com
The Hurricane Center forecast track called for Florence to diminish to a tropical storm by early Saturday after landfall, said Hurricane Center specialist Stacy Stewart.
"After landfall occurs, rapid weaning of the stronger inner-core wind field is expected to due land interaction and Florence's slow forward speed," Stewart said.
"However, intense rain bands are expected to develop over the Atlantic waters and keep moving along the coast and inland, likely producing strong wind gusts through Saturday night," he said.
For the Charleston area, once winds hits 40 mph medical services will be off the road or responding only to serious calls. At 50 mph, the vehicles get off the road no matter how serious the call might be.
"If you are frail or you need medical attention, the best thing to do is to not be in the area where the storm is," said Charleston County EMS Director David Abrams. "Be in a place where you can get the services you are accustomed to, for the health and safety of you and your family."
As of Thursday afternoon, there were no plans to close the Ravenel Bridge between Mount Pleasant and Charleston. Isle of Palms doubled police and fire staff on-duty. Mount Pleasant put police on 12-hour shifts.
Charleston Mayor John Tecklenburg cautioned that while Florence had lessened in intensity, it remains a dangerous storm.
"It's been kind of a roller coaster ride, hasn't it?" Tecklenburg said.
The Weather Service in Charleston on Thursday morning called for:
The possibility of tropical storm force winds and/or wind gusts up to 45 to 50 mph over parts of Charleston and Berkeley Counties as early as late Friday morning.
Conditions should gradually deteriorate in regards to showers and a few thunderstorms over the tri-county area Friday afternoon.
Rain around 2.5 inches nudges into the area from the north Friday.
Biggest effect of the storm Saturday into Sunday, rain 2.5 to 3 inches.
More than 10 million people were under hurricane warnings or watches in the Carolinas and Virginia, while Georgia declared a state of emergency as well.
By J. Emory Parker eparker@postandcourier.com
In South Carolina, hurricane warnings extended as far south as the Santee River near McClellanville and hurricane watches as far south as Edisto Beach.
"Aircraft and satellite wind data show that Florence is a large hurricane. Life-threatening storm surge, heavy rainfall, and damaging wind will cover a large area regardless of exactly where the center of Florence moves," said Hurricane Center specialist Daniel Brown.
In Berkeley County, the Charleston area county maybe closest to the threat from the storm's winds and rain, the middle school shelter in Moncks Corner still had plenty of room at midday Thursday. But flooding rains were a concern. Most low-lying tracts of the county were underwater during the historic flood in 2015.
Michelle Ivey brought her six children to the shelter for their safety because she lives in the French Quarter Creek community, where some residents had to be airlifted to safety after a sudden rise in the flood waters swamped homes.
"Rain floods the front yard already," she said.
In the shelter too was rural Cordesville resident Alberta Gadsden, who said she came as soon as it opened and was thankful to be there. When it comes to flooding, her community scares her these days.
In 2016, Hurricane Matthew dumped enough rain to significantly flood Cordesville and put a bridge out of commission that residents rely on to get to and from the community.
"You couldn't get out," Gadsden said. "It took us three days to get out to Moncks Corner."
Meteorologist Jeff Masters, with the private company Weather Underground, said that on Thursday night "Florence will put on the brakes and screech to a halt as the steering currents collapse."
On Friday and beyond, he said, "Slight changes in the balance between these (air pressure currents) guiding the hurricane will make a huge difference in where the hurricane makes landfall. This makes the exact landfall location difficult to predict accurately."
Rain predictions varied. The official Hurricane Center outlook called for anywhere from 5 to 20 inches of rain across South Carolina and anywhere from 20 to 40 inches across North Carolina.
The storm surge could be as high as 4 feet near Charleston, as much as 6 feet in Myrtle Beach and as much as 13 feet in North Carolina.
David, Slade, Andrew Knapp, Seanna Adcox, Paul Bowers and Greg Yee contributed to this report.
Sign up for our daily newsletter
Get the best of The Post and Courier, handpicked and delivered to your inbox every morning.