Hurricane Florence continues to creep toward landfall Friday somewhere in the Carolinas. Nobody is sure yet where.
How close the potentially devastating storm gets to Charleston will mean the difference between a hurricane and a gale in terms of how strong the winds get, how much rain falls and how far the storm surge rises.
A hurricane and storm surge warning was issued late Tuesday for an area from the Santee River near McClellanville, to Duck, N.C., just south of the Virginia border. Warning means those conditions can be expected within 36 hours.
An 11 p.m. update by the National Hurricane Center saw Florence's path shift slightly to the south.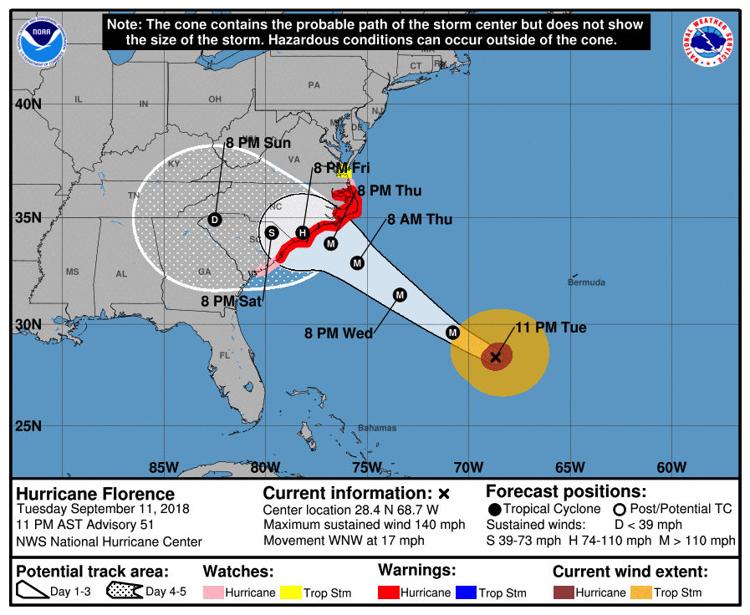 Speaking from the Oval Office on Tuesday afternoon, President Donald Trump said the Carolinas and Virginia have not seen a storm as powerful as Florence in "25, 30 years, maybe ever. It's tremendously big and tremendously wet."
"We're as ready as anyone has ever been," Trump said. "Things can change but we doubt they will at this pretty late stage. We doubt they're going to be very, very far off course."
Forecasters continued to expect landfall along the North Carolina coast, despite some computer model runs that suggested the storm could turn toward South Carolina. What happens after that is still up in the air.
"What is noticeable is that all of the global and regional models are indicating that the steering currents will collapse when Florence is approaching the southeast U.S. coast," National Hurricane Center specialist Stacy Stewart said.
"The weak steering currents are expected to continue through the weekend, which makes the forecast track on days three to five quite uncertain," he said.
If the storm stalls or meanders along the coast, it would bring stronger winds, higher waves and more rain to the Charleston tri-county area for a longer period of time.
Forecasters suggested Florence could drop flooding rains similar to the Hurricane Harvey disaster drenching of last year, bringing far more than 2 inches that had been forecast for the Lowcountry hours earlier.
"Florence is expected to stall and wander near or over the coast for as many as four days, dumping prodigious amounts of rain," said meteorologist Jeff Masters with the private company Weather Underground.
"If a significant portion of the storm's circulation remains over water, as occurred last year with Hurricane Harvey's stall over Southeast Texas — or even if Florence were to move into the higher terrain of western North Carolina and then stall — the rain may break all-time state records for rainfall from a hurricane or tropical storm," Masters said.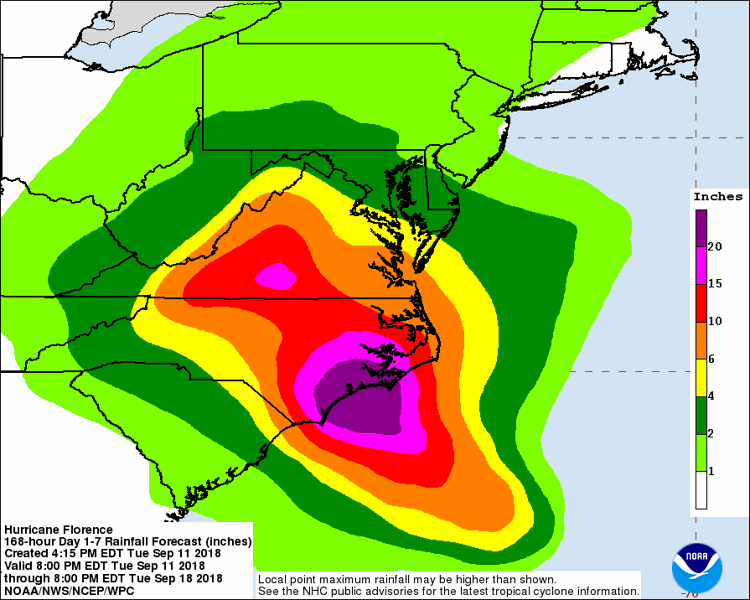 The computer predictions, though, were far from certain. Forecasters have warned they could shift from run to run.
"It's really a dicey forecast right now," said meteorologist Mike Emlaw, with the National Weather Service office in Charleston.
"The model guidance is throwing some very interesting scenarios out there near landfall, which is continuing to create a high degree of uncertainty as to exacts near landfall and just after," said Charleston-based meteorologist Shea Gibson with the private company WeatherFlow.
"There is some inclination that this storm could make its way to the south, but we'll be watching for consistency and error adjustment in the next few runs," he said. "There's just so much uncertainty where it will make landfall and even more uncertainty after that."
Two days before Florence's expected landfall, the average error for a hurricane direction prediction is more than 60 miles.
"We are not out of the cone of uncertainty. Do not let your guard down. It's perfectly reasonable to expect a shift in the forecast track of Florence," added meteorologist Neil Dixon with the National Weather Service office in Charleston.
Storm surge could be 2 to 4 feet on the Charleston-area beaches, in the estuaries and downtown, according to the National Hurricane Center. But it could be as much as 9 feet in Myrtle Beach.
The winds and worst of the surge are most likely to arrive Thursday evening but could start to be felt as early as Thursday morning, Dixon said. High tide would be about midnight.
Rain was a little more problematic. The call is for 2 inches or less in the Charleston area, but that rises to 5 to 10 inches in the Myrtle Beach area along the North Carolina border, where the hurricane will be much closer in making landfall, according to the most recent path.
"Our nearest concern is going to be for flash floods," Dixon said.
In other words, just where the hurricane goes will make a big difference.
On Tuesday, Florence was a powerful Category 4 storm, with 140 mph winds and expected to strengthen nearly to Category 5, becoming a monster with winds of 150 mph or more by Wednesday. Hurricane winds of at least 74 mph extended 60 miles from its center. Tropical storm force winds of at least 39 mph extended 175 miles.
"Florence is still expected to remain a dangerous hurricane through landfall," Stewart said.
The National Weather Service office in Charleston continued to alert of the high risk of dangerous rip currents and coastal flooding through the week, including the effects of the storm.
Gov. Henry McMaster on Monday ordered an evacuation of storm surge and flood-prone coastal areas and ordered the lanes reversed for it on Interstate 26 out of Charleston and U.S. Highway 501 out of Myrtle Beach. Eastbound lanes were closed Tuesday.
McMaster on Tuesday removed the order from the lower part of the coast south of the Charleston area, except for Edisto Beach.
On Monday, cars were lining up at gas stations and stores were seeing runs on storm supplies.
By Tuesday midday, a storm in the far north Atlantic had begun to take on the traits of a tropical system and became one of five storms in the ocean basin that hurricane specialists were watching. The others were Tropical Storm Isaac and Hurricane Helene in the tropical Atlantic and a tropical depression, a weak tropical storm, in the Caribbean Sea.
None of the other four posed any immediate threat to the Southeast coast.
There she is! You can see the relative size of Florence compared to the Carolinas. We'll have an update for everyone with 11am advisory from NHC. pic.twitter.com/dB07RvjKhr

— NWS Wilmington NC (@NWSWilmingtonNC) September 11, 2018
NEW: NOAA's #GOES16 gives an early-morning look at an active Atlantic, featuring #HurricaneFlorence, #TropicalStormIsaac and #HurricaneHelene, today, Sept. 11, 2018. Updates: @NHC_Atlantic pic.twitter.com/GZ5di0wMUI

— NOAA Satellites PA (@NOAASatellitePA) September 11, 2018
Andy Shain contributed to this report.