In the last six years, crashes on South Carolina's roads and highways have claimed the lives of more than 900 pedestrians and bicyclists, making the state's roads among the nation's deadliest.  
A report this year by the nonprofit Governors Highway Safety Association ranked South Carolina as having  the nation's sixth highest pedestrian fatality rate per 100,000 residents.
The report also said the 6,227 pedestrian deaths nationwide last year was the highest number in nearly 30 years.
Faced with mounting deaths, law enforcement officials, transportation safety advocates, politicians and others say more decisive action is needed to fund road improvements, construct bike paths, make streets more walkable and educate the public. 
For law enforcement officers such as Capt. David Singletary of the North Charleston Police Department, the deaths are made all the more tragic by how preventable they are.
"What if they'd have taken the extra five minutes and walked 100 feet down the road and crossed at this well-lit crosswalk," Singletary said. "This person would still be alive today. They'd still be with their family." 
With that in mind, the agency's Traffic Unit will be kicking off a public education campaign at the end of the current school year in June aimed at pedestrians. If an officer sees someone improperly crossing a roadway, the officer will stop and speak to that person, Singletary said.
"Instead of me giving you a ticket for it right off the rip, I'm going to say this is what we're facing out here," he said. "We're getting a lot of pedestrians killed. We're going to educate you that the best place to cross is at a crosswalk, and then (inform you) on the law."
Motorists are only required to stop for pedestrians if that person is already in a crosswalk, Singletary said.
"I think the misconception's out there that the car's going to stop or the car has to stop," he said. "They don't. We're looking at another bad year."
An ominous trend
Between 2013 and 2018, 907 pedestrians and bicyclists have died in South Carolina, and preliminary statistics for the first four months of this year show 60 pedestrians and bicyclists already have died here, according to data obtained from the S.C. Highway Patrol.
In the Charleston area, pedestrian and bike fatalities have occurred in urban centers as well as along rural roads.
The region's first such death happened at 5 p.m. on Jan. 17 at Carner Avenue and Burton Lane in North Charleston. A pedestrian, Sanders Smalls Jr., 66, was struck by a dump truck and died at the scene. 
The tri-county has seen 11 deaths of pedestrians and bicyclists through May 1, according to Highway Patrol statistics. The rate of crashes in the tri-county thus far in 2019 is nearly on pace to match the 35 fatal bike and pedestrian crashes recorded in the area during all of 2018. 
A stretch of Maybank Highway on James Island has been identified by law enforcement and pedestrian advocates as particularly risky.
Its most recent deadly crash happened on Jan. 29 when David Massie, a 36-year-old chef at O-Ku, was struck by a car while walking home from The Charleston Pour House. He died about two weeks later from his injuries.
Massie's death prompted a public meeting in late February held by the city of Charleston and Charleston County planning departments. More than 100 people attended. Many expressed frustration at the slow pace of safety improvements.
So far this year, Charleston is on pace for 21 traffic fatalities overall, said Charleston Police Lt. Matthew Wojslawowicz. That number includes crashes that claim the lives of motorists as well as pedestrians and bicyclists.
"We're not trending in the right direction," Wojslawowicz said. "We're almost double what our 10-year average is."
Berkeley County's first such fatality of 2019 involved a pedestrian.
Anthony Korentae Pinckney, 36, died after being struck by a vehicle around 2:27 a.m. on Feb. 1 at U.S. Highway 52 and Pinetree Drive near St. Stephen, according to the Highway Patrol. 
Dorchester County's only fatality involving a bicyclist or pedestrian happened on March 8 at Hudson and Hopkins roads outside St. George. Spencer Christie, 58, of St. George was biking and was hit from behind by a vehicle, said Dorchester County Coroner Paul Brouthers. 
'A white light moment'
Michael Molony, a Charleston attorney who also serves as a municipal judge, was nearly killed after he was struck by a car while biking on Sullivan's Island on July 3.
"I took a quiet ride that I've done hundreds of times," he said. "As I was riding slowly, I saw a car on the right-hand side, parked on the shoulder. It was in an odd spot."
Molony pulled around the car, which came up alongside him. "I tried to get away, pedaled as hard as I could," he said. "I can't remember if he hit me or if I glanced in front of his car. I came to literally smelling the underside of his car."
The driver, who has not been apprehended, backed up and left the scene. Molony didn't realize at the time, but he was seriously injured. He wasn't wearing a helmet, and his left collarbone and shoulder blade were broken.
Paramedics noted that his left arm was limp and that he'd lost sensation on his left side. A doctor at Roper St. Francis Hospital ordered a CT scan, which revealed a brain bleed.
Molony underwent an emergency craniotomy, and doctors drained about six ounces of blood from his brain. He remained in an induced coma for several days and spent most of July hospitalized. 
He lost vision in his left eye for a time but since regained it. He said he can do pushups again and is mostly recovered.
"I had a white light moment," he said. "My priest came and thought I was gone. It was just miraculous that I lived."
"In a bike accident, you're just completely defenseless," he said, adding he has not been back on a bike so far. "I don't think you should share the road. Bikes should have their own lane."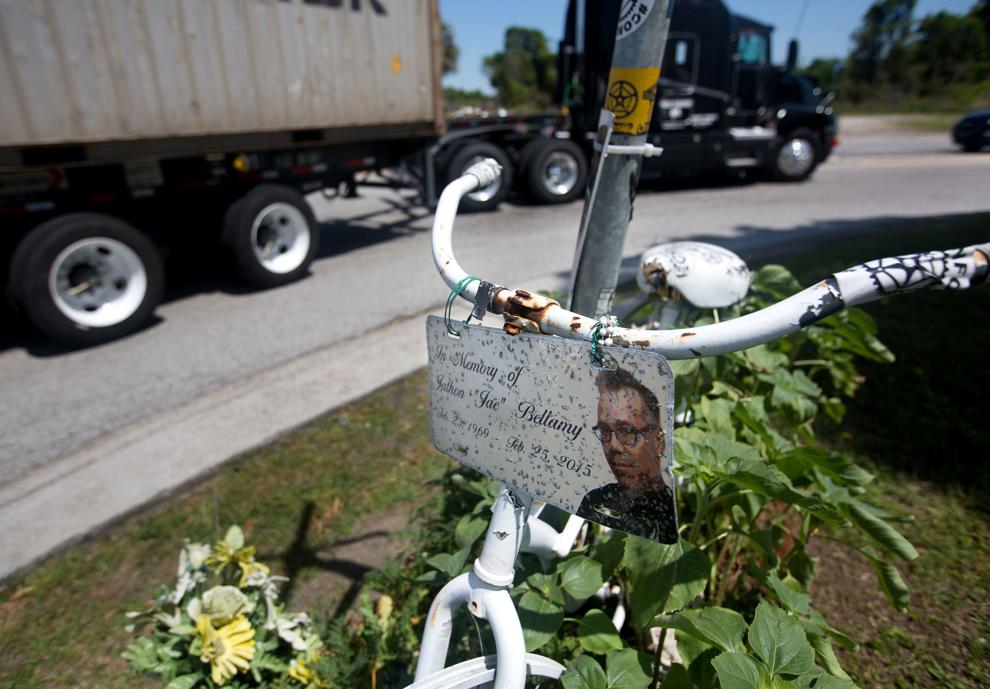 'All about infrastructure'
Throughout South Carolina, law enforcement, the S.C. Department of Transportation, local planning departments, advocates and others have been working in new ways to make roads safer. 
Organizations like Charleston Moves are working with the Charleston Police Department and lawmakers like state Rep. Marvin Pendarvis, D-North Charleston, to identify infrastructure improvements and educate the public.
The Charleston-based nonprofit, which encourages access to, and safety of, biking, walking and public transit, launched a data gathering initiative in February aimed at tracking "close calls" between motorists and people on foot or bicycles that did not result in a crash. 
Charleston Moves shared the data with police to identify areas that may need additional enforcement or infrastructure improvements. The first wave of data gathering was completed in March, and police have asked for more, said Katie Zimmerman, the nonprofit's executive director. 
It will continue to collect "close call" data online through a Google Form and will roll out a paper version for those lacking easy internet access, she said. 
In addition to working with police, the nonprofit is also pushing for critical infrastructure improvements.
Zimmerman said top priority projects include:
A dedicated bike and pedestrian bridge over the Ashley River near U.S. Highway 17.
Improvements to the Northbridge between North Charleston's Cosgrove Avenue and West Ashley's Sam Rittenberg Boulevard.
Improvements to bike infrastructure on the James Island Connector and Wappoo Cut bridges.
Safety improvements to Maybank Highway on James Island.
Improvements to the intersection of Meeting and Brigade streets on the Charleston peninsula. 
"For us, this is all about infrastructure and the fact that we just don't have safe and connected designs for people that aren't in motor vehicles," Zimmerman said. "We're just really lacking in safe and connected infrastructure."
Working together
As groups push for better bike and pedestrian infrastructure, some say a major obstacle lies in who has jurisdiction over South Carolina's roads.  
The highway department owns and maintains more than 41,500 miles of roadway, the fourth largest state road network in the country, said Rob Perry, the agency's director of engineering. 
DOT now has $5 million in additional funding through the Federal Highways Safety Improvement Program to dedicate specifically toward improving infrastructure for non-motorized roadway users, but he said that money only goes so far. 
In South Carolina, about 84 percent of pedestrian fatalities take place at night and 83 percent happen outside of intersections or other designated crosswalks, Perry said.
About half of the nighttime pedestrian fatalities happen on major roads that are four lanes or larger. Making improvements to crosswalks, lights and other infrastructure on those major roads alone would mean projects over 1,439 miles.
"Five million dollars wouldn't come close," he said. "It's definitely a project by project basis. Building a road or even building a sidewalk is not something that happens quickly."
And while advocacy groups have been critical of state transportation officials' perceived reluctance to take on projects, many say they recognize the need to collaborate.
Perry said his agency is encouraging local planning agencies and regional councils of governments to approve comprehensive plans to ensure the process is organized and follows the state's project standards.
For local planning officials like Eric Adams, deputy director of engineering for Charleston County, working together with DOT and concerned citizens is essential.
The county's transportation sales tax program allows for $1 million per year to be spent on bike and pedestrian improvements, Adams said. Officials then choose from projects requested by cities and towns around the county as well as partnering with the department.
"We're all working for the same goals," he said. 
For Pendarvis, part of the solution lies in making sure that "complete streets" are prioritized in the state. Complete streets are those designed for the safe use for all modes of transportation.  
He wrote a bill to require the DOT to "implement a 'complete streets' policy with the goal of improving publicly funded highways in urban areas to provide safe and efficient accommodation for pedestrians, cyclists, and transit riders."
It stalled in a House committee this year. While more than 20 cities submitted letters of support, DOT officials slowed the bill. Pendarvis said their concerns included the possibility that the change would add $40 million in unfunded liabilities to the agency. They also noted they have complete streets language in existing planning and design work.
Pendarvis said he will spend the rest of 2019 working with the department to revise the bill in a way that's acceptable to all parties.
"There was a lot more momentum than I ever expected," Pendarvis said. "This isn't just a Charleston issue. This is a South Carolina issue."