Multiple road closures due to flooding continued Tuesday in the northeast coastal region of South Carolina, as river flooding related to Hurricane Florence made its way to the sea, submerging roads and communities along the way.
Georgetown is bracing for historic flooding as the swollen Waccamaw and Great Pee Dee rivers push toward Winyah Bay. Portions of 10 roads in the Georgetown County were closed in both directions Tuesday due to flooding but U.S. Highway 17 remained open.
"As of 10:24 a.m. on 9/25, Hwy 17, including all bridges are open and we currently have no reason to believe that this will change today," Georgetown County Emergency Management posted on Facebook. "We are monitoring the water level and will work with SCDOT to determine when or if the bridges need to be closed."
Protecting Yourself During a Flood
Many flood-related deaths are caused by people being trapped in floodwaters. As we prepare for historic flooding in parts of Georgetown County and thousands of residents are asked to... https://t.co/BT149Oj72n

— Georgetown EMD (@GCEMD) September 25, 2018
In Horry County at least 50 road closures were in effect Tuesday, including six portions of Pee Dee Highway and multiple locations on S.C. highways 905 and 90. Flooding was widespread in and around Conway.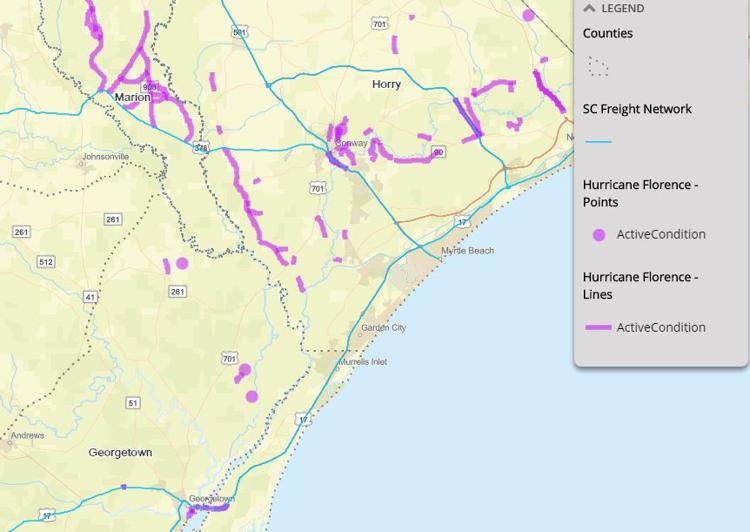 Inland, in areas that were flooded after Hurricane Florence made landfall Sept. 14, Interstate 95 In South Carolina reopened Sept. 21, and flood-related closures of the interstate in North Carolina ended at 10 p.m. Sunday. 
"I-95 is a major artery for North Carolina and the entire East Coast that's essential for commerce," N.C. Gov. Roy Cooper said Sunday night.
Andrew Barksdale, a spokesman for NCDOT, said that voids under the pavement leading to bridges were discovered in some areas after floodwaters receded, and those were filled with a special polyurethane foam in order to get the roads reopened.
North Carolina had about 1,600 roads closures by the end of the weekend when Hurricane Florence arrived, and 354 remained Tuesday. One major road that had been closed, but reopened Monday, was a portion of Interstate 40, a major route to flooded Wilmington.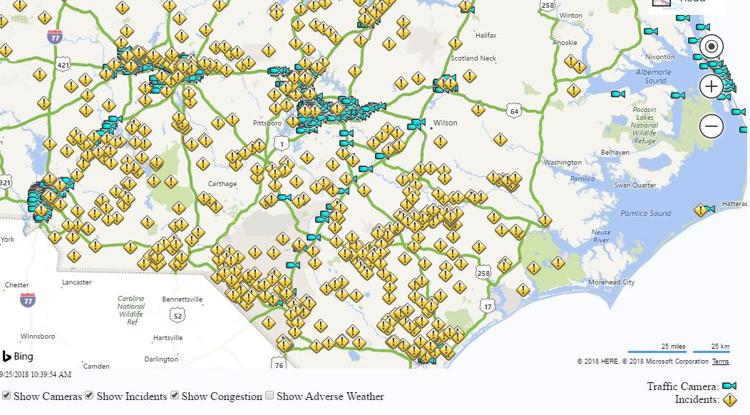 The N.C. Department of Transportation is advising people to avoid travel in nine counties "due to flooding and roads and bridges that have been washed out." The counties are: Bladen, Brunswick, Columbus, Duplin, Pender, Robeson, Sampson, Scotland and Wayne.
Just across the North Carolina border from Horry County, U.S. Highway 76 was closed in Fair Bluff due to flooding on the Lumber River. In South Carolina both the road and the Lumber River run through the town of Nichols, where catastrophic flooding arrived last week.
Barksdale said rivers in North Carolina peaked over the weekend. In South Carolina some have yet to crest.
"We're now going down," he said. "We're not experiencing the same thing you are."