Rain-soaked skies, seas and rivers have pummeled South Carolina for four years running, causing billions of dollars of damage as raging floodwaters swamped homes, gutted businesses and crumpled bridges, roads and dams.
Responding to such emergencies has become a well-choreographed dance, with state and local officials rushing to move people from harm's way, organize relief efforts and restore order.
But when the winds die down and the waters recede, we mostly spend our money rebuilding in the same spots where disasters have struck time and again, with little heed to the lessons learned along the way.
Scant attention is devoted to how we might avert the next catastrophe or whether we need to change the ways we function in a world where "extreme weather" no longer lives up to its name.
Climate change has caused our seas to rise and fueled ever-more powerful storms that hurl massive amounts of water from the oceans and clouds. And while much of our attention has been focused on the fragile coast, South Carolina's inland communities have repeatedly taken a beating, as well, most recently from the trillions of gallons of water dumped by Hurricane Florence.
Consider that the tiny town of Nichols, a 90-minute drive from the coast, sank beneath floodwaters for the second time since Hurricane Matthew drowned the community in 2016. Rebuilding was still under way when Florence caused the nearby rivers to again jump their banks.
Climatologists and risk management experts say South Carolina, like much of the country, is woefully unprepared for these new threats, partly because the resources to help people understand and prepare for flooding are decades out of date.
The Federal Emergency Management Agency's flood risk maps don't consider several key factors, including sea level rise, development trends and extreme rainfall that can exacerbate flooding. Yet they are still the primary guides for how and where homes get built.
Compounding the problem, vast amounts of federal and state money are shoveled into rebuilding in vulnerable places where known dangers exist, at the expense of efforts to safeguard communities against future storms, experts said.
Dale Morris helped form the nonprofit Water Institute of the Gulf in Louisiana after Hurricane Katrina to help communities shield against flooding disasters. Severe weather events are here to stay, he said, and people must begin preparing accordingly.
"The riskiest thing to do is to just spend $50 billion to rebuild what was every time," he said. "That is both a huge waste of tax resources and a huge missed opportunity."
Morris and others argue that communities would be better off investing money in raising homes and roads, constructing flood barriers and buying out properties that flood time and again — strategies that staunch losses and get people out of the path of rising waters. Some communities that have been hard hit by devastating storms, including New Orleans and Houston, are already doing just that.
The city of Charleston has emerged as a regional leader in confronting climate change after superstorms submerged large swaths of the city for three straight years. It is many years — and about $2 billion — from reaching its flood-prevention goals, but the city is still far ahead of most other South Carolina communities, many of which haven't even begun a dialogue on the topic. 
"There is a huge disconnect here," said Robert Hartwig, a former Insurance Information Institute president and chief economist who now teaches finance at the University of South Carolina. "And at the end of the day, Mother Nature will win this battle if communities don't realize and accept what is happening."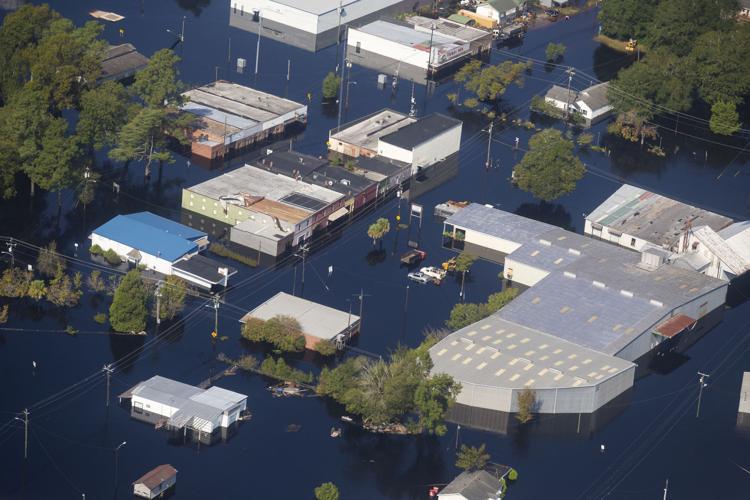 A hard rain's gonna fall
In the historic floods of October 2015, 20 inches of rain fell across the lower half of South Carolina over five days, killing 19 people and overwhelming more than 500 roads and bridges. Dams burst across the Midlands, unleashing torrents of water around the state's capital city.
The Charleston peninsula alone saw roughly 32 billion gallons fall in its streets and yards — more water than what pours over Niagara Falls in an hour.
It was deemed a 1,000-year flood, a freak of nature that couldn't have been anticipated. But Hurricane Matthew inundated many of the same areas just a year later, and Tropical Storm Irma struck another debilitating blow the year after that.
Hurricane Florence, with its slow-burning wrath, seemed to carve a message into the gut of the Carolinas: these storms are not a coincidence, but a new reality.
Florence analysis confirms extreme 3-day rainfall amounts exceeded 0.1% probability event expected in given year, or "1000-year" event. https://t.co/HutR5VaGfb #Florence pic.twitter.com/tRhNl7vobs

— NWS (@NWS) September 20, 2018
Scientists concur. Research shows that a rapidly warming climate allows the atmosphere to hold more water — and then let it fall in record-breaking fashion. Hurricane Harvey in 2017 dropped more than 51 inches in the Houston area — and several different studies concluded the onslaught of rain was brought on by global warming. In August, Hurricane Lane unleashed another 50 inches in Hawaii.
As the epic 2015 downpour in South Carolina showed, it doesn't take a hurricane to cause devastating flooding. If a heavy rain pours for hours or days, there's not enough time for all that water to be absorbed into the ground, especially in developed areas where pavement is more common than open space. Most man-made drainage systems are only engineered to handle typical storms, not biblical floods.
"In most cases, we're not even designing stormwater systems for the 100-year event," said Doug Marcy, a coastal hazard specialist with the National Oceanic and Atmospheric Administration. "If the 100-year event is changing over time, then they're going to become more and more inadequate."
Extreme rainfalls aren't so extreme anymore, Marcy said. The Southeast has experienced a 27 percent increase in the number of downpours since 1958, and they're expected to become even more frequent in the future.
Rivers, ponds, lakes and ditches all help tame a rush of water from above. But with so many people now living in floodplains along the the state's rivers — low-lying places that function as holding cells for excess water when it spills over — there's often not enough room left for floodwaters. It ends up forcing its way onto properties and spreading farther inland.
Entire towns soon turn into bathtubs, with nowhere for the water to go but up.
What could be in flood water? Disease-causing bacteria and viruses, hazardous wastes and chemicals, or dangerous objects like broken glass or tree branches. All can cause serious injury. Avoid flood water and take precautions. https://t.co/UaesdhxPyt #Florence #Flooding pic.twitter.com/E0m6yFLhnV

— U.S. EPA (@EPA) September 18, 2018
Conway resident Emma Williams saw that play out after Florence-spawned floods inundated her community and sent water creeping toward the tidy brick ranch house where she has lived since 1982. Williams, a widow, doesn't want to move from the home where she raised a family. But FEMA officials have warned her that threats from rising water are going to get worse.
"They think this is the way it's going to go now," she said.
She also knows that once the water recedes and life returns to normal, the threat will be easy to forget, the sense of urgency lost.
Up the road in Nichols, residents dug deep into their own pockets to rebuild after a deluge covered the town in 2016. Now, many of those same properties are under water again after the swollen Lumber and Little Pee Dee rivers jumped their banks. Already, there is talk of rebuilding when the waters go down this time.
Some question whether earthen levees, like the Midwest has, might make a difference, or possibly a dam.
David Hunter, who saw water rise into the second story of his home in 2016, isn't sure what might work. The water, after all, must find some place to go.
"They could build a dam," he said. "But then you're going to flood someone else out."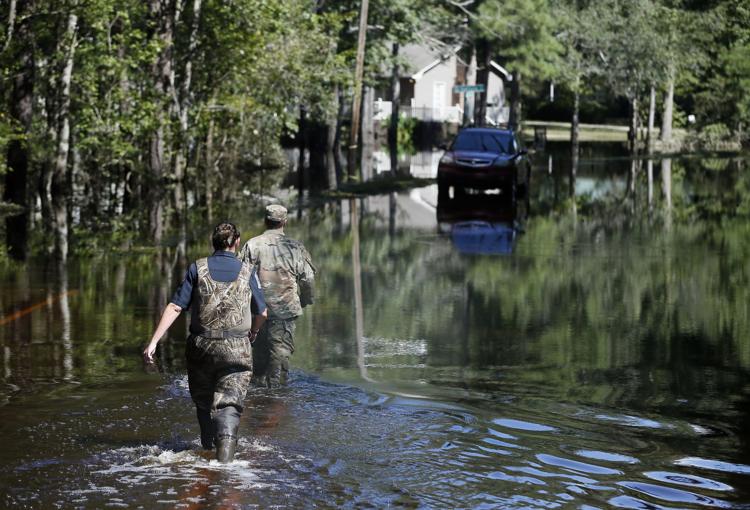 A host of perils 
A number of things make the flooding predicament worse. Government-issued flood maps are notoriously flawed, and the development rules that go along with them aren't enough to keep people above water. 
To be able to sell federally backed flood insurance in their communities, local governments have to enforce minimum standards to make sure buildings are elevated above where the floodwaters are expected to rise.
Those guidelines haven't substantially changed in nearly three decades, despite inadequacies revealed by a host of hurricanes, said Lisa Sharrard, a flood insurance agent in Columbia who worked in floodplain management for decades.  
In Houston, 38 percent of homes that met that region's strictest floodplain requirements were swamped by Hurricane Harvey last year. More than three-quarters would have been spared if those homes had been elevated just one more foot, according to a city report.
Local officials can require developers to build higher or adopt other flood-prevention measures, which earns communities a discount on their flood insurance rates. But many are reluctant to adopt stricter standards, experts said, because they don't want to add to developers' building costs and risk stifling growth, which broadens the tax base.
When changes are proposed, they often face stiff opposition from homeowners, developers and businesses. That has been the case as the state tries to redraw its beach building lines. And FEMA faced strong blowback when it tried to reclassify more Horry County properties as being in flood zones three years ago. But risks linger while these battles rage on, experts warn.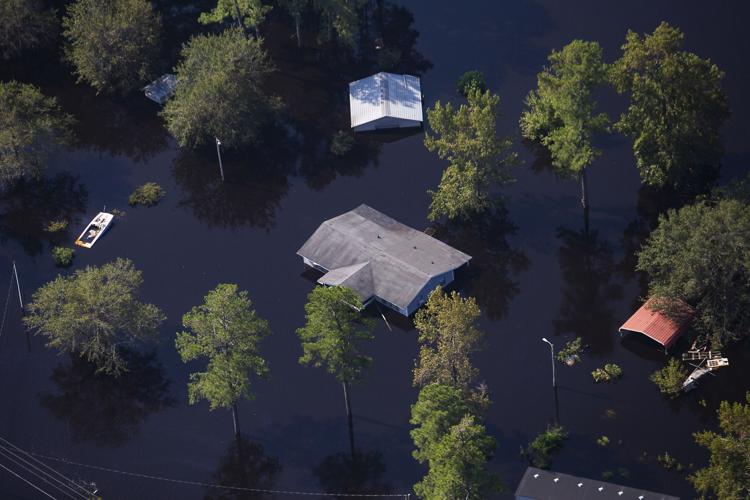 "We want to build right on the banks of the river to make sure we have a great view, and that has a cost," Sharrard said. "We need to start building farther back from the water and farther up."
Unbridled growth, particularly in coastal areas, has allowed subdivisions, streets and shopping malls to carve up floodplains and pave over wetlands, changing the way water moves through land. Inadequate drainage systems make matters worse.
Horry County, home of Myrtle Beach, has had more flooding disasters than almost any other county in the state since 1996, and yet it's among the fastest growing areas in the nation. The population increased by nearly a quarter from 2010 to 2017.
In the Forestbrook neighborhood, between S.C. Highway 31 and the Intracoastal Waterway, a hard rain is enough to make streets run with water.
The first phase of the neighborhood was built in the 1970s, before real stormwater or floodplain regulations existed. FEMA maps weren't issued for the county until 1978.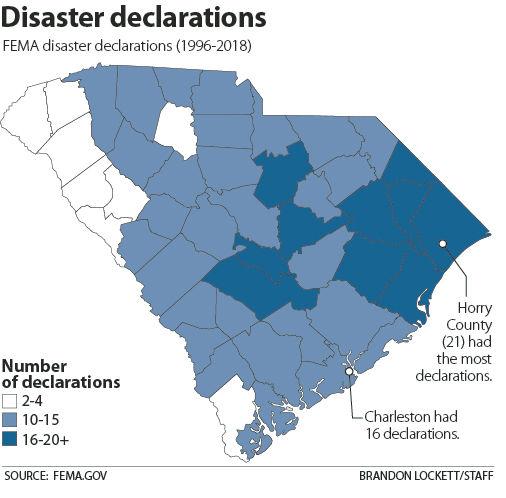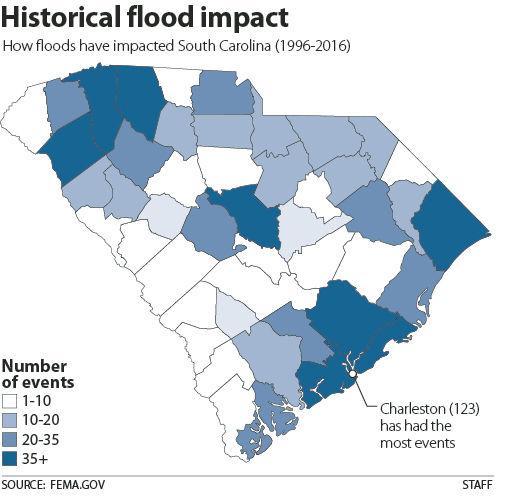 "The road will flood with a thunderstorm. It'll flood to the point where cars can't get through," said longtime resident Jo Cooper. Eight inches of water filled her home during 1999's Hurricane Floyd, and Florence is expected to flood the area again.
Those sorts of man-made stormwater problems aren't accounted for in FEMA's flood maps. Neither are projections for sea level rise or intensifying rainstorms. And even though the maps are required to be updated every five years, very few in South Carolina are. Areas in the Pee Dee region are still using maps issued in 2011.
That matters because people who buy homes in high-risk flood zones are required to buy flood insurance through the National Flood Insurance Program, but it's optional for everyone else. According to the latest data, only 9 percent of properties in South Carolina were covered by federally backed flood insurance as of July 31. In some of the inland counties hardest hit by Matthew and now Florence — Dillon, Marion, Marlboro and Chesterfield — that figure drops to 2 percent or less.
'It's going to happen again'
Repeatedly flooded homes are expensive to repair year after year. It's a drain on homeowners who pay the expenses out of pocket, and it's adding to the NFIP's $25 billion debt. Plus, over time, those homes can lose market value and eventually become unsellable.
National climate researchers predict that communities with too many of these flood-prone properties will start to see more and more abandoned homes and, as a result, a shrinking tax base. That's even more of a threat in towns where most people don't have flood insurance. Disaster assistance payments from FEMA often don't cover the whole cost to rebuild.
With enough resources, communities can make flooding less disastrous for residents by helping them elevate homes or securing grants to buy out their properties so they can move to higher ground. Resources, however, are hard to come by in rural places like Marlboro County along the North Carolina border.
Ron Munnerlyn has lived there for most of his 52 years and now serves as the county's administrator. Flooding has become an increasing threat, as evidenced by Florence, which overloaded Crooked Creek, swamping the Shady Rest and Richardson Park communities and washing out several roads.
"The water is starting to recede now, and that's good, but the damage has already been done," he said Wednesday. "And everything suggests it's just going to happen again."
The hardest hit areas in Marlboro County were built several decades ago, before the government classified the land as floodplains, Munnerlyn said. He wishes there was money to purchase those homes and relocate residents, but federal assistance has been in short supply. And this cash-strapped, shrinking county of about 26,000 people can't do much on its own, he said.
"The political philosophy of the people in charge these days is that folks ought to take care of themselves," he said. "But that doesn't work so well when you have a poor population."
State Sen. Tom Davis, a Republican who represents the coastal Beaufort area, has been pushing to expand the state's Safe Home program, which helps low- to moderate-income residents in coastal counties to protect their homes against high-wind damage from hurricanes and other severe storms. Davis wants to increase funding to expand participation and allow for flood-related protections, as well, such as raising homes.
"It's a way of doing something preventative instead of being reactionary," he said. "This has happened enough over the past few years that it's raised the level of concern to where people expect policy-makers to do something about it."
Davis's bill passed the Senate in the spring but didn't make it through the House before the session closed.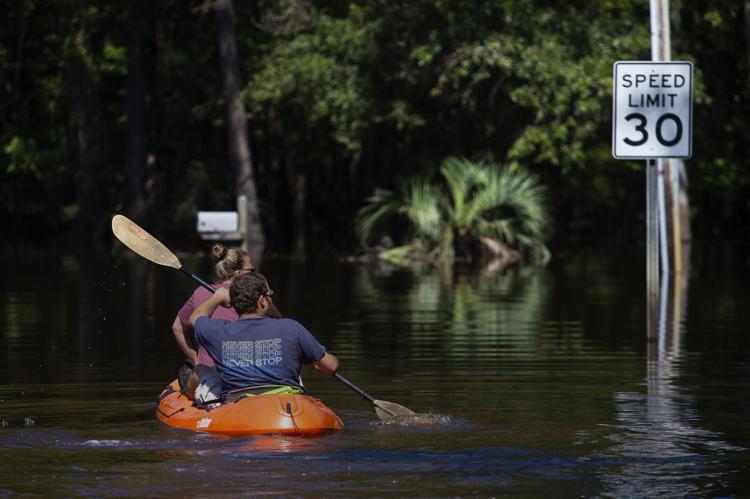 A new way of thinking 
The old habit of dealing with flooding after the damage is done is too expensive in a world with more intense storms, said Morris of the Water Institute. Flood-prone communities have to start seeing the threat of water as a fact of life, a different mindset that requires changing priorities and investments, he said.
Adapting to the reality of water is an idea borrowed from the Netherlands. The small European nation lies below sea level, and 60 percent is prone to flooding from either its rivers or the sea. After a catastrophic flood killed nearly 3,000 people in 1953, the government pledged to never let it happen again.
Today, the country has a robust system of pumps, dams and a seawall to control the sea level and the flow of tides near the coast. Many of its public amenities also double as protective infrastructure. Giant manufactured dunes are also parking garages. Outdoor theaters and parks are easily transformed into storage sites for floodwaters.
Cities like Norfolk, Va., and Houston are starting to take a few cues from the Dutch. The city of Charleston has been connecting with them, too, to gain similar insights.
Houston is borrowing $2.5 billion to address a backlog of flooding infrastructure needed to make the city more resilient. The city and the county also are requiring all new structures to be built 2 feet higher off the ground than what FEMA requires in the 100-year and 500-year floodplains.
While places like Charleston and Horry counties have enough of a tax base to borrow those kinds of funds for infrastructure, smaller towns repeatedly impacted by these storms are going to need help, said Sharrard, the Columbia flood insurance agent. Otherwise, they could be washed off the map completely.
"Communities have to understand how important this is to their survivability — not just sustainability, but survivability," she said.
Tony Bartelme, Jennifer Berry Hawes, Chloe Johnson, David Slade and Andrew Brown contributed to this report.