COLUMBIA — How Nikki Haley won $180 million in new education funding three years ago while she was South Carolina's governor sheds light on her success at the United Nations.
She spent her first year in the governor's office often butting heads with the General Assembly because, by her own admission, she was still angry over a bitter election in 2010. 
"(It was difficult) to turn off the campaign switch and to remember to turn to governing," she said in a 2014 interview. "I could just feel the communication (from me) was harsh. So what I was getting was harsh back."
But in 2013, she used the communications skills that won her the state's highest office while holding 20 meetings with teachers, administrators, business leaders and legislators to craft an education reform plan. She synthesized what she heard and rolled out the proposal during her 2014 State of the State address. Lawmakers funded all of it.
The education reform package was a turning point for Haley, changing the tone of her administration and her career arc. 
Haley's more collaborative approach would help during what has become the touchstone moment of her time as governor — brokering deals with lawmakers and business leaders to remove the Confederate flag from the S.C. Statehouse grounds weeks after the racially motivated mass shooting at Charleston's Emanuel AME Church in June 2015.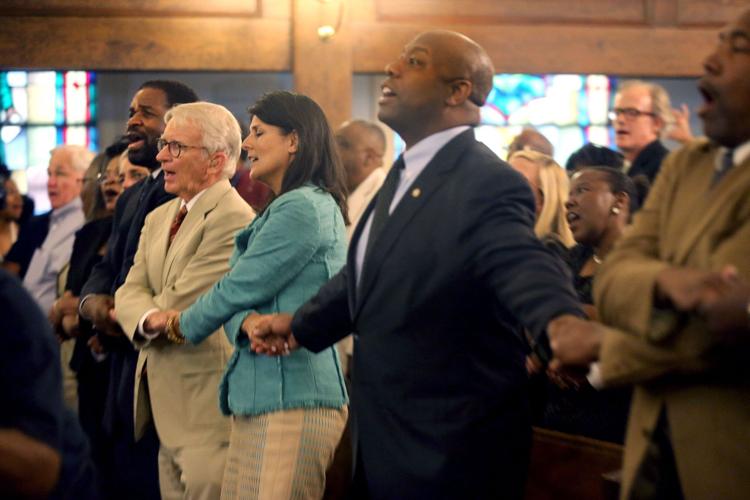 Haley is using those tools honed in Columbia in her current job as the U.S. ambassador to the United Nations where she has become the face of President Donald Trump's foreign relations team. Now, the 45-year-old Bamberg native and former bookkeeper in her family's clothing shop is considered a likely successor to Secretary of State Rex Tillerson if he steps aside. And she's landing atop lists as a potential presidential candidate.
Some of her former top South Carolina staffers watching her at the United Nations see pieces of the Nikki Haley who spent six years chatting with chief executives to woo businesses, clashing with legislators over spending, and smiling for photos with dignitaries and school groups.
Take her use of the term "great day," which peppered into her U.N. remarks after being part of her Palmetto State catchphrase, "It's a great day in South Carolina."
"It's almost a dare to people who don't want to get work done," said Christian Soura, Haley's former budget chief and health agency director. "She starts things off that way because she's positive we can get to a place where we can work together and we can change what's possible."
'Using the bully pulpit'
Former staffers say they see Haley being same uncompromising communicator in New York as she was in Columbia. 
"She used the bully pulpit as governor and she's using the bully pulpit as U.N. ambassador," said Rob Godfrey, her former chief spokesman. "She's never been afraid to praise people when they're right or call them out when they're wrong, whether it's a thug dictator a continent away or a thug ex-state senator a county over."
Observers think Haley has advantages in coming from a different background than her predecessors at the United Nations, who typically have been veterans of the Department of State or National Security Council. Consider, it's unlikely previous ambassadors used social media to share a favorite song or a family vacation photo like Haley.
"She's been in the real world," said Bryan Stirling, the state's corrections director and a former Haley chief of staff. "She's run a state where she was the CEO and where her words and actions had meaning to everyone in the state."
From her seat in the Statehouse's west wing, Haley sharpened her negotiation skills with an eye toward future debates, a talent needed in dealing with representatives from 193 nations under one roof.
"Working together does not always mean compromise. Issues always have a way of coming back," Soura said. "Sometimes you have to vary your tactics."
What is not taught is Haley's empathy seen in meeting grieving families after the Charleston church shooting as governor or in visiting Syrian refugees earlier this year with the United Nations.
"She has a natural ability to connect with people that she honed as governor and took to New York," said Stirling, who has worked on the campaigns of both Bush presidents. "It's truly amazing to see what she has turned the role into."
Statehouse prep
Being a veteran politician does not hurt her in the Trump administration, which is dotted with business leaders not used to the attention of public life.
Haley was sophisticated on messaging and appealing to her base when she was governor, Winthrop University political scientist Scott Huffmon said.
At the United Nations, Huffmon said that can best be seen in how she is walking the line between expressing in diplomatic terms Trump's foreign policy stances, while at the same time backing up his tougher language, such as reinforcing the president's "rocket man" moniker for North Korean leader Kim Jong-Un.
The Statehouse prepared Haley in other ways, too.
"Being in the middle of South Carolina politics makes you ready to handle the slings and arrows and tough questions," Huffmon said.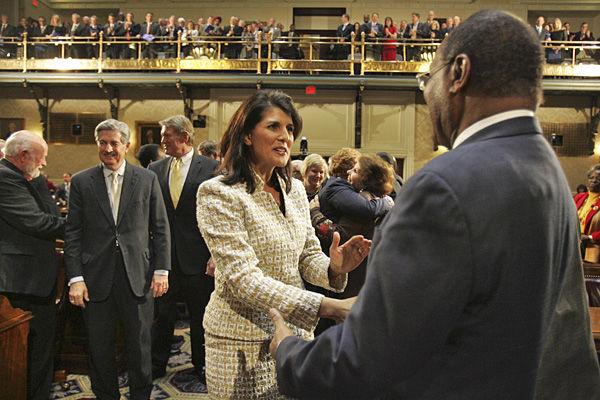 That includes taking a key foreign-relations post under a cloud of criticism about a lack of foreign-policy experience. Many of those doubts have disappeared as she has taken a more vocal role in Trump's administration than first expected.
Former S.C. staffers say Haley rises to challenges, fueled by being underestimated for years. She defeated the longest-serving state lawmaker in 2004. She won the governor's race after polling last during much of the primary.  
"She says what she thinks. People respect that," said Tim Pearson, her former campaign manager and chief of staff. "She's doing that on the world stage like she did in South Carolina." 
Ex-staffers say they laugh when they see reporters ask her about whether she wants to become secretary of the state or president. ("Secretary Tillerson is not going anywhere. I can vouch for that. He is where he is, he continues to be strong," Haley told Glamour magazine about her ambitions in a story released last week.)
She gave a diplomat's answer about her future years before she entered the ultimate house of diplomacy.
"She was asked constantly was she running for the next office, and she'd always say she was focused on doing the best job as governor," Godfrey said. "She's now focused on being the best ambassador she can be."
Schuyler Kropf contributed to this story.