Last weekend's tidal flooding — which included the sixth highest tide on record in Charleston — was driven by a perfect storm of meteorological factors, even though no rain fell.
But for all the closed roads and general mayhem the rising water caused around the region, local officials don't know the actual cost of the event. 
Local governments don't tend to tally up the damage after a particularly high tide, colloquially called a king tide. In part, there's no possibility of the reimbursements from the federal government that would come with a named storm or federal disaster declaration, so there's less motivation to count up the costs.
For example, the city of North Charleston didn't send out disaster assessment teams after a July deluge that dumped more than 6 inches of rain there, city spokesman Ryan Johnson said, even though several residents in the low-lying Neck Area had damaged cars or homes. 
The city of Charleston estimated in its grant application to improve drainage on the Septima P. Clark Parkway that each major flooding event costs the city $12.4 million, but that estimate is both high because it's based on more severe storm events, such as hurricanes, and low because it was based on 2009 dollars. 
Tidal flooding is a much more difficult type of damage to put into numbers. While it might be easy to calculate the cost of a new roof after a hurricane, the subtle effect of saltwater intrusion into roads and public infrastructure is trickier to pin down. 
"You'd have to make a lot of assumptions," said Frank Newham, a senior project manage for the city of Charleston. "This is an old city with a lot of really old infrastructure. What's your baseline? Where do you start from?"
There are also stickier economic questions, particularly if flooding snarls the region's roads during the week and leads to fewer working hours. And there's no accounting for damage to private property, such as low-lying homes that were built before flood regulations or cars that pushed through the water.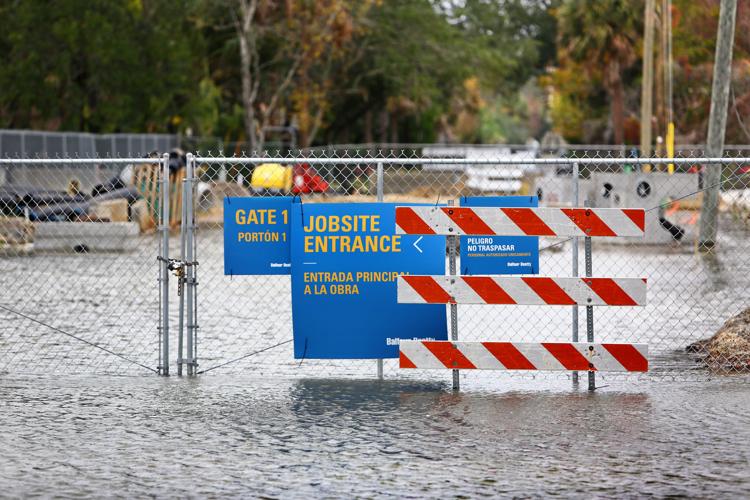 "Is there long-term damage to people's undercarriage of their car when they go through saltwater and they don't wash it off? Who knows?" said Doug Marcy, coastal hazard specialist with the National Oceanic and Atmospheric Administration. 
However, Marcy and other researchers who focus climate effects are planning to start studying the economic impacts of tidal flooding soon. 
Though there are few firm numbers, it's clear that tidal flooding — sometimes aptly called nuisance flooding — is disruptive. It doesn't just affect the Charleston peninsula, either. 
Last weekend's event created some minor mayhem in Folly Beach, scuttling the city's planned Christmas tree lighting after water covered an underground electrical box and covered roads near the Folly River. Water spilled onto Indian Avenue, blocking driveways and affecting some of the lowest-lying houses and apartments.
Drew Lisicki, who lives on the 800 block of East Cooper Street, said that last weekend's tide was the highest he'd seen absent a hurricane. His squat, one-level home backs directly up to the island's marsh, but water didn't reach the house this time. He did have to move his car to high ground. 
Even if the exact costs are unclear, local governments are taking a hard look at how to lessen the effects of the tidal events. Folly Beach is one of the few island communities that has completed a sea level rise study and is examining its waterfront land use laws now.
Charleston is also in the process of updating its sea level rise plan.  City Council recently gave final approval to another initiative, raising its Low Battery sea wall, a project that could cost between $50 million and $60 million, spokesman Jack O'Toole said. 
Infrastructure upgrades like that and other efforts around the region will become crucial in the coming years, as tidal flooding is expected to become an every-other-day occurrence by 2045.
Still, the rising sea can catch some off guard. Last weekend, Marcy said some of his neighbors were caught by surprise when the water came up, even though the fall is one of the most likely times for tidal floods in Charleston. 
"It's amazing to me how many people are not really aware this is a thing we get every year," Marcy said.