Hurricane Florence may be gone but flooding in the storm's aftermath continues to cause significant damage to South Carolina's Pee Dee region.
At least one of the area's rivers is forecast to continue rising until Tuesday and S.C. Gov. Henry McMaster has requested about $1.2 billion in aid from the federal government, according to officials with the S.C. Emergency Management Division.
In the days after the storm passed, rising water engulfed towns, displaced residents and claimed lives, including two mental health patients who were being transported by a Horry County Sheriff's Office vehicle.
Here's a by-the-numbers look at Florence's aftermath:
5
As of Saturday night, the National Weather Service was reporting that five of its gauges indicated some kind of flooding conditions.
Black Creek near Quinby was at 12.12 and falling feet. The creek crested on Thursday at 15.96 feet.
The Waccamaw River near Conway was at 19.2 feet and was expected to keep rising up to 22 feet before dropping on Tuesday. Its flood stage is 11 feet.
The Little Pee Dee River near Galivants Ferry was around 16.53 feet and continuing to drop after cresting at 17.21 feet Friday morning. Flood stage for the river is 9 feet.
The Pee Dee River at Pee Dee was at 30.71 feet after cresting at 31.83 feet Friday morning. The river reaches flood stage at 19 feet in that section.
The Lynches River at Effingham was expected to crest at 17.4 feet Saturday or early Sunday before beginning to drop off. Its flood stage is 14 feet.  
30,000
The floodwaters could impact more than 30,000 people in the Pee Dee, state emergency officials say. The Emergency Management Division has a three-day supply of food and water for 41,000 available as of Saturday and is ready to order more should additional supplies be needed. The S.C. National Guard has temporary bridges ready if needed.
Residents should be prepared to leave their homes if their local public safety officials tell them to do so, according to a statement by SCEMD. 
You can call the state's public information phone system at 1-866-246-0133 for questions regarding flooding and Hurricane Florence.
8 million
South Carolina was approved for $8 million of "quick release" emergency funding from the Federal Highway Administration on Friday. The money allows the S.C. Department of Transportation to start making repairs to damaged highways and other roadways it oversees that have been damaged by the storm and subsequent flooding. 
148
As of the last available update from SCDOT late Saturday afternoon, flooding had closed 148 bridges and roads in the Pee Dee.
Interstate 95 in South Carolina reopened on Friday but officials warned that the freeway remained closed in portions of North Carolina.
Several roadways in the Pee Dee — including S.C. 22 between S.C. 905 and S.C. 90, S.C. 9 at several locations, S.C. 707 between Myrtle Beach Airport and the Georgetown County line and S.C. 905 at several locations between the North Carolina border and Conway — were closed by flooding.
SCDOT has set up a temporary, 1.5-mile barrier along U.S. 501 in Conway as a bypass to keep at least one route open to Myrtle Beach, officials stated. Traffic on the southbound side of the highway was flowing in both directions as of Saturday afternoon. 
Flood reduction efforts were underway on U.S. Highway 17 in Georgetown after an imminent threat of inundation, officials stated Saturday. Repairs were being made in Chesterfield County where flood waters began to recede. 
The state Department of Transportation has an online, real-time map of flooding-related closures.
Motorists should avoid flooded roads, and never move or drive around barricades. For information on road closures and detours, visit scdot.org, call 5-1-1 or 1-855-467-2368.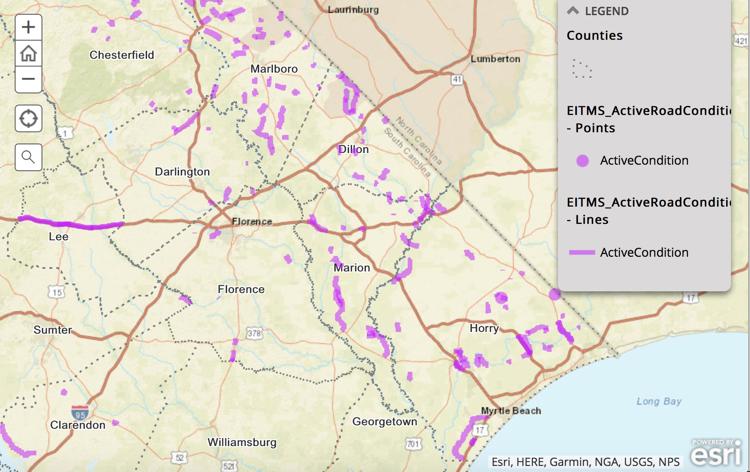 16
As of Saturday afternoon, there were 16 shelters open housing 204 people. The S.C. Department of Social Services and the American Red Cross have placed additional shelters on standby.
1,200
The S.C. Emergency Management Division has received more than 1,200 requests for resources from local officials in impacted areas, as of Saturday afternoon.
13,000
The state's public information phone system has answered nearly 13,000 calls related to the storm, according to SCEMD.  
4
Residents of four counties — Dillon, Marion, Horry and Marlboro — are eligible to apply to the Federal Emergency Management Agency's individual disaster assistance program. Apply by registering at DisasterAssistance.gov or by calling 800-621-3362.
Residents are encouraged to first file though their private insurer before going through the FEMA process, said Kim McLeod, an Emergency Management Division spokeswoman.
Applicants who are deaf, hard of hearing or have a speech disability and use a TTY may call 800-462-7585. Those who use 711 or Video Relay Service may call 800-621-3362. The toll-free telephone numbers will operate 7 a.m. to 10 p.m., seven days a week.