NORTH CHARLESTON — Feidin Santana welcomes the visitors to his new barbershop, providing folding chairs, smiles and fist bumps.
It is after dark, but his stylists are busy cutting hair on the other side of this large venue. The shop, which opened in July, is the culmination of hard work, and a manifestation of Santana's hopes for a wounded community. It is a "safe space" where difficult conversations can be conducted and a staging ground for future civic action.
For Santana wants to do much more than cut hair.
In 2015, he captured video on his phone of North Charleston Police Officer Michael Slager firing eight .45-caliber rounds at Walter Scott as the 50-year-old Black man attempted to flee. Five of those shots struck Scott, three in his back, killing him.
Santana's video led to Slager's arrest, and to profound scrutiny of local police practices. The video animated local activists and national civil rights leaders, who called for accountability and reform. It prompted changes within the North Charleston Police Department, which ramped up its community outreach and ramped down its confrontational approach, though many argue — including Santana — that improvements and restructuring still are needed.
The shooting he witnessed changed his life.
The barbershop is his way of making a difference.
Now, 17 people sit in a circle discussing their long-term mission and core values, what sort of programming should be developed, and — something especially important — what name they should give themselves.
The nascent group meets once a month. They discuss issues facing Black and Brown communities in the Lowcountry and ways to better engage and serve those in need of support.
The name of the barbershop, Change Up Cuts, reflects Santana's purpose: to help make the community better.
A hard road ahead
At the Oct. 27 meeting, the conversation alternated between the practical (how to develop an effective community advocacy organization) and the passionate, as participants considered the divisions within communities of color, the needs and fears of undocumented immigrants, and strategies that can be adopted to bring people together.
Within reach on a table in the middle of the circle were bottles of water, notebooks and pens, copies of the Avery Research Center's report "The State of Racial Disparities in Charleston County, SC 2000-2015" and some hand sanitizer.
Attorney Ben Pogue facilitated the conversation. He said he met Santana soon after the Scott killing and was struck by the young man's charisma and commitment to social justice. As an Afro-Latino from the Dominican Republic, Santana can play an important role as a bridge-builder, Pogue said.
When the lawyer learned about his friend's interest in opening a barbershop and using the venue to host community gatherings, he offered to help.
"I want to be an ally," Pogue said.
Erica Veal met Santana in the aftermath of the Scott shooting after a rally led by her partner Muhiyidin D'Baha. In the years since, she has become a leader of the Lowcountry Action Committee, a social justice group that emphasizes political education.
When the barbershop opened in July, she came by to congratulate Santana and started to do some social media marketing for him.
She had grown up in Los Angeles and felt a strong solidarity with Latinos, she said. When she learned about Santana's ambitions, she joined the effort.
Veal proposed to participants they come up with a name for the group and define its mission and values, that they impose a degree of structure on the gatherings and consider what sort of programs they should develop.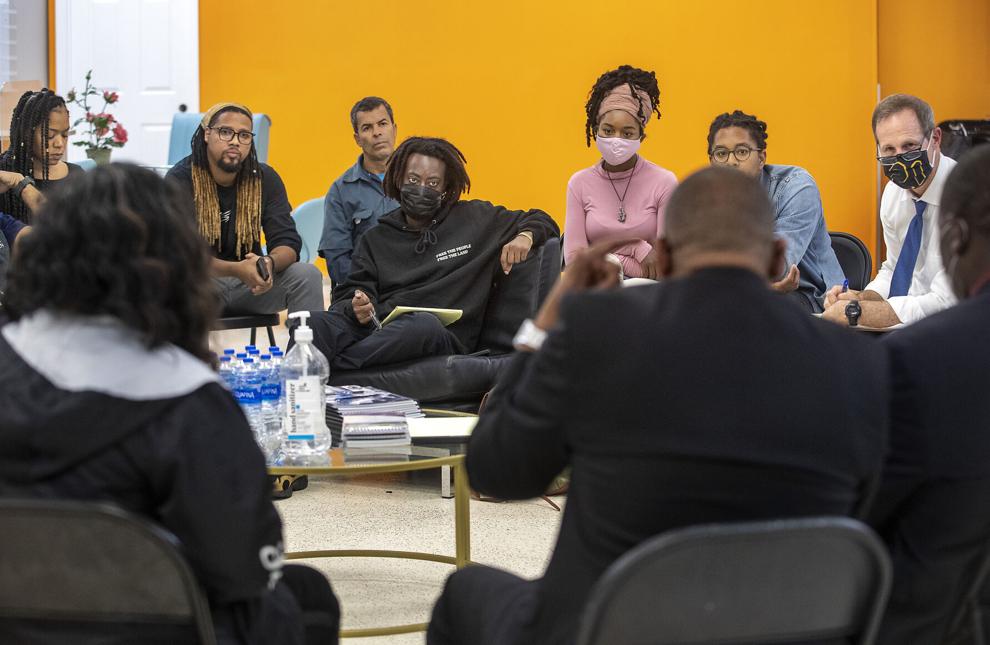 Pastor Thomas Dixon, who joined Santana and Veal early on to conceptualize a course of action, said the group's members could become ambassadors who reach out to the Latino community and amplify important voices within it.
Lydia Cotton, a prominent spokeswoman for local Hispanics, described their mistrust and isolation, arguing that bridge-building would be hard work.
Veal suggested forming a subcommittee devoted to issues affecting undocumented residents.
Unity was one of the big goals expressed by attendees who knew well the difficulty in achieving it.
Justice and change
On a recent Thursday afternoon, Santana, 30, was trimming and shaping William Gary's hair with the precision of someone sculpting Italian marble. Gary said the shop, with its welcome station, vending machines, foosball and pool tables, had a pleasant New York City vibe.
He was happy to come to such a welcoming place, he said.
In bold writing on the floor are the words "Love," "Unity" and "Diversity."
The stylists, busy with clients, all wore T-shirts that read "Changing our community with more than haircuts."
Santana's parents, Felix del Rosario and Odette Santana, were visiting briefly to see family and admire the new shop before returning home to Providence, R.I. Del Rosario, dressed in a dark suit, wearing a fedora and shooting a bit of pool as his grandson watched, said he was impressed by his son's tenacity and by the shop's potential and the community support it engendered.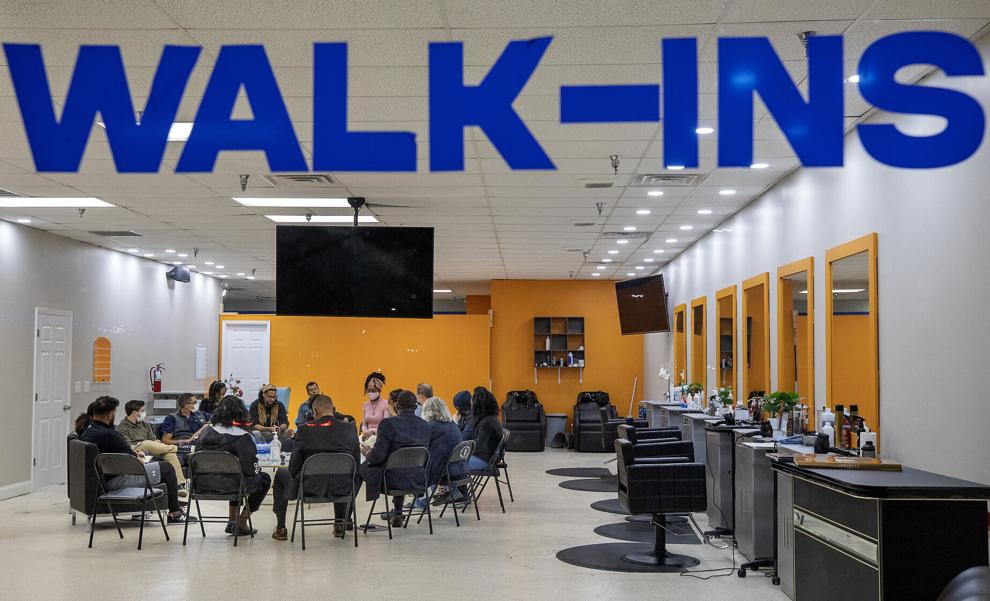 He and his wife, both musicians, had encouraged Feidin Santana to play piano. Santana learned his way around the keyboard, but something else excited him more. He started playing baseball while in high school in the U.S., then, at 17, relocated to the Dominican Republic where the sport is popular and there's an avenue to the major leagues.
An infielder, he lived and breathed baseball. When he wasn't on the field, he was in the gym. Then came an ankle injury, and the realization that he was already too old to be taken seriously by the scouts.
He worked many odd jobs in the Dominican Republic: in restaurants, on construction sites, at car washes and body shops. In 2012, he learned to cut hair.
"I love the connections, the interaction, how you can change lives, not just aesthetically, but through conversations," he said.
Santana had found a path that would lead him back to the U.S., prepared with a skillset and a sense of discipline he had honed on the ballfield.
Then, by chance, he was passing by an empty lot behind a pawnshop on Rivers Avenue just as Slager was attempting to subdue Scott. Santana began recording video on his phone, evidence he soon decided he must share with Scott's family.
"Many things changed after 2015," he said.
The episode opened his eyes to the perils endured by people of color in the United States.
"I became more passionate about justice and change," he said.
Before 2015, he dreamed of life in the Dominican Republic, and a career in baseball. After 2015, he saw the big picture. He knew that he and his family would be safer in the D.R., but he didn't want to be perceived to be running away from danger. He chose to face it.
"In America, we have a lot of work to do," Santana said. "I want my son to understand his daddy is a fighter."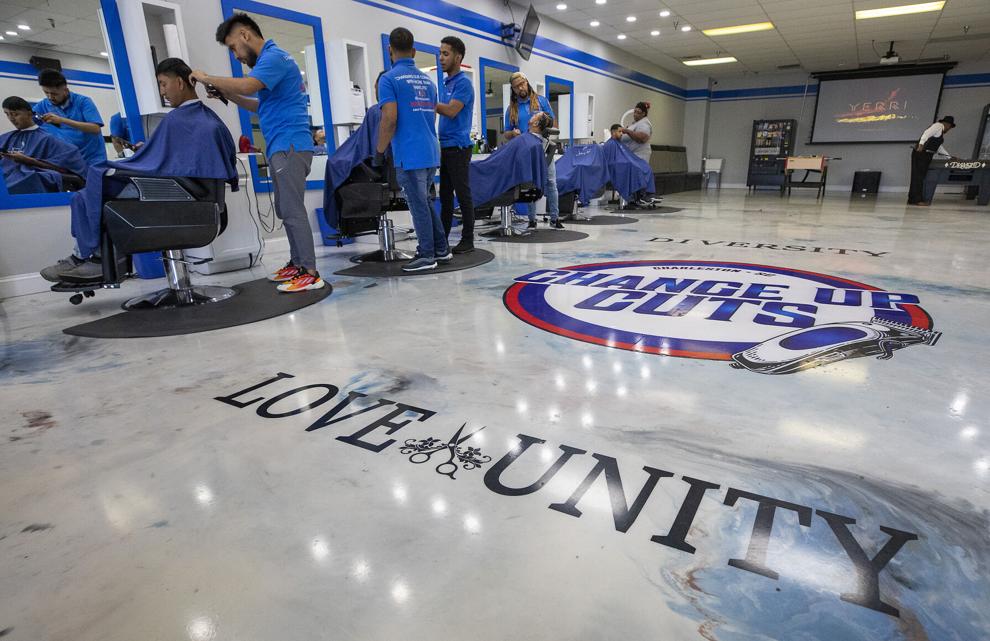 Breaking down barriers
At Change Up Cuts, Santana contracts with 10 barbers who trim men's hair. Soon, he'll have 10 stylists working on the women's side of the shop. The staff has roots in North and Central America, and in the Caribbean.
Sometimes, they serve as many as 1,000 customers in a week.
"I don't see it as a job," Santana said.
Angel Luis Colon, a 26-year-old boxer from Puerto Rico, was among those recruited by Santana. He said loves the mix of people — both staff and clientele — and how the shop neutralizes any racial or ethnic animosity.
"It's like a home for everybody," Colon said. "Some come just to hang out."
He cuts hair like he boxes: fast and with precision. And now he's part of an innovative enterprise that transcends grooming.
"This is the start of something new, something different," he said.
Sometimes the barbershop becomes a venue in the evenings for political gatherings. Democratic state Sen. Mia McLeod of Columbia, who is running for governor, recently met with members of the Latino community there.
The community meetings are something else, though. If all goes as planned, they will get bigger over time, providing a forum for airing grievances and communicating concerns, and also a staging area for outreach and engagement.
In the interest of breaking down barriers, Veal suggested putting together an African American-Latinx cultural festival of some kind. Other meeting participants threw ideas into the ring: a training program for advocates, bilingual communications, getting buy-in from neighborhood leaders.
It won't be easy.
"Our generation is very vulnerable to failure," Santana said.
But his experiences as an immigrant, and his innate optimism, drove him to spent two years planning for this moment.