The cost overruns on a key Charleston drainage project resulted from a perfect storm of factors: 10 years of construction cost inflation; an original budget that didn't include many necessary expenditures; and a challenging construction schedule that was dictated by funding sources, not the most efficient sequence for the work.
But the $43 million increase for the project to install massive underground tunnels under the Septima P. Clark Parkway still caught city staff off-guard last year.
That's when engineering firm Davis & Floyd first recommended that the entire cost of the five-phase project had to be re-examined, according to correspondence produced by the city of Charleston in response to a Freedom of Information Act request by The Post and Courier.
"What happened in the last year?" wrote Amy Wharton, Charleston's chief financial officer, in an Oct. 30 email. "I don't feel like I've been given a good explanation and I'm trying to understand."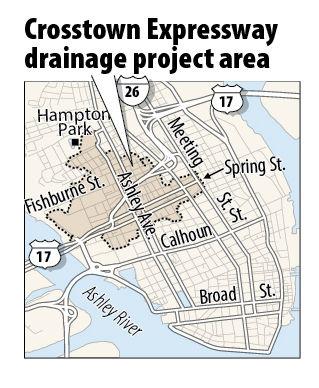 Indeed, a June 2017 budget analysis showed the project on track to stay within its original $154 million estimate, which first was prepared in 2009. But by the end of 2018, the price had ballooned to $197 million for five phases of work to drain a 650-acre portion of the peninsula, including the parkway many residents refer to as the Crosstown, one of the city's most important thoroughfares. 
Wharton said Charleston will now re-evaluate the total cost of any long-term project at least every three years. The episode serves as a stark lesson in budget management as Charleston faces a future filled with large capital projects aimed at managing the flow of water.
All the while, rainfall events that snarl traffic are becoming more intense, sea levels are inching higher and the list of flood management projects continues to grow. 
How the costs grew
Charleston Mayor John Tecklenburg's first indication that the work might be significantly more expensive came in September, when the city received bids for the fourth phase of the drainage work, officially dubbed the Spring-Fishburne Drainage Improvement Project.
The lowest bid was more than 50 percent higher than the original 2009 estimate, driven by a high demand for construction labor in a booming region and higher material costs, including steel tariffs.
"If we put it out for bid again, which would take some time, there was as good or better chance that numbers would escalate rather than go down," Tecklenburg said.
Completing a large public project in phases is not uncommon, but Spring-Fishburne was intended to be completed in one three-year period. It was only split into sections after federal funding fell through and the city had to scramble for multiple sources of funding, said Michael Horton, the chief engineering officer for the project at Davis & Floyd.
As a result, the 2009 project estimate didn't account for several costs. Splitting the work into phases meant additional engineering fees every time Davis & Floyd had to prepare for a new bid, Horton said. Each phase also required contingency money in case the work on the ground exceeded the bid, a total $11 million over the last three phases that was never included. 
Other factors created more engineering costs, too, such as new Environmental Protection Agency regulations that required Horton's firm to redesign the final pump station at the Ashley River. There are "a dozen or two dozen of those types of things that are outside of our control and the city's control," Horton said.
Steve Kirk, Charleston's senior engineer project manager, monitors the construction progress in site visits and weekly phone calls. He and Horton both said that work had been delayed in part by the funding mechanisms — a grant from the S.C. Department of Transportation, for example, could only be used for work on property owned by DOT. That scrambled the original schedule and contributed to delays that have pushed back the end date by four years, to at least 2024.
While Kirk was checking on the day-to-day construction, the person at the city who was supposed to have an eye on the project's long-term progress, Kirk said, was Laura Cabiness, director of the city's Public Service Department. Cabiness resigned last year, leaving her post as the city's top engineer in mid-November.
"The completion of the Spring/Fishburne project is imperative along with Calhoun West," Cabiness wrote in her resignation letter, which emphasized the drainage work the city had already completed as well as the increasing flooding risks associated with a warming global climate and the associated sea level rise.
Calhoun West is a similar drainage project that's even larger in scale, Horton said, meant to drain the area around the Medical University of South Carolina's hospital. It has not yet been fully funded.
"As I leave I want to emphasize that we have some time but we must plan for the future now," Cabiness wrote. "I wish the city well in this endeavor."​
Lessons learned
While city officials say they'll take a more frequent look at the financials in future projects, City Councilman Bill Moody suggested going even further, and in the future hiring a third-party engineering firm for additional oversight of complex work.
"I think Davis & Floyd is a reputable firm. I don't think there's any malfeasance here or anything," Moody said. "I think it's just a matter of circumstance."
But aside from management concerns, Charleston is now faced with a pressing need to fund the upcoming fourth phase, which is crucial to the project's success. It's the stage in which the drainage tunnel outfalls will be completed. Those will create an escape hatch for about 200,000 gallons of water to drain each minute into the Ashley River at low tide.
Phase four is "the first phase that accomplishes the mission, and that's why it's so important for us to go ahead and proceed," Tecklenburg said.
That means covering a roughly $26 million gap. Charleston's drainage fund will pay for $17.8 million, Wharton said. The remaining $8.5 million will come out of the city's special tax district along King Street, which has been place since the early '90s. 
"We're really blessed that the King Street (tax) district was there and is performing as well as it is to help us cover this," Tecklenburg said.
The project's fifth and final phase would build a pump system to drain the area during high tides.
Diverting that money to Crosstown drainage inevitably leaves less for other work around the city. Wharton said nothing that's currently being paid for with the drainage fund will be delayed, and she noted there's no schedule yet for Calhoun West, so it's hard to delay a project that doesn't have set benchmarks. 
But Moody said there's likely a laundry list of projects he and the rest of the council might want to fund from the drainage money. 
"What we need to be spending that money on is cleaning ditches and expanding undersized pipes and cleaning out pipes. To me that's what that's for," Moody said. "I don't know yet what it is we're giving up."