A lack of court reporters in South Carolina — trained stenographers who transcribe verbatim records of proceedings — is causing last-minute cancellations of hearings ranging from divorces to criminal pleas. To officials and observers, this means time wasted, taxpayer money lost and added stress on victims, witnesses and families.
While court reporters often blend into the background, proceedings grind to a halt in their absence. 
"It's one spoke in the whole gear, but it's stopping up the whole system," said 15th Circuit Solicitor Jimmy Richardson, who oversees prosecutions in Horry and Georgetown counties. "Everybody's been impacted." 
More than a quarter of court reporter positions within the S.C. Judicial Department are vacant. With 36 job openings and only 94 reporters working in family and circuit courts across the state, officials said it can be difficult and sometimes impossible to find an employee to fill in when a reporter calls off work.
Until recently, vacancies over the past five years hovered at 20 to 25 openings, said Tonnya Kohn, interim director of S.C. Court Administration, which supervises state-employed reporters.
But the pool is shrinking due to an influx of retirements driven in part by this year's discontinuation of the Teacher and Employee Retention Incentive, Kohn said. The benefit had allowed public employees to retire and return to work with their retirement checks deposited into a special account for up to five years.
To supplement the reporter decline, the state in January launched a pilot digital reporting program in five courtrooms in the Upstate, Midlands and Lowcountry. The technology uses microphones and recording equipment to capture proceedings. The audio recording system should help ensure that hearings move forward as docketed, Kohn said, but it won't replace court reporters.
Court administrators did not say whether they had stepped up recruitment efforts.
'The pressure's on all of us' 
Delays can leave proceedings in limbo for months, said Barbara Wasson, assistant clerk of court for Greenville County Family Court, which schedules an average of 150 to 250 cases a week. When a court reporter calls in sick and can't be replaced, other judges with reporters try to pick up the slack, but that's not always possible with a full caseload. 
"It often shuts down court for quite a long period of time, at least for that day," Wasson said.
While delays in divorce hearings pose an inconvenience, holdups in matters such as S.C. Department of Social Services abuse and neglect cases could have more severe implications, she said.
"Children's livelihood and children's safety and security are at issue," Wasson said.
Ninth Circuit Solicitor Scarlett Wilson said the shortage doesn't frequently impact the prosecutions she oversees in Charleston and Berkeley counties, but it's an issue that has popped up more often.
"It is very unnerving for victims who plan to be there and even for defendants who come in and plan to take responsibility," Wilson said.
Others solicitors have run into similar problems.
Fourteenth Circuit Solicitor Duffie Stone, chief prosecutor for the greater Beaufort area, said his circuit encountered a shortage of court reporters in November and again in February. Two judges were available to hear trials, but only one court reporter was free, causing delays in proceedings, he said.
"It has caused delays in the start of trials because the court reporter is essential," Stone said. "You can't do pretrial hearings — you can't really do any work on the case — without a court reporter."
Karen Andersen, a circuit court reporter who typically works in the Charleston area, said more time spent in court means less downtime to crank out transcripts.
"We're working through lunch," she said. "We used to … eat lunch, have coffee and talk. Now the court reporters are usually putting headphones on. A lot of us do spend our weekends catching up on transcripts."
The shortage has also affected those in the profession who work outside the court system, such as Mary Ann Ridenour, a freelance court reporter on James Island. Ridenour said she's trying to juggle requests for double, triple and quadruple job bookings in a day.
"Some of us are retiring. Some of us are moving on to other things," she said. "Unfortunately, there aren't that many new reporters, so the pressure's on all of us."
Dollars lost
While neither the Judicial Department nor county courts maintain statistics on hearing delays, legal professionals stress that the shortage impacts everyday people. 
A client of attorney Michael DeTreville's was recently due in Dorchester County Family Court for a child visitation hearing. But when the Charleston-based lawyer and his client arrived at the courthouse that morning, they learned the hearing had been canceled because no court reporter was available.
DeTreville's client had taken the day off work, and his family had driven from Alabama to attend the hearing.
Taxpayers fund the justice system, and court staff members get paid whether hearings move forward or not.
"At the end of the day, it becomes an issue of wastefulness," DeTreville said. "Every minute that a courtroom is empty is a lost dollar."
The issue ripples outward from the courtroom.
Richardson, the 15th Circuit solicitor, estimates his office oversees about 50 plea hearings a day. If there's no court reporter and the day's plea docket is canceled, he said, that's 50 people who remain in custody, costing taxpayers.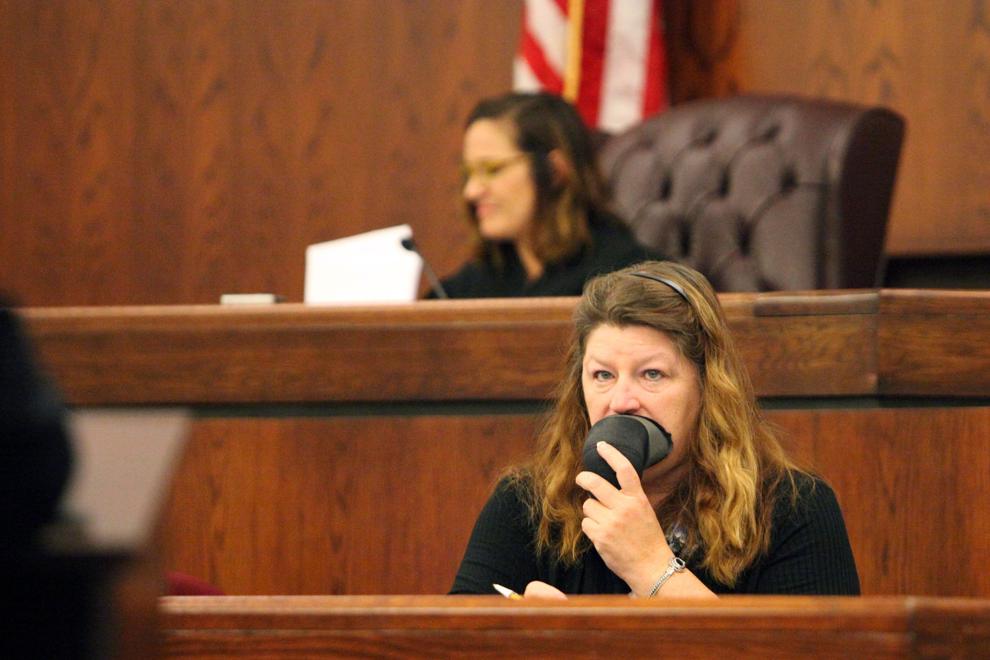 A growing shortage
Fewer people have applied to become state-employed court reporters after South Carolina's main court reporting school, Midlands Technical College, discontinued its court reporting program in 2010, according to Kohn, the interim director of the state's Court Administration.
Reporters who work for the state must be nationally certified or have a degree in court reporting from an accredited school or court reporting institution.
While online programs offer such degrees and certifications, they can take years to complete.
Interest in the profession also is fading, said David Roberts, chief operating officer of the Charleston-based court reporting and litigation support services firm AWR.
"It is a great career," he said. "It's been very good for us in a freelance environment."
The Mount Pleasant resident and court reporter said basic qualifications include typing at 225 words per minute with 98 percent accuracy during a five-minute question-and-answer session.
In South Carolina, court reporter annual salaries average about $48,500, federal data show. But prolific freelancers can make more than $100,000, they said.
While recording technology continues to improve, Roberts said there will always be a need for certified court reporters. Errors or unanticipated problems, such as equipment failing or staff forgetting to turn on microphones, can render entire hearings useless.
A possible solution
In January, Anderson County was the first of five courts to adopt the digital reporting program. The pilot has since expanded to courtrooms in Richland, Sumter, Greenville and Dorchester counties.
Anderson County Clerk of Court Richard Shirley volunteered one of his small family courtrooms to try the technology, though the reporter shortage hasn't disrupted hearings there, he said. It's being tested on cut-and-dry matters such as uncontested divorce hearings. In those routine and brief proceedings, it might not be necessary that a reporter be present in the courtroom, Shirley said.
In Richland County, officials tested the technology for one day of guilty pleas in Circuit Court, and it worked well with "minor adjustments," Clerk of Court Administrator Jim Truitt said.
Under the pilot program, courtrooms are staffed with a monitor who oversees the recording via headphones and a computer screen. The monitor also annotates the record and marks exhibits, said Kohn, the state court administrator. Multiple copies of the recordings are saved. 
Shirley said there's "no way" the digital system could capture trials and other more complicated hearings during which people talk over one another, lawyers walk around the courtroom while speaking and witnesses mumble on the stand. 
For Andersen, the Charleston-area court reporter, reading people's lips is key to creating an accurate record.
"We're not anywhere near replacing the humans," Shirley said.