Alex Murdaugh suffered a pair of gunshot wounds to the head and a skull fracture during an alleged assisted suicide scheme over Labor Day weekend, according to 81 pages of hospital records provided to The Post and Courier on Oct. 15.
Doctors at a Savannah hospital documented brain bleeding and noted Murdaugh complained of vision loss and an "excruciating headache" as they treated him in the intensive-care unit, the records show. They observed two bullet wounds on the back of his scalp, which the 53-year-old's defense attorneys have described as a single bullet's entry and exit wounds.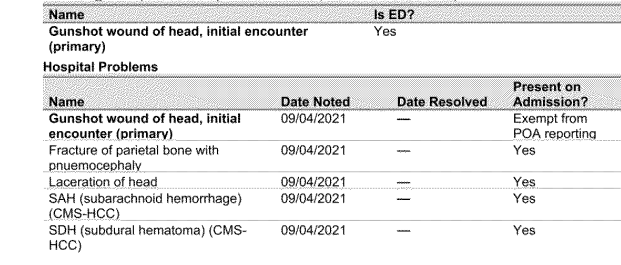 Murdaugh's legal team released the records the morning of Oct. 15 after weeks of questions about the severity of his wounds from the alleged staged shooting, as well as assertions that Murdaugh hadn't been shot at all.
The prominent attorney was arrested last month and charged with enlisting a hitman to kill him so his remaining son could collect a $10 million life insurance payout. The shooting was among a series of bizarre twists in a murder mystery saga that began in June with the still-unsolved slayings of Murdaugh's wife, Maggie, and son Paul.
Alex Murdaugh remains a "person of interest" in the State Law Enforcement Division's investigation of that case, his lawyers said this week.
In an Oct. 15 interview with ABC's "Good Morning America," Murdaugh defense attorney Dick Harpootlian said he wanted to push back on "hysterical theories" that have emerged over the past month amid the international intrigue surrounding the Murdaughs, a wealthy and powerful family that has held great sway over judicial matters in Hampton County for more than a century.
Harpootlian released the records a day after Murdaugh's alleged shooter, 61-year-old Curtis Edward Smith, appeared on CBS and NBC morning shows and claimed he didn't try to kill Murdaugh and doesn't think the suspended Hampton County attorney was shot at all. SLED arrested Smith in the shooting last month, just before arresting Murdaugh himself.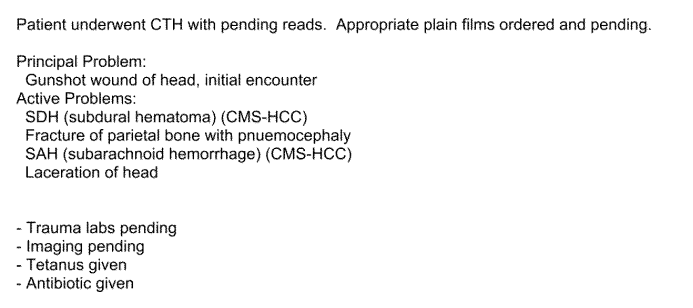 Skepticism of the severity of Murdaugh's shooting ramped up after he appeared unscathed and bandage-free at a bond hearing less than two weeks after the incident. His attorneys said the wounds were small and hidden under his red-and-gray hair.
Harpootlian noted on "Good Morning America" that Murdaugh's injuries were serious enough that the Savannah hospital placed him in its ICU.
"They don't put people in intensive-care units these days, or any time, unless they need intensive care," Harpootlian told anchor George Stephanopoulos. "He suffered a bullet wound to the head."
The shooting
The release of Murdaugh's hospital records provides long-awaited clarity about the severity of the Labor Day weekend shooting, while not fully answering who pulled the trigger that day.
In the days after the Sept. 4 shooting, Murdaugh and his lawyers insisted to investigators and the public that Murdaugh was shot in the head by an unknown assailant who drove past as Murdaugh was inspecting a punctured tire on the side of the road.
They said Murdaugh survived despite suffering entry and exit wounds from a .38-caliber revolver, along with a skull fracture and significant bleeding. Those details were confirmed in the hospital records Oct. 15.
But the next week, they had to recant parts of that story. Murdaugh, then in detox for an admitted opioid addiction, told investigators he knew the shooter. He said it was his longtime opioid dealer, Smith, his attorneys recounted.
Murdaugh's lawyers said he wanted to die after the deaths of his wife and son, and he had just been pushed out of his law office amid allegations of embezzling firm and client money. But he mistakenly believed his life insurance policy wouldn't pay out to his remaining son, Buster, unless his death looked like a homicide.
Murdaugh asked Smith to kill him, and Smith agreed, free of charge, Murdaugh's lawyers said.
In Smith's version of events, as told to CBS and NBC this week, he met Murdaugh on the side of the road, and the attorney asked him to kill him. When Smith declined, Murdaugh tried to shoot himself, and Smith tried to stop him. Smith said the gun went off during the struggle, but he is positive it didn't hit Murdaugh, his former lawyer.

Smith said he took the gun away from Murdaugh and ditched it so the attorney couldn't use it to kill himself.
Smith, a handyman and former logger, denied being Murdaugh's drug dealer.
Smith's attorney, Jonny McCoy, told The Post and Courier on Oct. 15 the medical records don't prove that his client shot Murdaugh. Who knows what happened between the time Smith left Murdaugh on the side of the road and when Murdaugh called 911? Smith asked aloud.
"How he got the cut on his head, we look forward to figuring out," McCoy said. "It wasn't from anything that happened when Curtis was there. (Murdaugh) is obviously a manipulator and a mass con man."
Hospital records
The release of Murdaugh's hospital records offers, for the first time, a glimpse into his treatment in the 48 hours after the shooting.
He was conscious and responsive upon admission to the Memorial Health University Medical Center in Savannah on the afternoon of Sept. 4.
His condition was initially listed as "critical — life threatening," records show. Medics controlled the bleeding from his head wound with a gauze bandage and wrap.
Murdaugh confessed to a nurse he uses "pain medication" recreationally, along with chewing tobacco. He tested positive at the hospital for opiates and barbiturates.
He said he had been living alternately with his brothers Randy and John after the deaths of his wife and son.
He told his caregivers he initially lost all his sight after the shooting and was still experiencing blurry vision.
A scan showed a "subdural hematoma" and evidence of bleeding on his brain.
The hospital gave Murdaugh a tetanus shot and antibiotics, standard procedure for shooting victims.
Documents show Murdaugh grew increasingly impatient during his hospital stay, even as his brothers and son visited his bedside. 
He complained of head pain, rubbed his scalp and said the three painkillers the hospital treated him with "aren't helping at all anymore." A nurse described him as "irritable" the morning after the shooting.
Murdaugh requested permission to roam the facility and once was found out of bed without permission. He tried to bribe an employee with $20 to gain access to a phone. He regularly asked when he could go home.
Two days after the shooting, SLED agents interviewed Murdaugh at the hospital, records show. 
Murdaugh was eager to leave the hospital on Sept. 6, departing with his brother Randy, a nurse wrote.
Shortly thereafter, he checked himself into an out-of-state detox center.