If you come across horseshoe crabs having sex, state wildlife researchers want to see.
For real.
The animals, which are not really crabs, spawn during new moons in the spring and early summer. The male grabs hold of the female and they ride ashore during high tide. The female lays a nest of eggs on the beach, which the male fertilizes.
The problem for state wildlife managers is that sometimes they arrive on the front beach, other times in marsh or creeks. The S.C. Department of Natural Resources is tracking where the critters spawn, trying to figure out the best habitats.
The effort is coming amid a national conflict over how to manage these critters, which have dual importance: The crabs' blood is valuable to medicine, while its eggs are important food for threatened species, including migrating birds and sea turtles.
Meanwhile, its numbers on the East Coast have been declining at least since the 1990s, according to the National Oceanic and Atmospheric Administration.
DNR biologists are asking people who spot the spawning to fill out an online report.
"This information will help to improve our understanding of the diversity of habitats that horseshoe crabs use to spawn, and may give us the ability to determine the relative importance of beaches and marshes as horseshoe crab spawning areas," said Kristin Linesch Hamilton, DNR wildlife biologist.
"We are certainly aware of the varied ecological and economic roles that horseshoe crabs play in our estuaries," she said.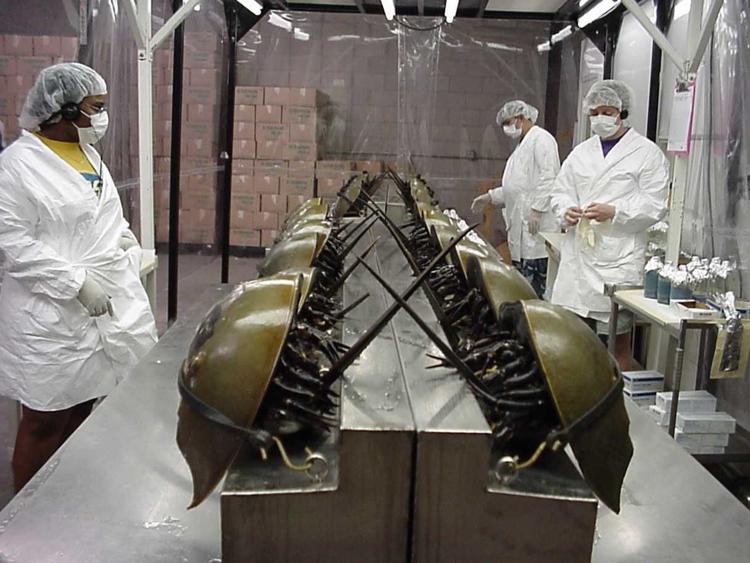 The horseshoe crab is that centurion-helmet shelled critter about as big as a wok. The species is a "living fossil," older than the dinosaurs and more closely related to scorpions than crabs.
The crab's blue blood makes it one valuable arthropod: An extract of the blood is critical to ensure medical equipment is kept bacteria-free.
Thousands of horseshoe crabs are caught each year off Lowcountry beaches and sandbars by licensed harvesters. They are turned over to a local medical research lab to be bled, and most are returned to the water later that day.
But that can disrupt spawning. The crab's eggs are valuable food for threatened loggerhead sea turtles and considered vital for some 20 migrating bird species, including the rufa red knot that migrates across the hemisphere each year. The migration is thought to be timed to the egg laying. 
Under pressure from conservation groups, the U.S. Fish and Wildlife Service in 2014 declared red knot a threatened species, a designation that requires establishing "critical habitat," areas where activities can be restricted if they impinge on the bird.
That could curtail the number of crabs harvested for medicine and has stirred legal challenges.
People interested in reporting sightings of the spawning crabs will need to fill out an online "survey monkey" reporting form. Go to the Department of Natural Resources' Facebook page for more information.