Are Charleston-area residents prepared to welcome another quarter-million neighbors?
They'll need to be, because plans to build nearly 105,000 homes have already been approved by towns, cities and counties throughout the three-county Charleston metro area. Those homes are waiting in the pipeline, behind the nearly 9,200 houses and apartments under construction this year. 
The approved development plans allow enough housing for nearly 270,000 people — roughly equal to all the population growth Charleston, Berkeley and Dorchester counties have seen since 1990. It's nearly enough housing to accommodate the combined populations of Charleston and Mount Pleasant, and they are the largest and fourth-largest cities in the state.
All that development will be an important part of the economy, as housing construction is followed by job-creating retail stores and service providers, as well as new schools and hospitals. It will push the metro area's population past 1 million, adding pressure on crowded roads and schools.
The Post and Courier determined the number of approved homes across the region that aren't yet under construction by contacting local governments and in some cases reviewing development agreements.
Area governments will get added tax revenues from new development. And they'll need it, in order to hire more police officers, teachers and firefighters, buy more equipment, build new schools, create more parks, and treat more sewage.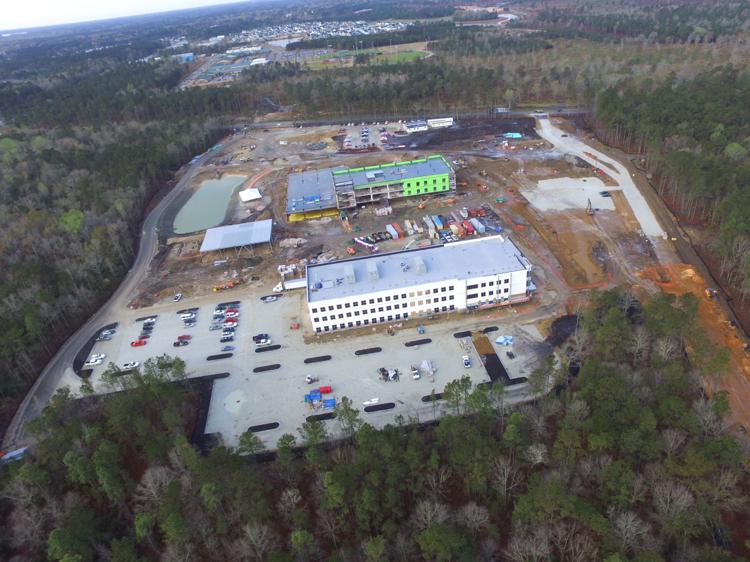 The impact of growth and development that's been causing great concern among area residents isn't so much the additional people, but their cars and trucks. Another 105,000 homes could mean another 210,000 vehicles, in an area already troubled by traffic jams and the astronomical costs of road construction projects. 
"We absolutely have to expand our infrastructure to accommodate future growth," said Jacob Lindsey, Charleston's director of planning, preservation and sustainability. "Our region has some unique challenges, in regards to funding."
New housing means a larger tax base, as well as impact fees in some cases, but widening or extending a major road can cost tens of millions of dollars per mile. The anticipated cost of widening 4 miles of S.C. Highway 41 in Mount Pleasant is $132 million. Completing the last 8 miles of Interstate 526 could cost more than $725 million.
The size of many of the already approved developments poses a special challenge. There are now nine developments approved for more than 4,000 homes each, and several of them empty onto two-lane roads.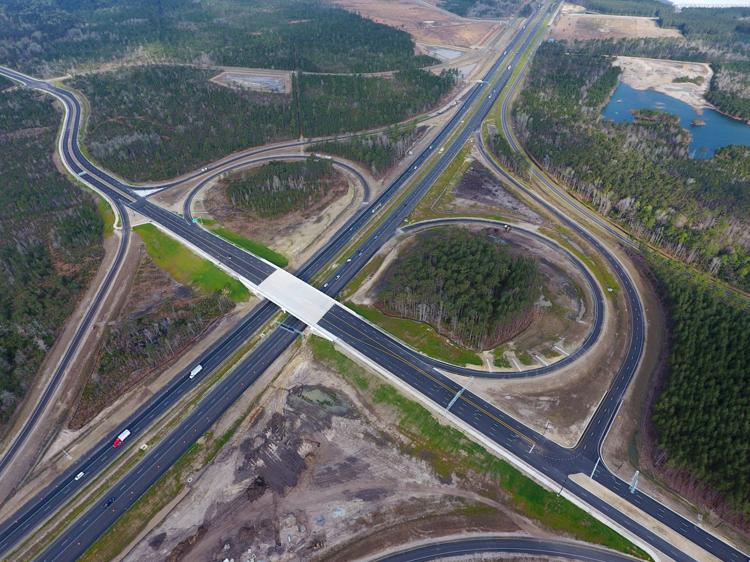 At the "mega-cluster" in Berkeley County, there are four abutting developments where another 30,000 homes could be built under approved plans — Nexton, Carnes Crossroads, Cane Bay and the property next to Cane Bay known as the Wildcat tract. This year, state and local governments finished an $88 million road project there that included widening part of Interstate 26 and creating a new highway interchange.
In western Charleston and Dorchester counties, the Summers Corner and Spring Grove developments could each have 6,000 homes. They will add traffic pressures to their respective areas, but could also bring economic benefits.
Spring Grove, for example, would directly create 10,589 temporary construction jobs, and 6,659 industrial, office and retail jobs, according to its development agreement with Charleston County. The time frame for the development extends into the 2060s, and by then Charleston County expects to collect more than $205 million in added property tax revenues.
Across the Wando River from Mount Pleasant, above Daniel Island, the Cainhoy Plantation development is approved for more than 18,000 homes.
The Daniel Island Co., which developed Daniel Island, is manager of the Carnes Crossroads and Cainhoy Plantation developments. Company President Matt Sloan said Cainhoy Plantation will eventually have only half the number of homes allowed there, but 9,000 homes would still make it one of the largest developments in the state. 
"Is the infrastructure going to be taxed? Sure," he said. "But at least the infrastructure is being expanded."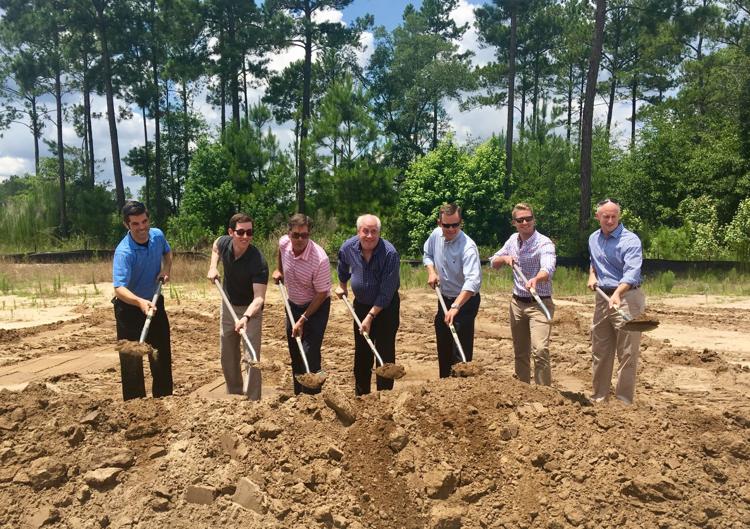 Sloan said Cainhoy Plantation, which is in the Charleston city limits, is different from some other large developments because major infrastructure is already in place. Clements Ferry Road is being widened, the city of Charleston is ready to provide public services, and the Berkeley County School District opened a $69.5 million public school campus last year.
Lisa Kerns lives in the Nelliefield Plantation development along Clements Ferry Road, near the Cainhoy Plantation property, and runs a Facebook group called Clements Ferry Residents For Safer Roads that is focused upon road improvements and has about 2,300 members. She said the new Berkeley County schools are state-of-the-art, but believes widening Clements Ferry Road to four lanes will not be enough to handle coming growth.
"I've always said that by the time we get to four lanes, we're going to need six, but the real problem is going to be Interstate 526,"  Kerns said. "Our roads and bridges people need to get busy widening 526."
Sloan said both Cainhoy Plantation and Carnes Crossroads, which is in fast-growing Goose Creek, were designed to balance jobs, neighborhood services and housing. That's true for some of the other mega-developments as well, including Nexton, Spring Grove, Long Savannah/Village Green, Ingleside in North Charleston and Magnolia in the Charleston Neck Area.
The largest of the developments are multi-decade plans, some of which are more like plans to build a town than a subdivision full of houses. Those developments are governed by long-term contracts with local governments and some, like those negotiated by Charleston, require funding contributions for roads and schools, land for public services, and creation of some below-market-rate housing.
Long Savannah, just west of Bees Ferry Road in Charleston, is bearing the cost of extending the Glenn McConnell Parkway to the development. In Berkeley County, the Nexton development spent $38 million to build Nexton Parkway and associated roads and sidewalks, providing a route to the new publicly funded I-26 interchange for Nexton residents and residents of the Cane Bay development as well.
However, residents still commute to jobs, and travel to shop and dine, and there's no way to escape the fact that more homes mean more traffic.
Charleston County Zoning and Planning Director Joel Evans said local governments are doing a better job of regional planning than in the past, and they coordinate with the state on traffic issues because most of the area's main roadways are state-owned. 
"Charleston County will not approve the development without prior coordination with the (S.C. Department of Transportation)," Evans said. "I think all the municipalities that have traffic engineers, and the (Berkeley-Charleston-Dorchester Council of Governments), and the DOT, are aware of the growth that's been projected."
All the efforts at coordination, and the hundreds of millions of dollars in taxes area residents have agreed to impose upon themselves to fund road projects through added sales tax, have still left frustrated residents waiting for years to see long-sought improvements.
"The elephant in the room is Johns Island," Sloan said. "All these building permits were issued with no infrastructure in place."
Residents of Johns, Kiawah, Seabrook and Wadmalaw islands have been waiting for many years for planned improvements to the Maybank Highway and River Road intersection, where a bottleneck forms daily along the main route to James Island and Charleston. The only other way on and off the island is the Main Road route to Savannah Highway, which is flood-prone and awaiting improvement.
Nonetheless, Charleston County has approved more than 1,600 homes in the unincorporated area near Kiawah, and Charleston has approved thousands more at developments along Maybank Highway and properties nearby.
Governments can regulate development, and establish fees and taxes, but landowners have a right to develop what the rules allow. Development also pumps money into local government budgets and expands the property tax base, but some Charleston-area communities are approaching build-out — the point where there's just no more undeveloped land.
Mount Pleasant, for example, has approved development of most of the remaining private land in the town, except for Boone Hall Plantation and Hamlin Farm. Goose Creek estimates there are 330 undeveloped acres left there.
The expected growth across the tri-county area won't come all at once. Some of the large developments still underway across the region were planned and authorized years ago, including Cane Bay in Berkeley County and Carolina Park in Mount Pleasant. Most of the largest planned developments were approved prior to the Great Recession and a few have yet to start construction.
Like Cainhoy Plantation, many large developments won't end up creating as many new homes as local governments have approved. In Mount Pleasant, the Park West and Dunes West developments had more than 1,100 unbuilt homes allowed by their agreements with the town, but Jeff Ulma, the town's Planning & Development Department director, said there's no room left to build them.
"While those two developments may show up that way on paper, there is simply not enough remaining, buildable land to yield all of those dwelling units," he said.
The largest developments in the Charleston Metro Area are multi-decade plans, and even some smaller developments with hundreds of planned homes have multi-year construction schedules, sometimes with contractual limits on the number of homes that can be built yearly.
"The thing about these large developments is, once they get their approvals, we don't know when they are going to get built," said Evans, with Charleston County. 
Multi-decade development timetables, along with likely fluctuations in the economy that temporarily slow the pace of growth, could give local governments some time to plan and prepare as development marches on.
"I think all of us are doing the best we can, to keep up with the explosion of growth in the area," Evans said.