Berkeley County's population is getting a boost in a few days when a decades-old dispute over the county line is finally settled.
About 200 homes and 75 mobile homes are in the 13-mile-long, icicle-shaped slice of land that will be moving from Dorchester to Berkeley County when the boundary is shifted south. The updated plats will be recorded in each county on Nov. 7.
"I'm not happy about it at all," said James Sheppard, who lives on Fripp Lane in Palmetto Park. "I've been living here for 37 years and I don't understand why after all this time we need to move to Berkeley County. I'm really not pleased at all."
The new line goes through his neighborhood, dividing Fripp Lane and making it not contiguous via road to the rest of Berkeley County.
"It just doesn't make sense to me," he said.
Paula Thomas, also of Fripp Lane, said she is curious to learn more.
"We got something in the mail a while ago but it was really strange looking and didn't make sense to me," said Thomas, who has lived in her home since 1986. "I'd like to know more about it."
Neither Sheppard nor Thomas has children in the school system but for the families that do there will be even more changes as students in the area will also move to Berkeley County schools next year.
"We have been and will be in ongoing discussions with Dorchester School Districts 2 and 4," said district spokeswoman Katie Tanner Orvin. "We will give parents of those students impacted by the shift as much advance notice of plans as possible."
District 2 estimates about 35 children will be affected by the change, said spokeswoman Pat Raynor.
The shift will bring about $250,000 in additional property taxes to Berkeley County, which will be responsible for sheriff and emergency services in the unincorporated area. Of that, about $200,000 will go to Berkeley County School District, according to county spokeswoman Hannah Moldenhauer.
The estimated 30 parcels in the town of Summerville will still receive town services like police and trash collection. The unincorporated area will be covered by Berkeley sheriff and EMS.
"Dorchester County is committed to serving the citizens in the affected area by partnering with Berkeley County to provide public safety," said Dorchester County Administrator Jason Ward.
The error is said to have first been recorded shortly after Dorchester County was created in 1897, carved out of Berkeley and Colleton counties after St. George-area residents complained that Walterboro was too far away for a county seat.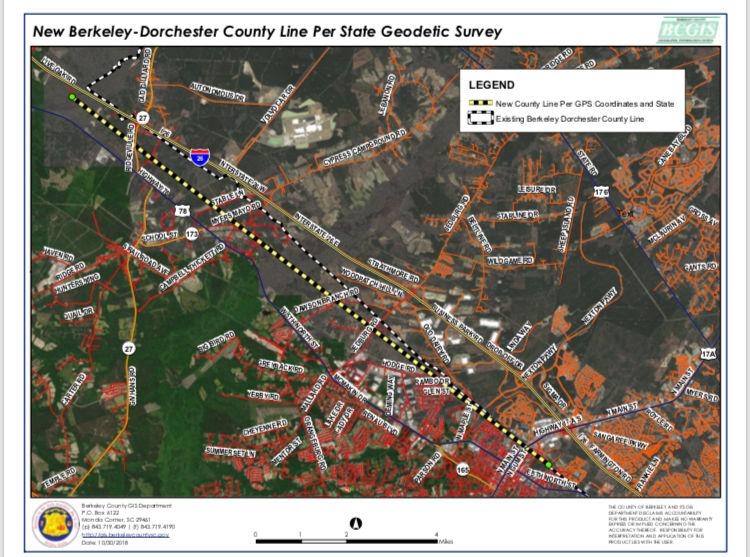 Officials have known about the error at least since the late 1980s, according to Berkeley officials. But the two counties couldn't come to an agreement over the tract, about 3,000 acres that runs from Four Hole Swamp to West 9th North Street in Summerville.
A state geodetic mapping survey in 2001 showed the boundary needed to be moved south. At the time, a number of residents bucked at the notion of switching counties, and officials again put it on the back burner until the state Bureau of Statistics in 2013 demanded that county lines statewide be reconciled, a move that affected about a dozen counties.
Since then, officials from both counties have been trying to work out an agreement.
"This has been going on quite a while," said Berkeley County Real Property Director Wilson Baggett. "Thank goodness we are coming to the end of it."
Baggett and Dorchester Assessor Wayne Welch met to work out an agreement over properties that were divided by the new line. They decided in which county the landowner will pay taxes.
The change does not affect commercial businesses with two exceptions, both divided by the new boundary. Due to its historical significance, Cypress Methodist Campground on Cypress Campground Road will stay in Dorchester County, and Farmington Village Apartments near Berlin Myers Parkway will be divided along the road that runs through the complex.
Other businesses, such as Home Depot, which are divided by the line will continue to be, Baggett said. The two counties years ago worked out a property tax agreement for the store.
This is not the first time Berkeley officials have had to make such decisions. The Berkeley-Charleston county line runs through some homes in Hanahan, which created an issue for homeowners, Baggett said. The counties agreed to assign homes to one taxing authority without changing the county line, he said.
The Berkeley-Dorchester line change will also affect voting precincts in 2019.
The Berkeley County Planning Department is working to develop a land-use map and zoning recommendations for the affected properties.