Three college president positions have opened up in the Charleston area, each with its own unique set of requirements: one at a private Christian university, one at a public military college and another at a public liberal arts college.
The next presidents at Charleston Southern University, The Citadel and the College of Charleston each will replace a well-known leader, whether it be a three-decade icon at Charleston Southern, a military veteran with a track record of transformation at The Citadel, or a diplomatic former state lawmaker at the college.
While the job descriptions vary, all have one selling point in common: location, location, location.
"It's quite attractive," said Jerry Williams, chairman of the board at Charleston Southern, which has received more than 200 applicants for the position. "We want to think the university did it all, but the Charleston area may have had something to do with it as well."
Charleston Southern University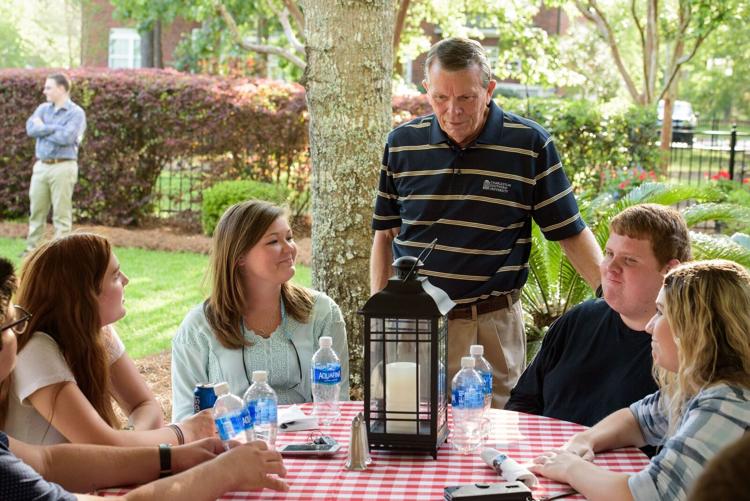 Jairy Hunter will step down as president of Charleston Southern in May after 34 years of service, but he won't be retiring. Hunter has said he will transition into a new role as president emeritus, continue teaching in the graduate School of Business, and will serve as a consultant for the school on topics such as enrollment, external relations and finance.
Hunter is only the second president in the history of the school, which was still known as Baptist College at Charleston when he took the helm in 1984.
After overseeing decades of growing enrollment and the addition of new buildings and academic programs, he gave the board ample time to find his replacement. 
The search for Hunter's replacement began last fall, when the university hired the executive search firm Carter Baldwin out of Atlanta to start seeking candidates.
Williams, who also serves as president of the search committee, said candidates may not simply apply; they must be nominated by someone with an interest in the school, such as a trustee or an alumnus.
The job description at Charleston Southern has at least one unique requirement: The next president must commit to joining a local S.C. Baptist Convention church and affirm the Southern Baptist Convention's 2000 Baptist Faith and Message.
The job description also mentions the university's goal of increasing enrollment from 3,600 students to 4,000 students by 2020. The Board of Trustees hopes to make its selection by late March and have the next president take over on June 1.
"We are not seeking a short-term president," Williams said. "We want someone that's going to be there awhile to buy into the university and continue to move our university forward."
The Citadel
Lt. Gen. John Rosa will retire as president of The Citadel on June 30, leaving his post after serving 12 years as the college's 19th president.
Like many Citadel presidents before him, Rosa was a Citadel alumnus with military leadership experience. He served as an Air Force pilot and rose to the rank of three-star general before working a stint as president of the Air Force Academy.
Rosa announced his plan to retire a year in advance, and the college's Board of Visitors has been accepting nominations and applications for his replacement.
The next Citadel president will oversee a college undergoing a transformation. Long known for producing military and business leaders, the public military college has invested heavily in the past decade in its undergraduate and graduate engineering programs as well as brand-new programs, such as the Department of Intelligence and Security Studies launched last fall.
Military experience is not a prerequisite for the president's post, but the list of qualifications on The Citadel's presidential search website does include "distinguished leadership experience in a major military or civilian leadership positions of national prominence."
Retired Gen. William Hartzog, a Citadel alum, is leading the presidential search committee that began meeting in late fall. According to Citadel spokesman Col. John Dorrian, the committee currently is evaluating more than 100 candidates and hopes to present a list of finalists to the Board of Visitors in April.
College of Charleston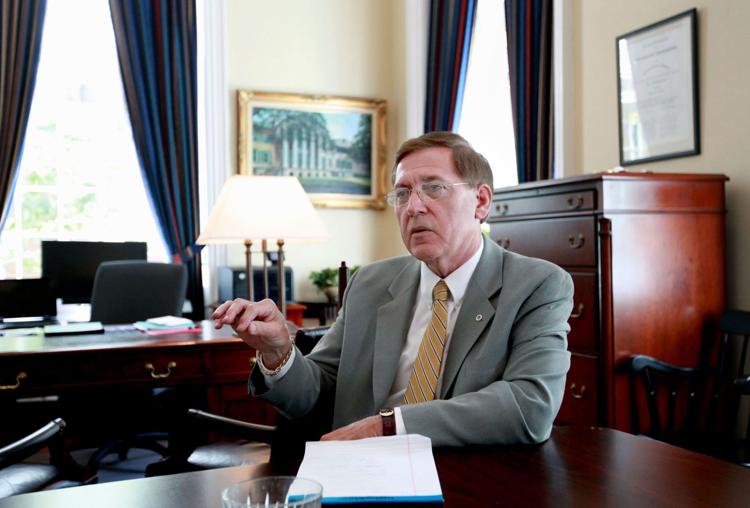 The College of Charleston recently began its own search process when Glenn McConnell, its 22nd president, announced Monday that he plans to retire this summer after four years in office.
McConnell, 70, said his age and health played a role in his decision to step down.
With less than four months until the end of the school year, the college's Board of Trustees wasted no time forming a search committee the day after the announcement. Board Chairman David Hay said Board Secretary Renee Buyck Romberger will serve as chairs, and they said the board already was eyeing "a number of search firms" to identify candidates.
Hay also promised Tuesday that this year's search process will be "inclusive and transparent."
Critics have said the 2014 search process was marred by opacity and a lack of faculty input: The board voted to install McConnell, a well-connected state lawmaker, ignoring the results of its national search and the protests of the Faculty Senate, Student Government Association, Foundation Board members and the NAACP.
Jeff Schilz, a former college trustee who now is executive director of the S.C. Commission on Higher Education, said the next president of his alma mater will need to bear in mind the changes that have taken place at the college, from expanding enrollment to new programs of study to decreased funding from the Legislature.
"I think the challenge for the college, and the challenge for any school right now, is you want to stay true to your core," Schilz said. "Liberal arts and sciences is always going to be at the core of the College of Charleston, but at the same time you have to fill needs that the students are demanding."