Three-quarters of the coastal beaches and marshes from North Carolina to central Florida face a very high risk of erosion by 2030, according to a new study. 
That's bad news, not just for people who go to the beach and own homes there, but also for others who depend on the shoreline, including migrating birds and sea turtles. 
The study, published in the Journal of Wildlife Management, updated the Coastal Vulnerability Index, a framework for determining which parts of the coast are most at risk. The last time it was updated, in 2000, only 30 percent of the same area faced the highest level of risk. The new study incorporated more recent data on sea level rise.
"Climate change and projections for climate change are very fluid," lead author Betsy Van Holle said. "We know that there's lots of species that depend on these habitats, so we wanted to see what it meant."
The study doesn't mean that 75 percent of beaches, dunes, swales and marshes will definitely disappear, she added, just that they're most prone to degradation. 
"They are going to have erosion, they are going to have inundation, but this doesn't necessarily mean the entire beach is going to be washed away," said Van Holle, who is a program director in the National Science Foundation's environmental biology division.
The main cause of sea level rise is melting polar ice as planet-insulating emissions warm the climate. Still, some places are more vulnerable than others to the rising tides. South Carolina, with its matrix of curving creeks and rivers, low-lying marshes and chain of sea islands, is among the most at risk. 
Its situation is further complicated by a condition researchers have termed the "coastal squeeze." As more and more people flock to the coast of the Palmetto State and elsewhere, it puts pressure on beaches and other dynamic coastal environments.
While beaches and marshes can migrate naturally in times of rising water, they disappear if they are choked out by hard infrastructure, such as roads and homes. 
In Van Holle's study, which included contributions by 11 other researchers, that squeeze means probable habitat loss for species like the loggerhead turtle, which nests prolifically on South Carolina beaches in the summer, and shorebirds like the Wilson's Plover, which also breeds on southeastern beaches.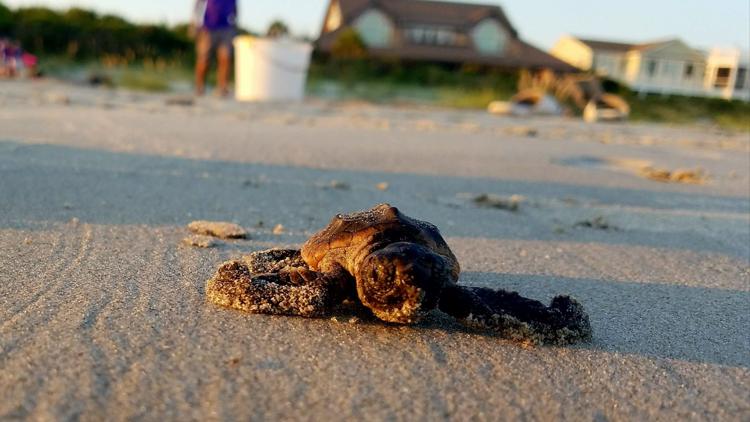 An eroding beach can pose dangers to animals even before it disappears. Previous research has shown that narrower beaches cause sea turtles to lay nests closer to vegetated dunes. That makes their nests more vulnerable to fire ants, which tend to nest in those dunes and can destroy turtle nests. 
Van Holle said future research will focus on the effects from these decreased habitats, such as whether sea turtles end up disturbing each others' nests when space becomes crowded. 
Sea turtles already face many environmental threats: They can get easily caught in ocean debris; they collide with watercraft; and some mistake floating plastic bags for food. Rising temperatures from climate change also threaten to make South Carolina too hot for loggerhead nests.
To avoid putting more pressure on nesting bird species, Nolan Schillerstrom, of Audubon South Carolina, said boaters should be wary of disturbing remote islands that could prove crucial habitat to birds, either because they're nesting there or stopping for a break on a long migration.
Some species found in South Carolina travel all the way from the southern tip of South America to the arctic. Being disturbed during a period of rest or feeding can prove extremely stressful for these birds. 
It's also important to observe signs on beaches warning of nesting habitat and to keep dogs on leashes so they don't flush a nest by chasing birds away from shading their eggs, Schillerstrom said.