For years, communities across the Charleston region have been calling for better transit service. 
It's been spelled out in master plans throughout the Lowcountry, such as the Neck Master Plan in 2013, Rethink Folly Road in 2016 and Plan West Ashley in 2017.
For the first time, the Charleston-Berkeley-Dorchester Council of Governments has spelled out exactly what needs to happen, when, and how much it will cost to seamlessly weave transit into the region's car-centric transportation network. 
The COG manages the two bus services in the region, the Charleston Area Regional Transportation Authority in the core of the region and Tri-County Link in rural places. 
Its recently published Regional Transit Framework Plan is a blueprint for better bus service throughout the three counties using a variety of new services. And it's not just about putting more buses on the roads.
In some spread-out suburbs, for instance, the population size doesn't justify the cost. In other busy areas, the roads already have too many vehicles, so buses would just get caught in the same traffic. 
"It's really looking at transit services in general, beyond just the traditional fixed-route bus," said Sharon Hollis, principal planner for the COG. "We recognize those are important, but that doesn't work for every environment that we operate in."
Spread thin
While the Charleston area is growing rapidly, people are still relatively spread out. 
Most communities tend to handle the growth by expanding outward instead of up, bringing more subdivisions to the outskirts of town and requiring new roads to connect them.
The trend has placed overwhelming importance on individual cars to get around. Elected officials and planners are realizing that adding more and more cars to the region's transportation network is only going to lead to clogged roads, even if new ones are added and old ones are expanded.
Mass transit is really the only alternative. But the way the region is laid out has pretty much ruled out rail service. A 2016 study found that a light rail line from Summerville to Charleston would cost $2 billion. 
Expanding full-time routes to mostly suburban places isn't cost-effective, either, because the buses would end up traveling great lengths only to carry a handful of passengers throughout most of the day, Hollis said. Plus, there are performance strings attached to federal funds, so the bus system can't afford to make those gambles. 
"The region hasn't been planned to maximize public transit, so that's what makes it difficult," said COG spokesman Daniel Brock. 
That's a predicament the new regional transit plan is aimed at untangling.
Key solutions
One way the COG believes transit can become more accessible in suburban and rural areas is to introduce what's known as "demand-response service." In plain terms, it's basically a ride-hailing service, such as Uber, but with buses and shuttles. 
"It's really catering transit service to the trips that are needed instead of doing a one-size-fits-all scenario," she said.
There's already a service like that for people with disabilities in the Charleston area, but Hollis said expanding the option to everyone in specific zones would help bring transit to places that aren't currently served. It's a model already working in other metro areas, such as Dallas. 
In the more populated areas, Bus Rapid Transit has already emerged as the best fit for the Charleston region. The transit framework plan builds on it, and spells out what needs to be done to make it work. 
The COG will soon begin the two-year permitting process for the initial route that will connect Summerville to downtown Charleston through a bus-only corridor, likely through the center of Rivers Avenue. It will have synchronized traffic lights, giving it an advantage over other traffic on the congested Interstate 26.
About half the $600 million Charleston County voters approved in 2016 for CARTA will be spent on the BRT line. 
The Federal Transit Administration also recently awarded the COG an $880,000 grant to plan for potential development and redevelopment along the route.
Hollis said the advantage of BRT services is that they add carrying capacity to existing roadways without requiring them to be widened.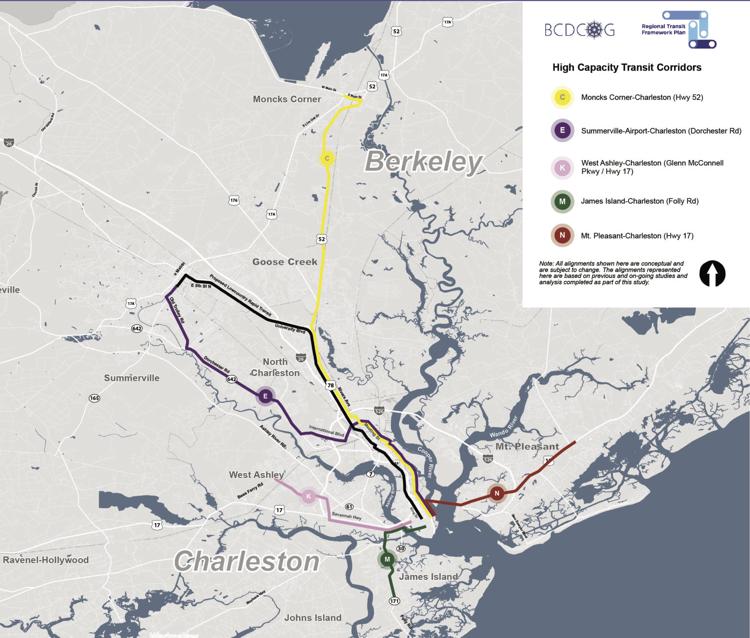 The transit framework plan determined other BRT corridors that could connect to the core spine along Interstate 26. The top four that will be given priority connect downtown Charleston to Moncks Corner along Highway 52, Summerville along Dorchester Road, James Island along Folly Road and West Ashley along Glenn McConnell Parkway and U.S. Highway 17.
The cost to build all of them by 2040 would be $1.3 billion, and the annual operations would cost $44 million. The would-be ridership is estimated to reach 9.6 million annually. 
'Following the plan'
To make the BRT services operable and cost-effective, municipalities will have to embrace higher-density zoning to make sure there is a greater mix of housing, businesses and other urban uses to bring enough riders to the system, Hollis said. 
Charleston City Councilman Mike Seekings, also the chairman of the CARTA board, said updating zoning to support transit is a goal to which he's committed, and that he wants planners from various municipalities to collaborate on comprehensive policies. 
"Transportation without density isn't going to work, and you can't have density without transportation, so the two naturally go hand-in-hand," he said.
The Charleston Metro Chamber of Commerce is supportive, too, because the sprawling patterns of growth are placing cheaper housing prices well outside the job centers, forcing more people to drive long distances to work every day. 
Adding more mass transit alongside denser zoning districts in the center of the region will help address traffic and housing needs, said Ian Scott, senior vice president of government relations.
He said that's an especially critical goal for the Charleston area because as a coastal region, it can't grow in all directions. 
"We have to decide where growth is going to happen. We have to plan," he said, adding that at this point, with all the regional planning that's been done, "it's not about creating a plan, it's following the plan."