Rapid development and population growth, and the cars and trucks that come with it, have led to traffic problems across the Charleston metro area and a $2.7 billion list of road improvement projects.
And those are just the major road projects currently under way or coming in the next several years. That's not counting the revived plan to extend Interstate 526 to Johns and James islands or the anticipated plan to widen the same interstate from North Charleston to its eastern end in Mount Pleasant.
Road projects throughout the tri-county area are already going through engineering, or right-of-way purchases, permitting and construction. During the next several years, the Charleston area's population of orange traffic barrels will skyrocket.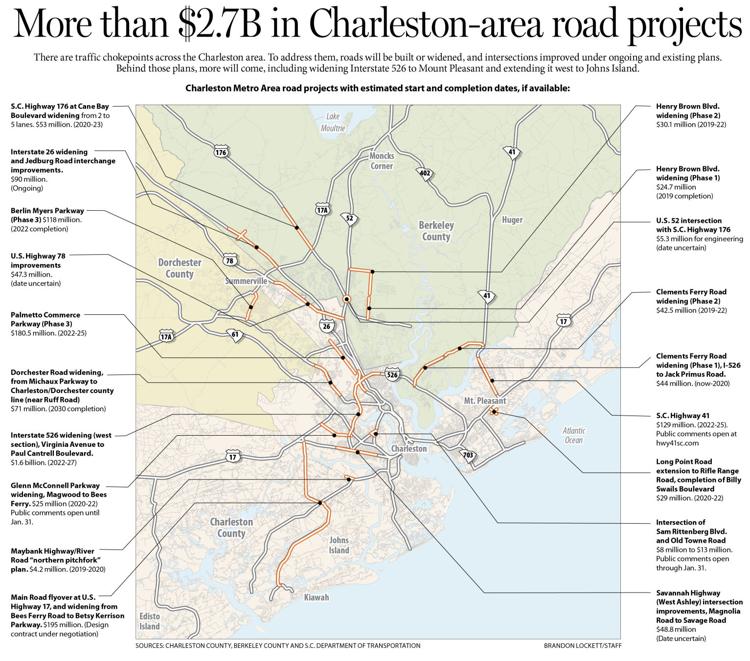 Some of the plans will displace area residents as existing roads are widened and new ones are built. Construction will complicate travel. Paying for it all will be local, state and federal funds, plus county-level special sales taxes, which have left Charleston County's sales tax rate tied for the highest in the state at 9 percent.
"I think (the road projects) are all going to make things better in different areas," said Charleston County Transportation Director Steve Thigpen. "We're definitely playing catch-up." 
In many cases, traffic bottlenecks and choke-points have developed because subdivisions with thousands of homes were built along two-lane roads, such as Park West and Dunes West in Mount Pleasant along S.C. Highway 41, and Cane Bay in Berkeley County along S.C. Highway 176.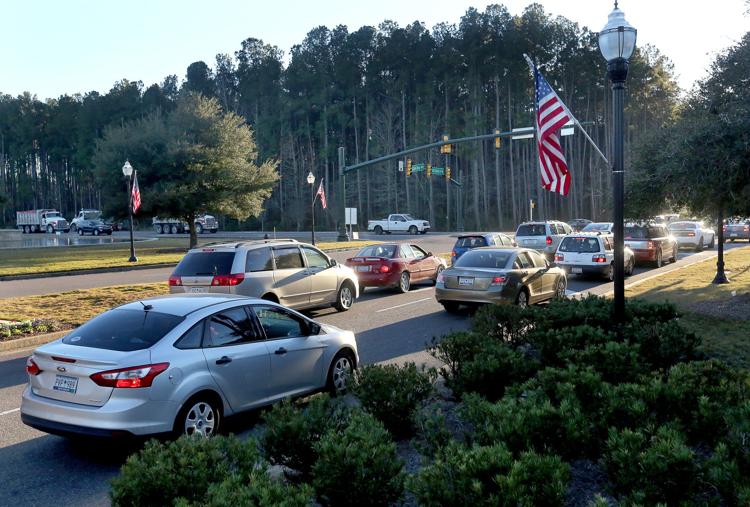 Both of those roads are set for widening, at an estimated cost of $129 for Highway 41, and $53 million for the first phase Highway 176, from 17A to Nexton Parkway. With many projects, the availability of funding is an ongoing issue.
"We still need to see if the revenues from the sales tax programs and the expenses from our other projects, whether all those numbers work in order to go to construction next year on Phase 1 (of Highway 176)," said Berkeley County Deputy Supervisor Les Blankenship.
There is also a $118 million plan to complete Berlin Myers Parkway in Summerville, a $180 million plan to extend Palmetto Commerce Parkway south to the airport, $195 million to widen Main Road on Johns Island and redesign the intersection at U.S. Highway 17, $71 million to widen Dorchester Road in Charleston County, and many more near-term projects.
But the mother of all near-term road projects, at $1.6 billion, is the widening of Interstate 526 from Virginia Avenue in North Charleston to Paul Cantrell Boulevard in West Ashley, the expansion of the interchange where interstates 526 and 26 meet, and widening a portion of I-26.
That project is expected to get under way in 2022.
"They are looking at going from six lanes to eight lanes (on I-26), that would tie in to the I-526 upgrades and the port access road," said Sarah Cox, regional planner with the Berkeley Charleston Dorchester Council of Governments.
Joy Riley is managing that project for the S.C. Department of Transportation. She said the top priority is the interchange where Interstates 26 and 526 meet.
"We're trying to prioritize the widening segments, and some are worse than others," she said. "We do know, for sure, that we want to get the intersection part out first."
"It's an enormous project," Riley said.
It's one of many coming in just the next several years and when they are done, more will follow. One of the largest will be widening the other existing sections of I-526, from Virginia Avenue east to its end in Mount Pleasant — a route that's about 60 percent elevated and includes bridges over the Cooper and Wando rivers.
Berkeley County is already looking ahead to a third sales tax referendum to fund more road projects, possibly in 2023, Blankenship said.
"Our priorities are road infrastructure — first priority through ninth priority," he said, echoing comments Supervisor Johnny Cribb made when he was sworn in earlier this month.
"We fully anticipate putting together a new list of projects for a new or renewed sales tax program that would start in 2023," Blankenship said. "I think that we are doing a little more long-term planning for what we think the growth areas will be in Berkeley County."
He said the county is also trying to get beyond playing catch-up, looking at road plans that will be long-term solutions. For example, he said the newly-built Nexton interchange on Interstate 26, combined with Nexton Parkway and plans to widen Highway 176, are creating more ways to move traffic.
Blankenship said another path to explore, on the Cainhoy peninsula, will be working with the city of Charleston to find ways to connect residential subdivisions to commercial areas to reduce traffic on Clements Ferry Road.
"We will get to a point, as some of us have begun to understand, where we will not be able to build our way out of traffic congestion," said Thigpen. "That's why we need rapid transit in the Charleston area, in my opinion."
Plans for the region's first bus rapid transit line, from Summerville to downtown Charleston, are underway, but the new line, expected to cost in the hundreds of millions, is not expected to start up before 2025, at the earliest.