Andy Savage rarely shies from the spotlight.
He has handled more high-profile cases than any criminal defense attorney in Charleston.
But after one of the biggest of his career ended with a 20-year prison sentence for the policeman who killed Walter Scott, he slipped out of the federal courthouse and avoided the TV cameras.
Savage had poured his life into representing Michael Slager, and the sentencing was the most difficult experience in his 37 years as a defense lawyer. It also came amid tumultuous times that included a battle with cancer.
A deep depression set in. He caught a flight to remote Maine. He was alone.
"I wasn't in a good place," he said. "I couldn't share my life with anybody here."
He went to care for his dying principal from his Catholic high school days — a man who had helped shape his life.
"I quit thinking about myself and concentrated on him," Savage said. "It put my life into perspective."
If he were ever close to retirement, it might have been then — like a talented NFL quarterback who quits after a bad season. But at 71, Savage said, retirement doesn't enter his vocabulary. He can't relinquish a position as likely the most recognizable and formidable defense attorney in the Lowcountry.
He dialed back his hours and sometimes works from his home on Johns Island marshland rather than his brick-walled downtown office near Charleston Harbor. He took on new clients, including a local jeweler accused of murdering his wife in a mystery destined for "Dateline."
And this fall, Savage received one of the most prestigious honors of his profession: the Griffin Bell Award for Courageous Advocacy from the American College of Trial Lawyers. The award had been given out only 14 other times in its 54-year history to people such as Judy Clarke, who represented the "Unabomber" Ted Kaczynski.
While accepting the award in New Orleans, Savage spoke of a "profession that brings exhilarating highs, but also batters us with depressing disappointments."
He's not ready to give it up.
"I wish I had the energy to do more because in what we do," he said, "it's never enough."
'Outwork most people'
The Savage Law Firm sits in a downtown Charleston building that dates to 1850. There, Savage works with a small support staff and one other lawyer: Sarah Sykes, a former Army attorney with three Bronze Stars to her name.
In his office that features arched windows overlooking cobblestone streets, Savage recently reached for a small book.
It contained Bible verses reflecting the Corporal Works of Mercy, instructions for Catholics to lead charitable lives. His parents had raised him on these principles in Upstate New York.
"All of us should follow this," Savage said, flipping through the pages.
Savage attended Fordham University in New York City and worked as a taxi driver. He followed his future wife, Jacquelyn, to her native South Carolina and went to law school.
His wife took ill as he worked as a prosecutor. After she died of leukemia in 1981, he went into defense law.
He traced his rise to some key acquittals: an accused sniper killer, a police officer who fatally beat a prisoner, a mom who left her children in a car to die.
Frank Cornley was a young lawyer when he went to work for Savage in the 1980s.
"He'll outwork most people," Cornley said, "if not all people."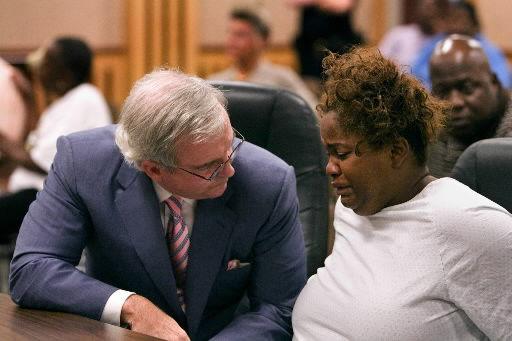 'Very demanding'
Savage has no hobbies. He spends time with his children and grandchildren. But he doesn't golf. He doesn't bowl. He doesn't play cards on Thursday nights.
"I don't talk about going to work either," he said. "It's just my life. It's who I am."
He spends seven days a week studying his cases. He works holidays.
He does it because the little things that others might not think of can lose a case, he said.
During one court hearing in recent years, he riffled through papers and announced that he was missing a document. He turned to staff members sitting in the gallery, expecting them to spring into action. They sat still.
"Well?" he said, the eyebrows furrowing over his dark-rimmed glasses.
They stood.
One was Heather Hill, a paralegal for Savage for three decades.
"He can be very demanding," she said. "When things are not done to his satisfaction, he takes it personally because he genuinely cares about his clients."
He also expects much of those clients. Half-joking, other attorneys say that being "out on bond" for Savage is harder than posting bail with the court.
After a recent arrest, one client's guns were seized. In what Savage called a sign of his age, he later emailed the case prosecutor and asked for the weapons' return.
But he had seized the guns, he realized — not the authorities.
Savage sets rules requiring clients to get help for medical, mental health or drug problems that contributed to their legal dilemmas.
"Some people refuse," he said, "so they can go see Lawyer Jones down the street."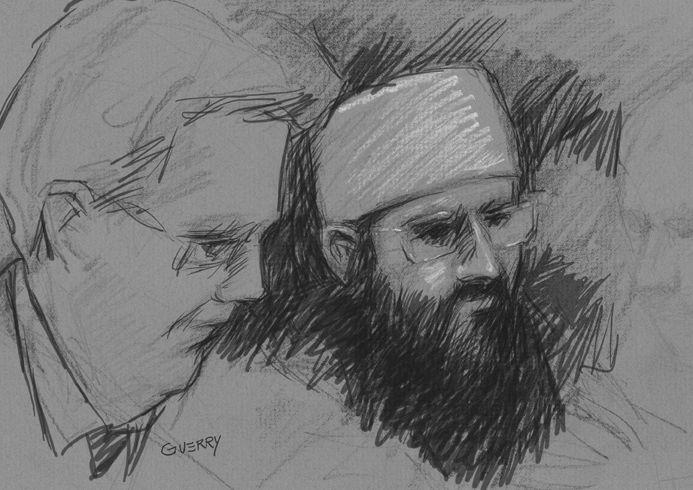 No time for 'self-pity'
January 2015 marked the start of trying times for Charleston and Savage.
He was focused on a case that began a decade earlier. Ali al-Marri had been accused of being an al-Qaida sleeper agent after the Sept. 11, 2001, terror attacks and was imprisoned at the Navy brig in Hanahan.
After al-Marri's release in early 2015, Savage visited his client's native Qatar on the Arabian peninsula, where thousands of men danced in celebration. The prime minister praised Savage. Officials gave him a sword labeled "State of Qatar" that now sits in his office. 
But he fell ill. He feared he had caught a Middle East respiratory virus. It worsened.
Testing in Charleston revealed a pituitary gland malfunction that sapped his energy. Further scans showed aggressive prostate cancer.
For nine weeks, he went through radiation.
He still answered phone calls and took cases.
In April 2015, Savage was among the millions who saw a cellphone video showing a North Charleston police officer shoot Scott in the back after a traffic stop.
Slager's wife called Savage, desperate for help amid uproar over the black man's killing. Slager's first attorney had dropped him when the video surfaced.
"I told everyone it was going to put (the law firm) out of commission for a while and be expensive," he said. "On top of that, the health issues would incapacitate me."
He was in the throes of sickness two months later when his phone rang early one morning. He had gone to bed at 6 p.m. and didn't know about the violence that had unfolded overnight at Emanuel AME Church. Self-avowed white supremacist Dylann Roof had fatally shot nine black worshippers.
The caller was a survivor: Felicia Sanders, a friend whose son had been killed in the attack. Her words were "mush;" Savage couldn't comprehend what was happening.
He got up and drove to Sanders' home, where he took out the trash and coordinated meals. Later, he sat beside Sanders as Roof was sentenced to death.
Her bloody clothes still sit in a box in his office.
"I couldn't wallow in self-pity just because I wanted to lie in bed and sleep all the time," he said. "It's hard to sit back and feel sorry for yourself in the midst of all this actual suffering. ... I had to get my ass up."
Ups and downs
Slager's murder case neared trial.
At one hearing, Savage turned to his wife Cheryl, who sat beside him as she often had. They had gotten married in 1986, five years after the death of his first wife and near the start of his two terms on Charleston County Council. She became his closest legal assistant.
"I just can't do it," he told her. "I have to get to bed."
Another attorney took over that day.
Savage also spent hours talking with journalists, battling what he thought was an unfair portrayal of Scott's killing. News accounts, he argued, often ignored the fight that prompted the officer to shoot eight times at the fleeing Scott.
Ninth Circuit Solicitor Scarlett Wilson, who prosecuted Slager, said Savage has mastered the "press game" that solicitors are not allowed to play.
"That can be quite frustrating when working with Andy," she said. "What's the saying? 'Don't hate the player, hate the game?' I've reminded myself of that a number of times."
Jurors would reject Slager's murder charge but deadlock on voluntary manslaughter. A mistrial was declared in December 2016.
By then, Slager had spent hours at Savage's office, poring over evidence. Slager's wife often came by with their new son. He stayed at Savage's house after his release on bail and again after someone set fire to his own home.
"You don't think of lawyers doing things like he did," Slager's mother, Karen Sharpe, said. "Andy and Cheryl just said, 'Pack up your stuff and come here.' "
Cornley, who now runs his own firm in space he rents in Savage's office building, said Savage got close to Slager.
"That's the real reason he had such a hard time with the result," Cornley said.
'Can't get stuck'
Months after the mistrial, Slager pleaded guilty to a civil rights violation in federal court.
U.S. District Judge David Norton presided over the sentencing in December 2017.
Savage was close friends with Norton. Both had wives who died of cancer, and Savage helped introduce Norton to his new wife, a forensic pathologist. Norton became the godfather to Savage's children.
Savage also knew Norton as tough but didn't think the judge would give Slager more than 10 years behind bars.
But the judge ruled that Slager had committed murder while violating Scott's rights, doubling the prison term.
"It was like the air went out of Andy," Sharpe said of the ruling. "It was hard on him."
Scott's family and supporters rejoiced in the 20-year sentence.
Savage hung his head.
"You look to yourself when that happens," Cornley said. "You ask, 'What could I have done better?' "
Savage quickly made his way to Alfred, Maine, a town of 3,000 people. There, he saw Brother Francis Blouin, his high school principal who mentored Savage after his father died during his teenage years.
Blouin belonged to the Brothers of Christian Instruction, a group of Catholic educators. As he battled ALS, he stayed at the organization's Spiritual Center, billed as a place where people can search for meaning in life.
Savage focused on Blouin and took his mind off everything else.
"It reoriented me," Savage said.
Blouin died a month later. His obituary quoted a college commencement address he had given: "The way we find meaning in life is to devote ourselves to ... something that gives us meaning and purpose."
Savage returned to his firm at 15 Prioleau St., but Slager's sentence still bothered him. When they met again in court, Savage couldn't look at Norton.
But nine months later, Savage purchased the sketches that a courtroom artist had created during the sentencing. He sent five to the judge.
"It was my way of saying life goes on," Savage said. "You can't get stuck on one case, one decision."
Recently, Savage spent time preparing for the murder trial of Michael Colucci, a jeweler accused of strangling his wife in Berkeley County and making the death appear like a suicide. Savage spoke for an hour on the phone with a pathologist who said she couldn't testify with absolute certainty that the case was a homicide.
Savage ended the call. Such testimony would support a portion of the defense theory.
"Yes!" he said, giving a thumbs-up.
"The enjoyment of practicing law," he said, "hasn't diminished one bit."