Holding true to their promise to not stay silent about Bree Newsome's College of Charleston visit, the S.C. Secessionist Party mounted Confederate flags on top of five different buildings around downtown Charleston Sunday.
Shortly after the racially-driven murders at Emanuel AME Church in June 2015, Newsome climbed up the flagpole in front of the Statehouse and pulled down the Confederate flag. She was arrested the same day and charged with defacing a monument. 
Newsome is scheduled to speak at an event called "Tearing Hatred from the Sky" at the college Wednesday.
Last week, James Bessenger, chairman of the state Secessionist Party, asked the college to cancel the event claiming that her presence would encourage others to deface Confederate monuments.
The group posted on their Facebook page that they would move their weekly "Flagging of the Battery" rally closer to campus if the Newsome's event wasn't canceled. They also planned to fly flags near Southeastern Wildlife Exposition (SEWE) events as part of their mission to "Flag South Carolina's tourist attractions until the Relic Room Display of the State House Battle Flag was complete."
Hundreds were gathered in Marion Square for SEWE, as Confederate flags flew above a parking garage across the street and counter protesters held signs that read "that flag is embarrassing" and "black lives matter."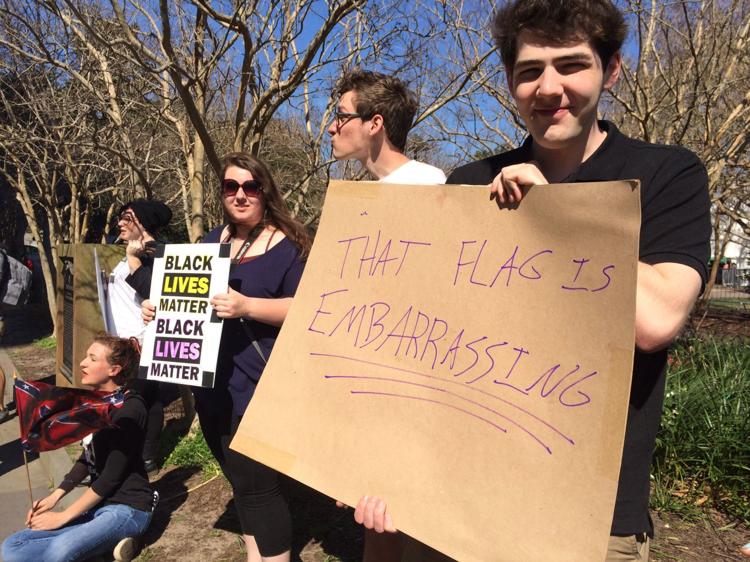 The counter protesters were present in Marion Square, and several also joined the Secessionists on top of the parking garage. They flew an LGBT flag alongside the Confederate flags.
Newsome responded to reports of the protests in a tweet that encouraged the counter protests and asked, "A parking garage is a poor substitute for the dome of the Capitol, isn't it?"
To counter protesters: 😊🙏🏾💕 Love & light. To the others: a parking garage is a poor substitute for the dome of the Capitol, isn't it? 🐸☕️ https://t.co/nQ7f3jtTLO

— Bree Newsome (@BreeNewsome) February 19, 2017
According to social media reports, the Secessionists dismounted the flags from the parking garage near Marion Square a little after 4 p.m.  
The city of Charleston released a statement Sunday evening that said signs will be placed in all city garages on Monday warning that the city prohibits "Signs, Banners, Flags or other Displays that Protrude Through Openings Between Parking Levels, or Upon the Exterior Surfaces Between Parking Levels or that Extend Higher Than the Perimeter Wall on the Top of the Garage."
"Obviously, the misuse of city garages to fly various flags and banners this afternoon was unexpected," city of Charleston spokesman Jack O'Toole said in the release. "City garages are for parking, not for these types of public displays, and it applies to any and every one equally."
Angie Jackson contributed to this report.