It looks like concrete, and one dose about the size of a grain of salt can be deadly. Authorities say a new potent opioid combination dubbed "gray death" has moved into South Carolina.
Gray death is a potent mix of heroin, fentanyl, a synthetic opioid called U-47700 and carfentanil — a substance that's normally used to tranquilize elephants and is 100 times stronger than fentanyl. It's turned up on the streets in Georgia, Florida, North Carolina and, in the past several months, the Myrtle Beach area.
"What gray death is representative of is the introduction of the drug cocktail," said Patrick Apel, an agent with the Drug Enforcement Administration whose area extends from Lee County to Horry County. "Gray death is nothing more than a very potent, very deadly cocktail."
Lt. Jamie DeBari, who heads up the Horry County Police Department's narcotics unit, said officers saw the substance a few times over the summer. He wasn't aware of the drug being tied to any overdose deaths in the county.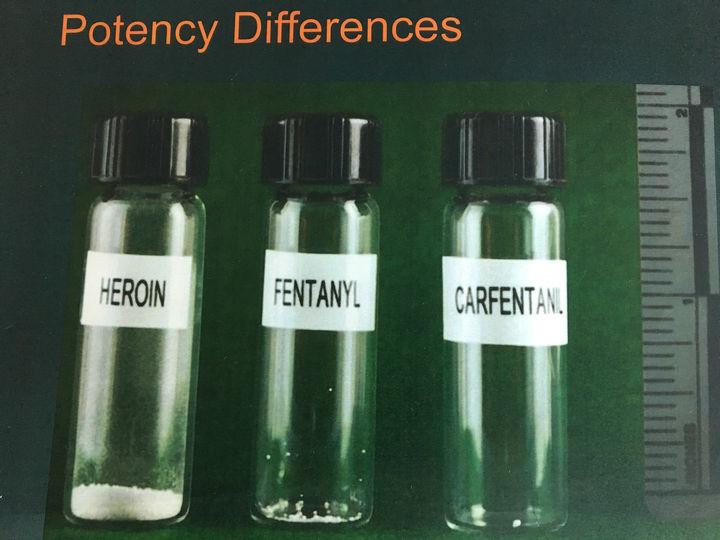 "I assume it's still making its way this way," he said. "We're still combating the heroin epidemic."
Fentanyl and its derivatives such as carfentanil can be absorbed through the skin, which Apel said can cause overdose or death from just touching the substance. That's what authorities in Miami said may have killed a 10-year-old boy who was somehow exposed to the painkiller while walking home from a community swimming pool in June. 
Apel said addicts elsewhere in the Southeast have called 911 before using heroin laced with fentanyl to request that someone respond to their address in 30 minutes "because they're gonna be overdosing." It can take multiple doses of the antidote Narcan to revive someone who has overdosed on carfentanil.  
DeBari is aware of the threats these synthetic opioids pose to law enforcement who respond to overdoses. Officers wear protective gear when dealing with fentanyl. 
"We've seen cases throughout the nation of where it has affected officers who are unaware or don't know what they're dealing with," DeBari said.
On Thursday, law enforcement officials held a news conference in Charleston addressing joint efforts to combat the opioid crisis in the tri-county region. Jason Sandoval, a DEA agent in Charleston, said synthetic opioids have "taken over the heroin market." Locally, the manufactured drugs started appearing more frequently toward the end of 2016. 
"The first reported instances of gray death were in January 2017 and not long after ... we actually started purchasing it through undercover operations," he said. 
Dealers buy synthetic derivatives for gray death online from China. Mexican cartels have also recognized fentanyl's profit potential. Sandoval said that while it can be tough to trace the source of synthetic opioids, authorities have busted fentanyl labs in the United States. One such lab was uncovered in Manhattan, N.Y., in August. 
"We're gonna be trying to develop information from this operation that leads us to what our primary hubs that service South Carolina are," Sandoval said, "and we'll be working with our state and local partners across the country to try to push back against the supply here in South Carolina."