COLUMBIA — Legislators are offering high school graduates of 34 school districts the chance to get a technical degree for free, potentially catapulting thousands of young people to a good-paying job — without mountains of college debt — while providing employers with trained workers.    
The South Carolina Promise scholarship, approved as part of the state budget, covers up to $2,000 per person this school year.  
While the state's 16 technical colleges charge full-time students more than twice that amount in tuition and required fees, the scholarship is designed to supplement other financial aid. Students must first apply for a federal Pell Grant and state lottery-supported scholarships. The Promise will fill any gap, plus contribute up to $300 for books.
"I hope it gives promise for a promising future for those who would otherwise not be financially able to get a higher education," said Sen. Karl Allen, D-Greenville, who advocated for the program. "It opens up a whole new world of opportunity."
It's not yet clear how many students statewide are benefiting this semester. About 7,600 students graduated in the spring from the 34 poor school districts.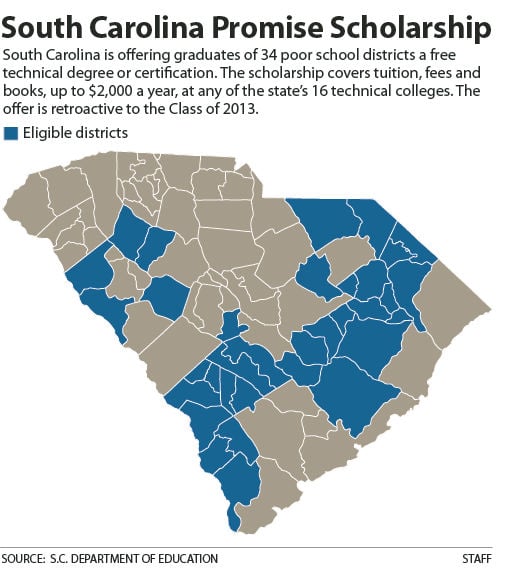 But the offer isn't limited to the Class of 2018. It extends to anyone who's earned a diploma or GED while living in the eligible districts over the past six years and doesn't already have a bachelor's degree. 
"If we have students out there who haven't found their niche — or they started one thing and had to get a minimum-wage job — but always wanted to be a welder or whatever, this allows them the opportunity to go back and get their certificate and training," said Sen. Brad Hutto, D-Orangeburg, another proponent.
The 34 eligible districts are those that sued the state for more money 25 years ago. The state Supreme Court closed the case last November, three years after ordering state legislators to improve opportunities for poor, rural children, which released lawmakers from the high court's oversight.
"For rural students in underperforming districts ... we've not given them the best springboard to a job," Hutto said. "This is one thing we can do to bring them up." 
Legislators put $3.9 million for Promise scholarships in the budget that took effect July 5. Tim Hardee, president of the S.C. Technical College System, said he hopes the program's so popular the money runs out, which would show more students want access to a degree or certificate.    
The offer expands on last year's state pilot at Williamsburg Technical and similar programs launched several years ago at tech schools in Sumter and Greenwood, which were funded by local governments, industries and private donations. 
At Central Carolina in Sumter, the percentage of local teens enrolling in the college after graduating high school doubled from 15 percent to 30 percent, said Hardee, who was president there before coming to the state agency.   
Before that program offered two years of free tuition to students from Sumter, Lee, Kershaw and Clarendon counties, the college's students averaged 28 years old. 
"We really offered it as a way of encouraging students to enroll straight out of high school instead of wandering around for 10 years without any plan," Hardee said. "Why wait 10 years? Let's get you enrolled." 
Piedmont Technical College, where a similar offer was limited to students from Laurens and Greenwood counties, saw a significant increase in students returning, both fall-to-spring and year-to-year, said spokesman Joshua Black. 
Unlike those school-specific scholarships, students eligible for the state Promise can use it at any of the state's 16 technical colleges.  
But at Trident Technical in Charleston, only a few of the 425 students awarded a Promise scholarship, as of last week, hail from outside Berkeley County, said spokesman David Hansen.
Berkeley County is the only district in the college's tri-county territory that was part of the funding lawsuit filed in 1993, when the district was far more rural.  
Among the 16 colleges, Trident Technical has the highest total enrollment, while Piedmont Technical serves by far the most counties, at seven.  
Nearly 390 students at Piedmont this semester are getting at least partial help from the state Promise, with awards averaging $646. Recipients include 208 students using the scholarship solely to buy textbooks, Black said.
The college is using the state Promise in conjunction with its existing, locally funded programs to help more students attend cost-free. Still, graduates from two districts in its territory — Newberry and Edgefield — are left out entirely.
Advocates hope to eventually extend state Promise scholarships statewide. They're hopeful data from this round will help sell the idea.  
It's the economic development angle that prompted the state's GOP-dominated Legislature to give it a try.  
"If this does enhance the workforce, yes, we want to expand it. We've done a great job of recruiting industries to move in, but we need more trained workers, not just bodies," Hutto said. "Everyone who gets a good job becomes a taxpayer. We can potentially invest a small amount of money for great impact."