COLUMBIA — Gov. Henry McMaster ordered mandatory evacuations of eight barrier islands in Beaufort, Jasper and Colleton counties on Friday even as Hurricane Irma's predicted path continued to veer west from the Palmetto State.
The evacuations start 10 a.m. Saturday. Some of those areas are still recovering from Hurricane Matthew, which skimmed along the South Carolina coast less than a year ago.
The largest barrier island involved in the evacuation is Hilton Head, which has more than 40,000 permanent residents.
Other islands included are Edisto Beach, Fripp Island, Daufuskie Island, Harbor Island, Hunting Island, Knowles Island and Tulifinny Island. These seven islands all have permanent populations under 500 people with the exception of Fripp, which has about 900.
The populations of the popular tourist destinations swell with visitors, but McMaster said it's unknown how many people are on the islands as of Friday.
Lane reversals are not planned at this time but that could change as evacuations take place, he said. 
The governor did not rule out more evacuations. He suggested residents and visitors just outside the islands being evacuated to find safe shelter from Irma. Those areas include Edisto Island and St. Helena Island.
The eight islands were chosen for evacuation because of expected storm surge of up to six feet when Irma passes by South Carolina on Monday, the governor said at a news briefing shortly before 8 p.m. 
The eastern edge of Irma's predicted path, the storm's more powerful side, remains close to the Lowcountry coastal areas.
McMaster delayed Friday asking residents and visitors to flee the storm until he received the 5 p.m. forecast from the National Weather Service. The governor said he understands that people don't want to leave their homes and businesses unless absolutely necessary, but he made the call after discussions with state emergency officials. 
"Sometimes there's a little bit of inconvenience to make sure you're being safe," he said earlier Friday.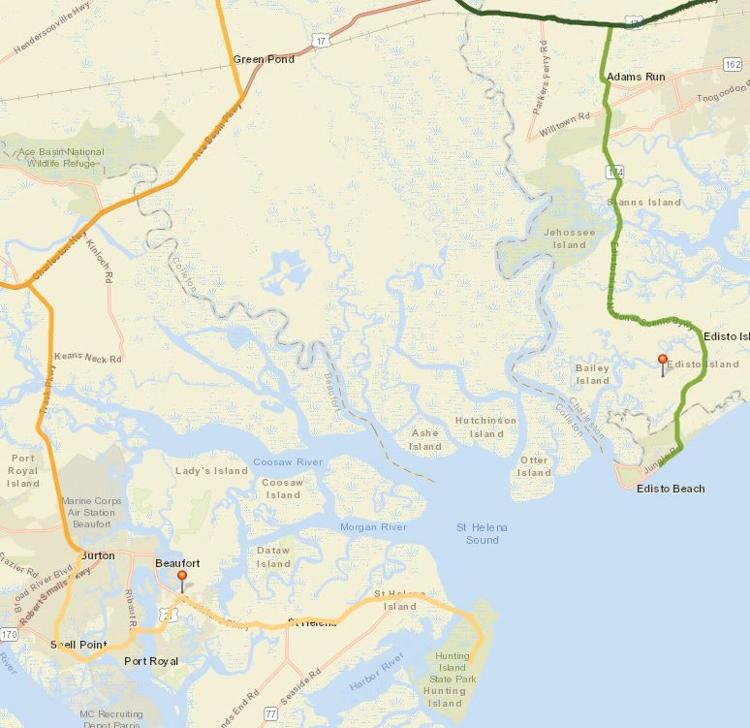 South Carolina evacuees could run into those fleeing Florida and Georgia, states directly in Irma's path. Nearly 100,000 extra vehicles, many in I-95, have traveled on South Carolina interstates over the past two days, state transportation officials said. With the storm sliding to the west, evacuees from other states are heading north on roadways, McMaster said.
Five shelters will open Saturday: Colleton Middle School in Colleton County; Ridgeland High Junior and Elementary School in Jasper County; and Bluffton High School and Battery Creek High School in Beaufort County. Evacuees headed to shelters should bring blankets, pillows and cots.
McMaster said earlier Friday he is not going to call for statewide school closings and said state offices will close only in counties that decide to close their offices. Several counties have announced closings Monday, including Charleston and Richland counties.
The governor said he rescinded his executive order calling for evacuation of hospitals, nursing homes and other medical facilities in five coastal counties. The order remains in effect for Jasper, Colleton and Beaufort counties, though some hospitals have asked for waivers.
Irma's path shifted sharply west of South Carolina over the past 24 hours. Just Pickens, Anderson, Abbeville and McCormick counties along with portions of Edgefield, Aiken and Barnwell counties remain directly in the National Weather Services' storm forecast cone as of 8 p.m. Friday, though Irma's path could shift before the storm reaches the state Monday.  
Irma is large enough to lash severe winds, perhaps up to 60 mph, and heavy rain, up to 16 inches, across South Carolina, according to the National Weather Service.
Irma will be weakened by going over Florida and Georgia, but the wind field will grow with areas south and west of Interstate 26 getting hit hardest, said John Quagliariello, a National Weather Service forecaster.