Who gets the water decides the region's future, its development and livability.
That's why "water wars" are erupting in South Carolina, and that's why the withdrawals by high-tech companies like Google are so controversial.
Forty million gallons of surface water per day now are pumped to customers by the Berkeley Water and Sanitation utility. Google, the marquee computer network company, apparently uses one-tenth of it — about 4 million gallons — to cool the servers at its only South Carolina data center, in Goose Creek.
Now Google wants to draw 1.5 million gallons per day from an aquifer under the coastal region to help cool the servers after a planned expansion — a volume that would make it the third largest aquifer user in the three counties around Charleston, according to South Carolina Department of Health and Environmental Control records.
The move is opposed by residents, conservationists and nearby water utility officials. It's become the most recent water controversy to erupt in South Carolina as thirst intensifies with the demands of new industries, corporate farms and residents.
How the state decides the Google dispute has wide-ranging repercussions. Aquifers are massive, interconnected layers underground that are saturated with water that seeps from the surface over the long term. They are essentially the reserve tanks for huge spans of land across the Southeast.
Withdrawals evidently are taking out water faster than the aquifers can replenish. And no one really knows just how much water can be drawn without exhausting them.
The aquifer
The price of tap water has risen faster than gold or real estate since the 1990s, according to Datacenter Dynamics, an industry analyst. The water drawn from aquifers, on the other hand, is free. Current state regulations of aquifer use are almost non-existent.
"A lot of it is a free-for-all right now," said Emily Cedzo, the air, water and public health projects director for the Coastal Conservation League.
More than 333 million gallons of groundwater per day are now used by industries, farms and other well owners across the state, according to U.S. Geological Survey records. One billion gallons of surface water per day are used statewide.
A Google spokesman in 2008 cited the access to cheap electricity and water in South Carolina as among biggest reasons why the company chose Goose Creek for its plant. The company apparently pays about $250,000 per year for its tap water, according to a Post and Courier estimate from a report by Berkeley County Water and Sanitation.
At a recent DHEC public hearing on Google's application for an aquifer permit, opponents urged state regulators to make sure the company has taken a close look at alternatives, and not give Google or any other large user a permit to pull more groundwater until a study updating models of groundwater flow and recharge in the aquifer can be completed.
That study, by the U.S. Geological Survey and the South Carolina Department of Natural Resources, is underway and expected to be finished by 2019, according to Geological Survey staff.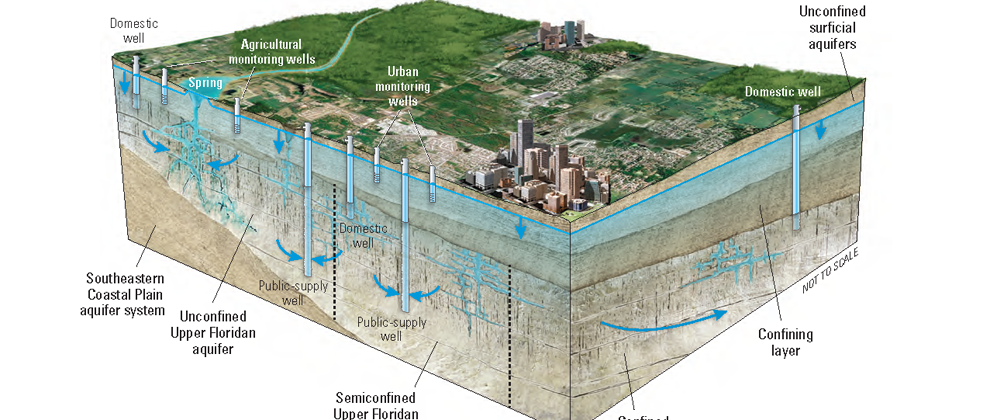 "Trade secret'
Google has been tight-lipped about its Goose Creek operations, as it has at other centers. It has a non-disclosure agreement with Berkeley County Water and Sanitation. The utility does not release how much water the company uses or how much it pays.
The agreement was negotiated because Google considers the details a trade secret, according to county spokeswoman Hannah Moseley. The company is the only one of the top 10 users that is not disclosed, she said.
In a Water and Sanitation report requested by The Post and Courier, the only "undisclosed customer" in the top 10 list is the second biggest user.
The top user is DAK Americas, a polyester fiber manufacturer, which goes through 230,756,490 gallons per year and pays $559,985.72. The third, Nucor Steel, goes through 111,166,700 gallons per year and pays $246,273.07.
The Google aquifer permit application states it will reuse water before eventually discharging it to the sewer system, but the company did not provide details when asked by The Post and Courier.
Google opened a data center of similar size in Lenoir, N.C., about the same time it opened the Goose Creek center. A 2012 report by Wired, a technology magazine, said the Lenoir plant uses giant cooling towers that drip water through radiators to cool it down before returning it to the plant to be used again.
Groundwater can be returned to the aquifer after use, but some is lost to evaporation and the operation is costly, according to industry sources. There are other alternatives. The National Security Agency cools its Fort Meade, Maryland data center with treated wastewater, touted as an environmental boon and cost savings compared to tap water or aquifer pumping.
Google's permit application specified that it had studied alternatives and decided the aquifer was the most readily available one.
'Green'
More than 11 million gallons per day of groundwater now are pumped by public, industrial and private wells in the three counties around Charleston. The water pressure is steadily dropping, providing evidence the supply is not able to replenish quickly enough to sustain itself.
Meanwhile, South Carolina and nearby states are tightening regulations surrounding surface water withdrawal. This comes in the midst of booming demand statewide and an on-again, off-again drought that has plagued the region for nearly two decades.
Long term research indicates the supply is shrinking as the region warms. The torquing vise of a supply not replenishing quickly enough and increasingly competitive demands for it spurred the state's "water wars" dispute with North Carolina at the turn of the century, a legal battle more associated with arid Western states in the past.
In 2013, a legal and legislative fight developed over an 800 million gallon-per-month withdrawal from the upper Edisto, sought by a Michigan-based company for an industrial-sized potato farm south of Columbia. It was supported by business groups such as the S.C. Farm Bureau, opposed by a collection of downstream water users, including small farm and recreational interests.
It ended in a compromise that satisfied neither side and launched a state effort to quantify water resources to develop methods of managing them. The state also is in ongoing negotiations with the state of Georgia over the management of the Savannah River basin and its collection of water supply lakes the two states share.
Data companies like Google champion their environmental conscientiousness, and take a number of steps to reduce their impact. But their operations are anything but "green." It's little realized, for instance, that the centers tend to be significant air polluters because they run generators to supplement their power, according to reports by The New York Times, Wired and other news outlets.
The Goose Creek center emits more than 1,350 tons per year of particulate matter, sulfur dioxide and nitrogen dioxide combined, among a number of pollutants, according to DHEC data.
The Post and Courier asked Google for details about its cooling operations and what other options have been explored. The company provided a statement attributed to its data centers vice president Joe Kava:
"Google cares deeply about the environment, both globally and locally and especially at our data center sites. We evaluated various water options and invested in researching the impact that groundwater withdrawal would have on the community and the environment, and data from our groundwater consultants indicate that impact to the aquifer and the community is expected to be minimal.
"We look forward to collaborating with the community and discussing their comments about this groundwater application."
DHEC staff is expected to decide on the Google permit in May. One way or the other, that decision can be expected to be appealed in front of the DHEC governing board and potentially in court.