Multiple shooters fired into a crowded concert and cookout in a North Charleston neighborhood late May 22, striking 14 people, including a 14-year-old girl who later died. North Charleston Police Chief Reggie Burgess said the "individuals who were angry with each other didn't care who got hit."
The spasm of gun violence left neighbors and family members reeling in the tight-knit Deas Hill area, a pocket of modest homes off Piggly Wiggly Drive. The teen lived next to a field where the gunfire erupted, and more than 40 people gathered at the family's home Sunday to grieve.
Authorities haven't released the name of the teen, nor are they saying whether they have suspects, exactly how many shooters were involved and what kinds of guns they fired. But Burgess said the shooting hit hard and close.
"I know the family, I know the family," he said after leading them in prayer on the front porch.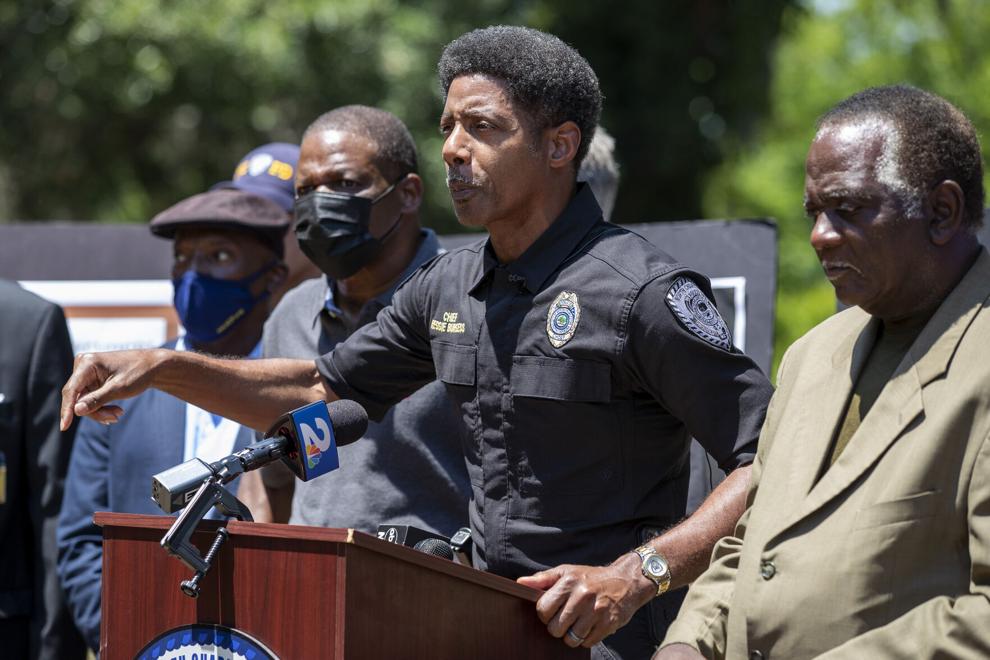 The incident happened at about 10:30 p.m., off Gaillard Lane and North Jimtown Drive. Organizers of the cookout set up a stage and string lights. There were food booths and a table with a sign that said "Tiki Bar." Police said organizers didn't notify them about the event.
"The neighbors were having a cookout or whatever you want to call it," said James McClam, a longtime resident. "Some girls from another area, who didn't live here, came and, before you know it, a doggone argument started. And the next thing you know, bullets are flying."
He said his daughter attended the party but came home before the shooting started. "It's terrible what's going on. I don't know if restricted gun laws would make it better, but there are just too many youngsters walking around with guns."
After the shooting started, officers arrived three minutes later, rushing into the neighborhood's narrow and winding streets as party goers and victims fled. The carnage and extent of the gunfire was overwhelming, forcing North Charleston police to call Berkeley County Sheriff's Office crime technicians to help them piece together the evidence. "There were so many crime scenes," Burgess said.
Paramedics rushed gunshot victims to hospitals. Several other victims made it to emergency rooms after being transported by others, said Scott Deckard, North Charleston deputy chief. Photographs of the aftermath show a scene of disarray, with trash strewn by a stage, abandoned food booths, turned-over tables and coolers. Crime scene technicians and detectives worked through 5 a.m., interviewing witnesses and searching for shell casings and other evidence.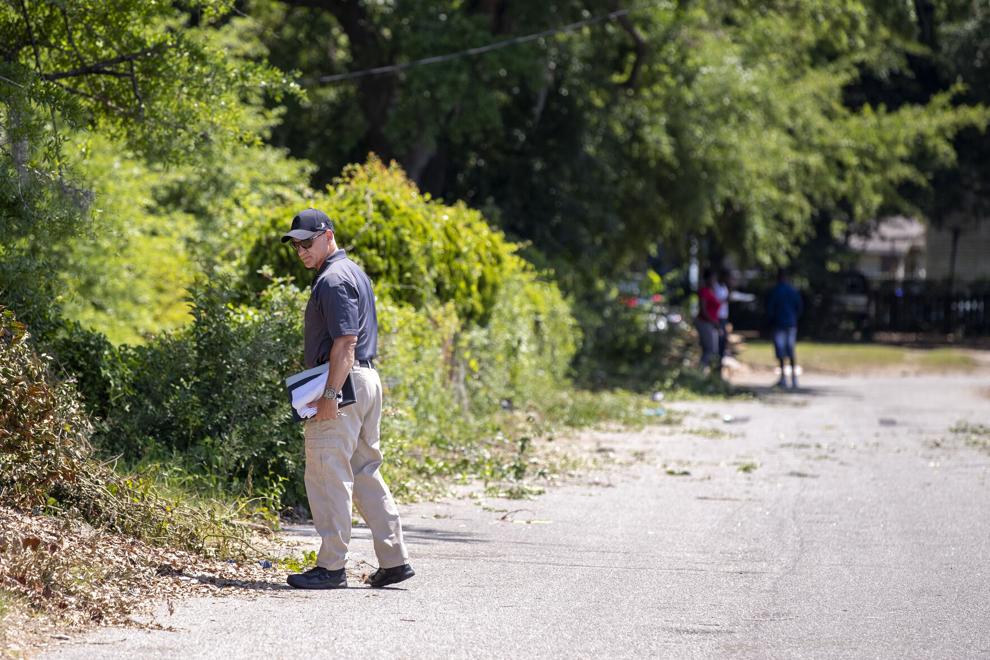 Charleston County property records show the roughly 1-acre field belongs to Vaughn Properties LLC, with a Summerville mailing address. Efforts to reach the company were unsuccessful.
During a press conference at the field, Burgess turned to photographs behind him that showed food and alcohol booths. "This is ground zero, where the event took place." He said the event had security, though he declined to be more specific. "If we had known about it, we probably would have been able to save lives."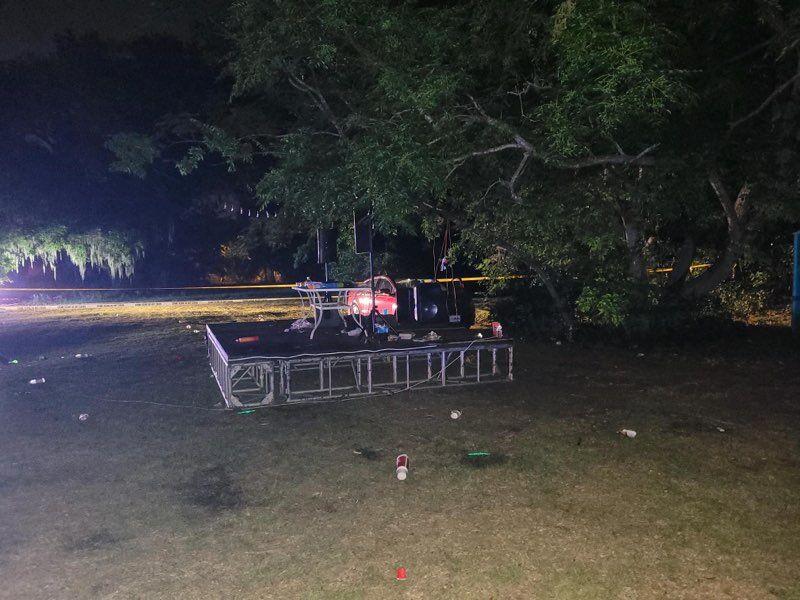 He said "multiple shooters" fired into the crowd, but he declined to say whether it was two or more. He said the agency has a good idea of who hosted the event, but he declined to identify the organizer. "It was set up like a concert," he said. "This should have never happened. If you want to serve alcohol and make money off it, you can't do that on private property unless it's your place of business. So it was illegal all the way."
Police also haven't released descriptions of any suspects.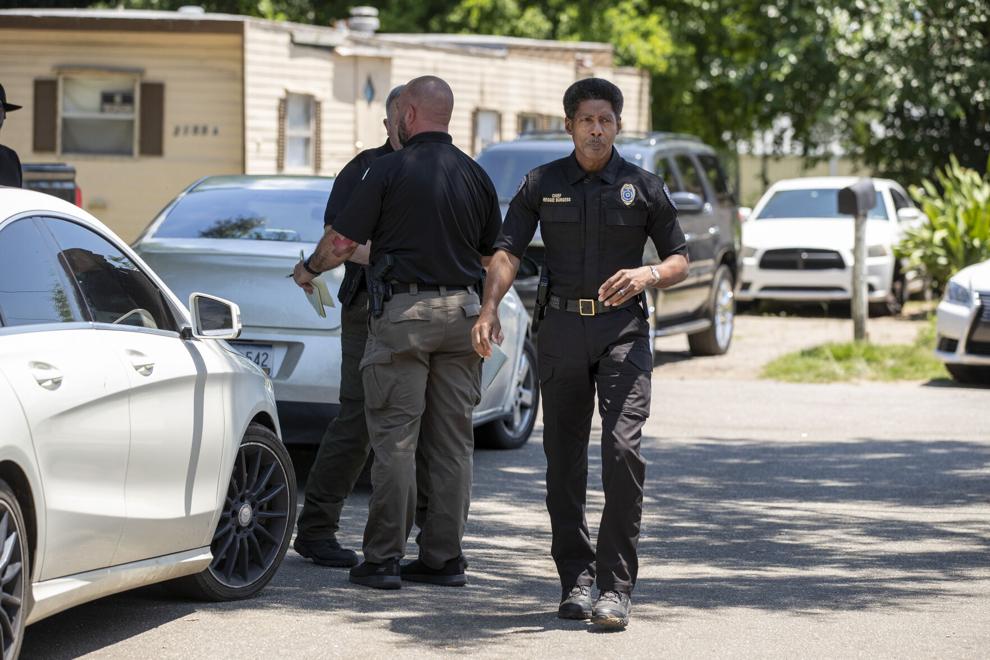 Burgess grew emotional at times, describing how he knew the family. "I keep seeing the same people I work with, the same people I go to church with, people I play sports with. ..." Stopping for a moment, he said, "I want to tell the folks responsible, tell everybody, we will bring you in."
Asked how this mass shooting compared to others in North Charleston, Burgess said only, "One shooting is massive to me."
North Charleston Mayor Keith Summey also said he was angry that no one contacted the city about the party. "Quite honestly, I think whoever put it on, if they were charging and making money and serving alcohol, then they need to go to jail."
At the press conference, several activists joined Burgess, urging witnesses to come forward and help police solve these crimes. "We don't want this (violence) to get out of hand like in Chicago," said Elder James Johnson of the Racial Justice Network. Pastor Thomas Ravenell of United Black Men of Charleston County counseled people against taking revenge. "What we don't want is another parent crying."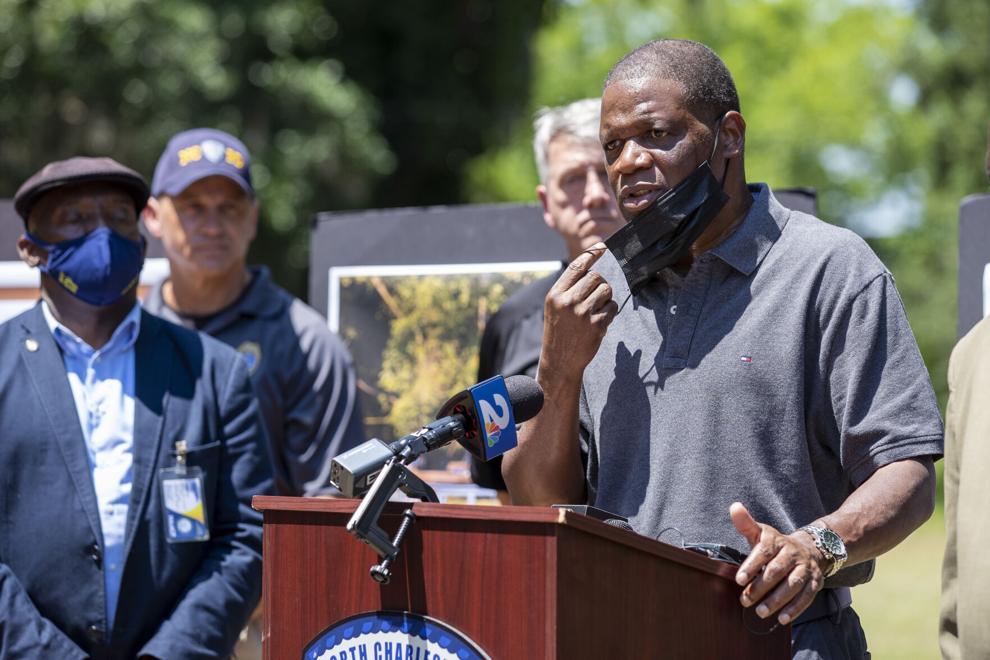 The bloodshed in North Charleston comes amid a national surge in mass shootings. So far this year, the country has seen at least 225 incidents in which more than four people were shot or killed, according to the Gun Violence Archive. Those shootings killed 251 people and left 919 injured. South Carolina has seen three other mass shootings this year, including one in Rock Hill that left seven dead. 
About an hour after the shootings in North Charleston, another happened in New Jersey during a packed house, leaving 2 people dead and 12 shot.
A few houses from the field, Elden Heyward, pastor of Union Baptist Church, had just finished Sunday services. He said he has been a pastor there for 24 years.
"It's shocking, unexpected as always, but these things happen, and it doesn't matter what neighborhood, they happen," he said, standing outside the church. "The sad part is, how do you comfort the families and parents? When they catch the person or people who did this, still it's a great tragedy and a sadness that will never be filled."
Lauren Petracca and Keith Kohn contributed to this report.