Although state officials have said in recent days that they remain vigilant and on alert for any additional flooding hazards that could further impact the Pee Dee, the Georgetown area is slowly returning to business as usual.
On Saturday, Georgetown County downgraded its alert status as flood levels in the Waccamaw and Pee Dee rivers receded.
The Georgetown County School District said Sunday it would re-open Monday, although anyone "who has issues with flooding or transportation," would be excused, according to a post on the district's Facebook page.
And after fielding more than 11,000 calls in three weeks, the Georgetown County Disaster Call Center was deactivated Saturday evening, county officials said. 
Also on Saturday, Gov. Henry McMaster took flight in a Black Hawk helicopter to tour the skies above Georgetown and get a sense of the extent of the flooding. State officials on the tour noted that the water was spreading out in forested areas and edging the roadways where the S.C. Department of Transportation installed Aqua Dams. The more the water spreads outward, the more the overall threat level diminishes.
Meanwhile, between Saturday afternoon, around 3 p.m., and Sunday evening, around 4 p.m., the Pee Dee River measured at 20.44 feet and 19.38 feet, respectively. The river, with a flood stage that measures at 19 feet, is forecast to continue to gradually recede throughout the week, according to the National Weather Service.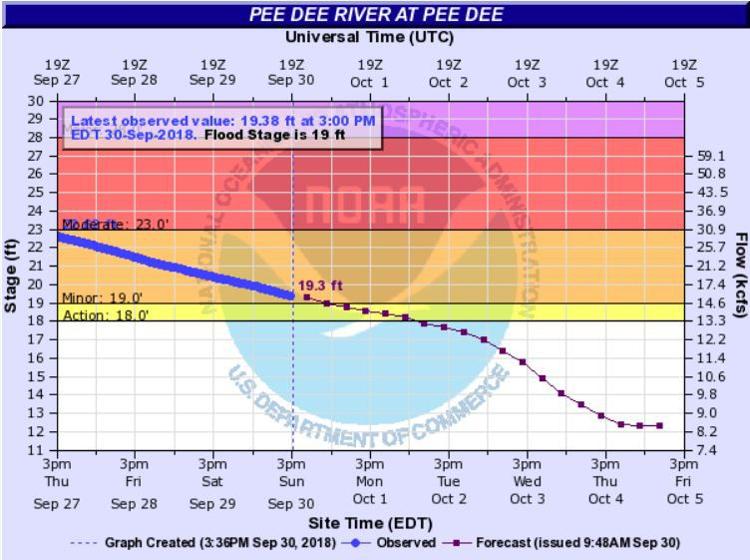 The Waccamaw River on late Sunday afternoon, also around 3 p.m., measured at 19.55 feet. On Monday, levels were forecast to drop as low as approximately 18.4 feet, flood level models show. Its flood stage is 11 feet.
All eyes were on these rivers last week, in addition to the Little Pee Dee River, as they were expected to relinquish devastating floodwaters on Georgetown. More than two weeks after Florence made landfall Sept. 14 in North Carolina, the floodwaters were coursing toward Winyah Bay — where they all converge — which straddles the eastern-most part of Georgetown.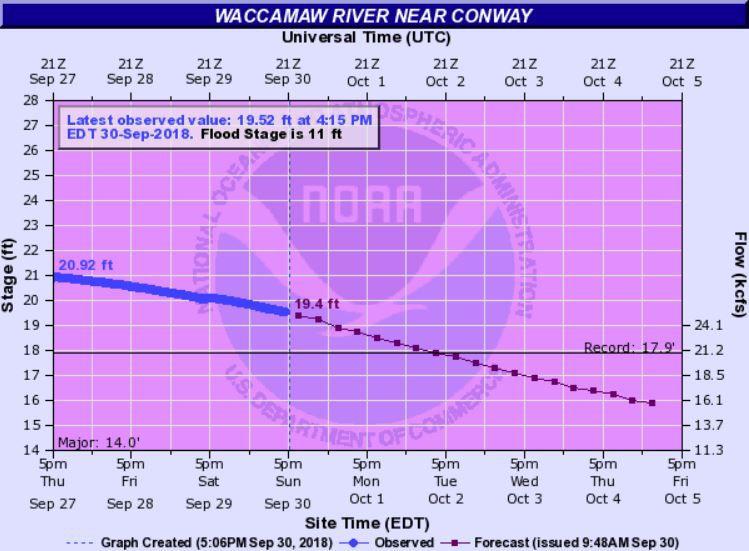 But the severity of the floodwater forecasts continued to weaken as the week went on. Georgetown County officials moved ahead with finalizing flood-protection measures in anticipation of 2 to 4 feet of water in the hardest-hit areas as opposed to a whopping 5 to 10 feet.
While area residents collectively exhaled this weekend at the site of a weakened floodwater forecast, the area remained on alert.
On Sunday, video of Front Street, located in Georgetown's historic district, showed floodwater idling outside storefronts during high tide, according to footage captured by the South Strand News, blocking access to numerous businesses and through ways. 
Flooding on Front Street at high tide today. pic.twitter.com/Kof2YKbHzS

— South Strand News (@SouthStrandNews) September 30, 2018