COLUMBIA — Her father would twirl scraps of paper, sometimes using the tightly wound coils to playfully poke his unsuspecting children in the ear. Soon enough, Flavia Lovatelli was doing the same to her siblings. Eventually, she turned the concept into art.
Those paper coils, wound and glued into whorls that resemble tree-trunk cross sections, became the basis for an artistic movement that also sends a message about sustainability.
What started with paper expanded to cardboard tubes, strips of VHS tape, plastic bags, even coffee and espresso pods — all used to create striking pieces out of things others have thrown away.
"I have always been a recycler," said Lovatelli, who was born in Peru and raised in Italy. "When I was little, my Barbie doll dresses, the fabric was from my T-shirts that I no longer wore. Every object I would find, I wondered, 'Why is anyone throwing it away?' Because it had so much potential to be something. So I would always turn it into something different."
Lovatelli was living in Mooresville, N.C., creating craft items out of coiled paper when her work caught the attention of Fashion Week organizers in Charlotte. An idea for an accessory like a belt turned into a bra, and then a bustier, and then something much bigger.
"They said, 'Why not make a whole dress? And I did,'" she said.
That dress, made of tissue paper, magazine paper and newspaper, was the first of approximately 25 dresses Lovatelli has crafted out of recycled materials. It also spawned the idea for a show called EcoFab Trash Couture, which is in its fifth year, and held Memorial Day weekend at Tapp's Art Center in Columbia, where Lovatelli is in residency through the end of July.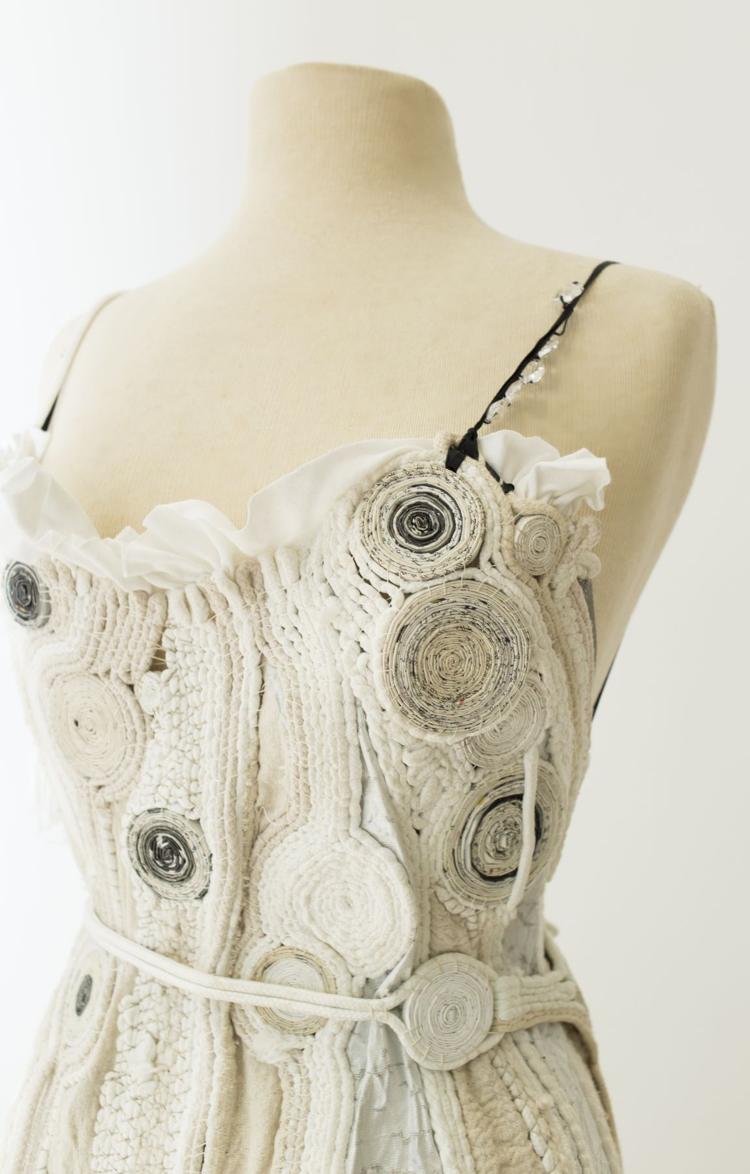 Lovatelli also has fashioned dresses out of VHS tape, compact discs, aluminum espresso pods, coffee sacks, and plastic bags from Wal-Mart and Target, among other things. "Everything you see on the dresses is 100 percent recycled or salvaged," she said. Her materials come from second-hand stores, recycling centers and friends who keep an eye out for anything that looks interesting.
For the end of her Tapp's residency, Lovatelli is working on a project involving a large batch of Keurig coffee pods (which cannot be recycled whole) salvaged for her by an employee at a Columbia recycling center.
"They were disgusting," Lovatelli said with a laugh. "They weren't clean. They were just awful. But I still used them. I cleaned them as best I can."
Lovatelli also creates two-dimensional works, like a piece made from cardboard tubes salvaged from a furniture upholstery wholesaler in North Carolina, and another comprised of Nespresso pods supplied by espresso-drinking friends. And her signature paper coils are everywhere, appearing on her sculptures and mixed media works in addition to the dresses.
"I try to promote sustainability," said Lovatelli, who hopes to hold a show in Charleston next year. "The message I'm trying to send when we do EcoFab is … what is the damage that this product does to the earth when you throw it away? How can we save it? How can we recycle it? And what is the world doing, at the same time, to change things?"
Although Lovatelli has lived in Spain, Italy, France and Los Angeles, she now calls Columbia home. She learned about the city from one of her models while living in the Charlotte area, and relocated here to be with her now-husband. The artsy vibe of the university town made her feel immediately at home.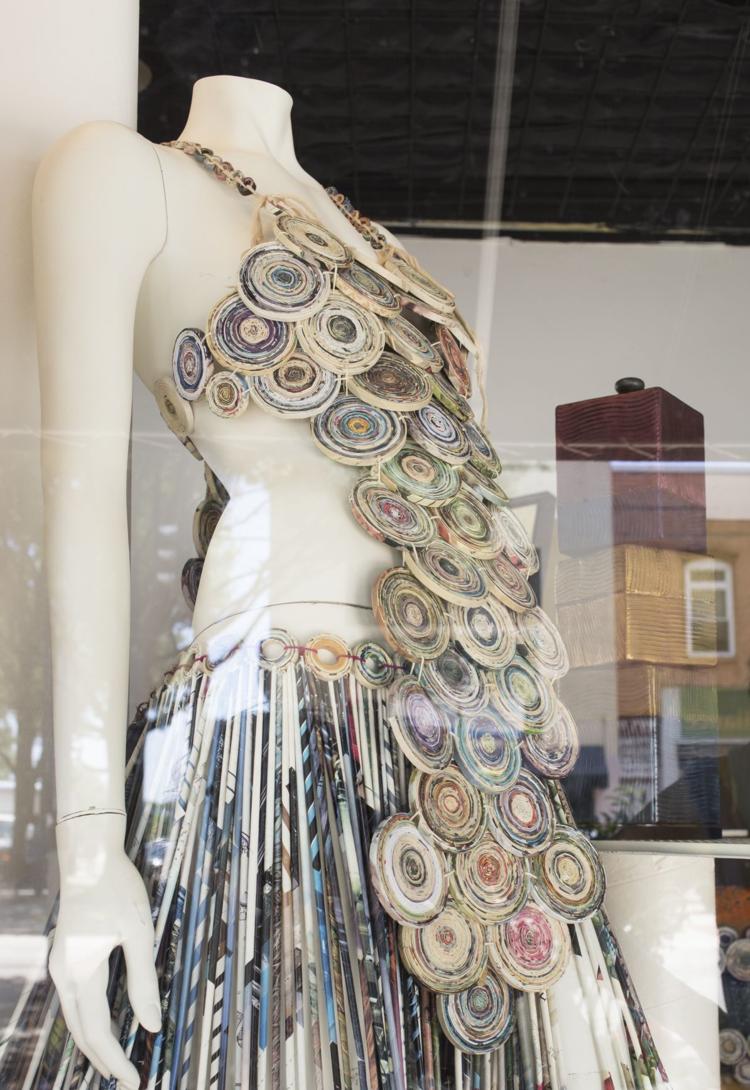 "Columbia is home to my soul, home to my spirit," she said. "The minute I came to visit, I said, 'Oh my gosh, what's this place?' It's in South Carolina, and I've never even heard of it. I'm still madly in love with Columbia. The people, the art, the music, everything. I tell people and they look at me like, 'Really? I'm not seeing it.' I'm like, 'Well, you're not going to the right places.'"
Also involved in EcoFab this year is Charleston artist Jocelyn Chateauvert, who sculpts paper. To Lovatelli and others in the movement, the purpose is twofold: stress sustainability, and use the striking image of recycled-material dresses to capture the attention of those who might initially feel hesitant around art, perhaps leading them to other pieces involving similar colors or themes.
"They can slowly connect the dots and start appreciating art from a completely different angle," she said. "The best way to get people in is unsuspectingly, because they're more open."