Inside a low-slung brick building in downtown Summerville, Shakem Amen Akhet is working to keep a vision for a better Lowcountry alive.
That vision, for a youth academy serving boys and girls of color, builds on a foundation started by a polarizing figure in the Charleston area: Muhiyidin Moye.
The 32-year-old Moye, who also went by the last name d'Baha, led Charleston's chapter of Black Lives Matter. He rose to local fame through his work in the wake of the 2015 shooting of Walter Scott by a white police officer, Michael Slager, and became known for activism that sometimes got him labeled as disruptive by the Holy City's establishment. 
After he was fatally shot in New Orleans on Feb. 6, friends and family vowed to carry on his legacy, something they say is embodied in the youth academy that opened its doors on June 5.  
Moye was part of the initial vision for the academy, which he believed was necessary because the Charleston County School District wasn't serving the full needs of its diverse students, Akhet said. He called it an "African Liberation School."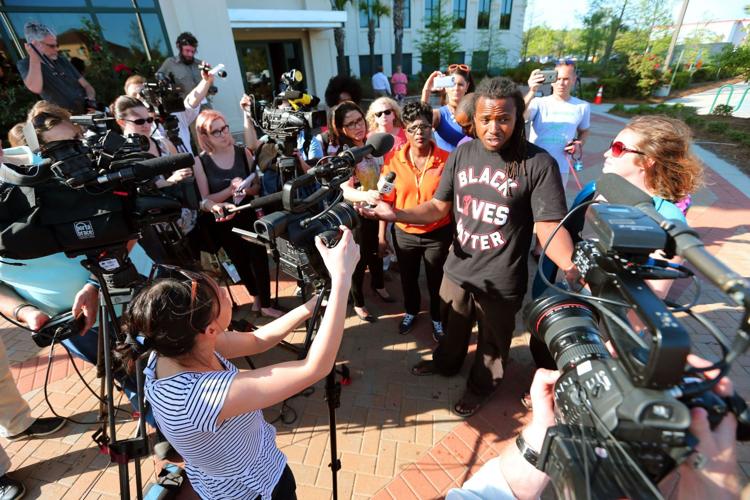 "We decided that we had to do, instead of complaining a lot of the time," he said. "We're going to have to become part of the solution."
The school plans to teach basics, such as reading, writing and math, and also cover politics, methods of direct action, civil disobedience and the Gullah Geechee culture in the area, Akhet said. 
While Moye became known in the Charleston area for his acts of protest — such as disrupting local government meetings and leaping across police tape to snatch a Confederate battle flag during a 2017 College of Charleston event — his real passion was working with underserved youth, his friends and family said. 
Akhet and Pastor Thomas Ravenell, who is assisting in the venture, said they're starting small with a summer program aimed at making sure students don't decline academically before the school year starts.
"The majority of kids, once the last day of school comes, they forget about academics," Ravenell said. 
To combat that potential for stagnation, he and Akhet said they're serving as mentors to the 15 students currently signed up. They have 15 laptops donated by Dorchester District 2 that are loaded with a program, also donated by the school district, that allows them to monitor students' progress, issue grades and keep the cycle of learning going.
They also hope to give their students a strong government and civics education.
"We want to give them a full understanding of how government works and from there, give them ways on how to disrupt the process if necessary, in a manner that is effective," Akhet said. "We could even point to the Parkland High students, what they've been doing. We wanna take all modern day and past philosophies that political gurus have used and kinda give them ... a full understanding of political science and different ways of direct action."
For Moye's sister, Kimberli Duncan, the project captures everything her brother tried to work toward.
"I think he would be very happy that this is happening," Duncan said. 
They grew up in a very educationally minded household. Moye had a master's degree and was thinking about going back to school to get a doctorate shortly before his death, she said. 
She said she wants to see the project reach underserved children in the community so that they can find their passion in life and be given the tools they need to pursue it.
And carrying on Moye's work could be a way to ensure that the Charleston area doesn't slide into complacency when it comes to issues of social justice, Duncan and Akhet said. 
Shortly before his death, her brother started traveling and went to New Orleans to try to learn about incorporating music into community activism, Duncan said.
"I guess he felt that things have come to a standstill," she said. "That there wasn't movement forward. He was kind of taking time to sort of think, look at other cities. I think he was going to figure out. He didn't give up on Charleston."
According to New Orleans police, Moye was riding a bicycle in the early morning hours of Feb. 6 when he was shot. He later died at a hospital. Investigators theorize that he was the victim of a robbery, but no suspects have been identified and the case remains open, according to police. 
Akhet, too, misses his friend and fondly remembers the man he called a "black hippie."
"(Moye) was just that free spirit, walking around, drums, riding bicycle, shoes off," he said. "He was just super intelligent. He was like a monk, a hippie and a Black Panther all in one. I was looking at a picture of him the other day, and I just can't believe he's gone. I still can't believe who would kill this man."
Ultimately, Akhet, Ravenell and Duncan hope that the youth academy will help empower young, black youth to succeed in life as well as give them a firm sense of their cultural history.
"We understand that if a person doesn't know their history, they don't understand their future," Akhet said. "And the history of the Gullah Geechee people is that of overcoming difficulties, resistance (and) being able to form their own colonies"
By teaching this history, in conjunction with emphasizing academic achievement, he said he hopes to give the students an understanding that black people emerged from the terrors of slavery to found their own, thriving civilization.
"We want to give them that sense of hope, that sense of direction," Akhet said. "We're not just thugs and drug dealers and gangbangers. We want them to understand the culture and the beauty of it so we can have a legacy of excellence that they can look forward to."
For more information on the youth academy, which operates out of the Community Resource Center 116 W. 2nd North Street in Summerville, contact Shakem Amen Akhet at 843-641-8366, or Pastor Thomas Ravenell at 843-708-2346.