TRAVELERS REST — "What's it like to be a former member of Congress?"
Bob Inglis was qualified to answer the question. But it caught him off guard. 
Inglis — the former congressman who represented Upstate South Carolina's 4th Congressional District for six years during the 1990s and served for another six years in the 2000s before tea party voters ousted him — traveled to Washington last month for a series of meetings on climate change.
That's his job now. Inglis, 58, spends his days as executive director of the Energy and Enterprise Initiative convincing other Republicans that global warming is real, that humans are causing it and that conservatives can fix it.
When he's not talking about climate change, Inglis has also become a vocal critic of President Donald Trump — a man, he said without hesitation, who "demeans daily the office of the president of the United States."
Between those meetings in Washington, Inglis found himself briefly alone with U.S. Rep. Trent Franks, who asked a different kind of question. Not about Trump or climate change, but about Inglis' post-political career. 
"He said to me, just the two of us standing there," Inglis recounted, "'What's it like to be a former member of Congress?'"
Inglis didn't yet know that House Speaker Paul Ryan had already asked Franks to resign earlier in December. And news reports hadn't yet surfaced describing how Franks, an Arizona Republican, had offered millions of dollars to women on his staff to become surrogate mothers for his children. 
Inglis had no way of predicting that Franks would leave office within a few days of the conversation but he could tell the question had been posed seriously. That's why he didn't respond with a joke. 
"I said to him, 'Well, there are good things and bad things,'" Inglis recalled.
"'What are the bad things?'" he remembered Franks asking him.
"'The potential loss of mission and purpose,'" Inglis told him. "The wonderful thing about Congress is, daily there is mission and purpose. I said, 'So, if you leave here, you need to find something to replace that mission and purpose. Something bigger to be about.'"
"'What's the good thing about it?'" Franks asked.
"More time at home," Inglis said.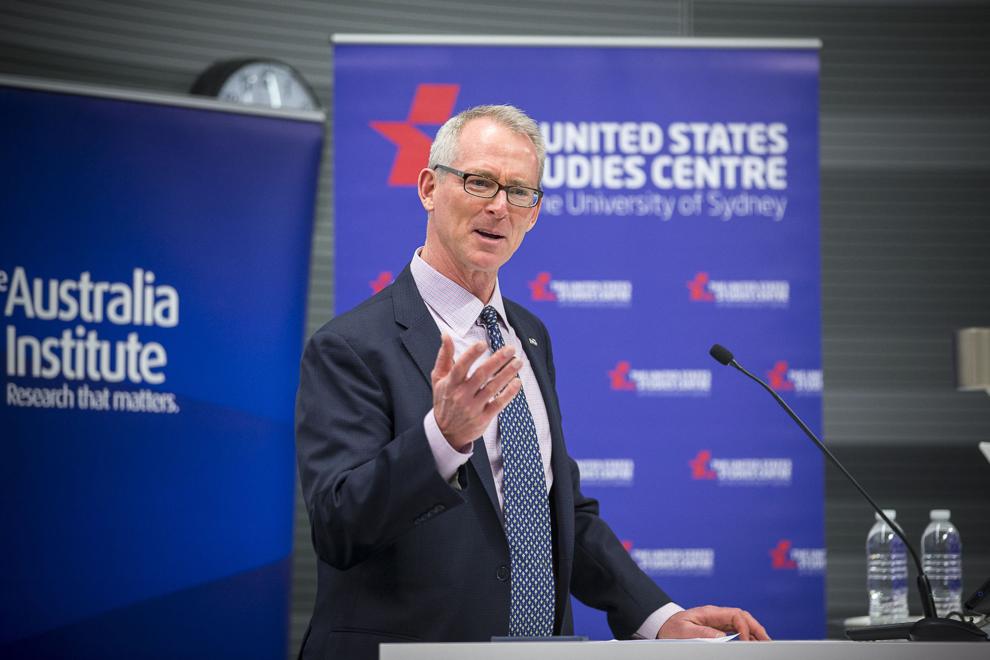 A 'spiritual awakening'
In rural Greenville County, a few miles south of the North Carolina state line, Inglis and his wife Mary Anne live in a white farmhouse with a wraparound porch on 27 hilly acres. They raise horses and chickens, dogs and cats. Their five children — none of them Republicans — have grown up and moved out of the state. 
"They just can't take the hardheartedness of my party," he told The Post and Courier during a recent interview.
It was Inglis' own son Rob who convinced him to change his mind on climate change more than 10 years ago during a campaign. 
"Honestly, I think it was after I had taken an environmental economics class my freshman year of college," said Rob Inglis, 32, now a medical school student in California. "I remember saying something along the lines of 'I love you, think you're wonderful, but I also think this is an important issue that you need to take a second look at.'"
This conversation was the first of a three-step metamorphosis on climate change for Inglis, who, during his first six years in Congress admits he was "completely dismissive" of the issue, thought that it was "nonsense."
"If you represented the reddest district of the reddest state in the nation, like I did, you just knew that Al Gore was for it, so you should be against it," Inglis said. 
The second step was going to Antarctica with the congressional science committee and seeing firsthand evidence that the ice was melting. And finally, it was a "spiritual awakening," he called it, during a trip to the Great Barrier Reef in Australia. 
"It was right then and there that I decided to act on climate change," he said. 
Inglis's Energy and Enterprise Initiative, also called "republicEN" and housed at George Mason University in Northern Virginia outside Washington, describes itself online as a group of "conservatives, libertarians, and pragmatists of diverse political opinion," who "stand together because we believe in American free enterprise."
Its members "believe that with a true level playing field, free enterprise can deliver the innovation to solve climate change."
While some environmentalists believe a solution called "cap-and-trade" will solve the climate crisis by placing a limit on greenhouse emissions and allowing companies to trade allowances to emit those gases into the atmosphere, Inglis and his group agree that most conservatives find such solutions anathema to their political values. 
Instead, Inglis has been arguing for many years the roll-out of a carbon tax. Without growing the government, he explained the tax would impose a fee on users of fossil fuels as they release carbon dioxide into the environment. He works from home in rural Greenville, but also travels widely, spreading this message to conservative voters in politically red zip codes. 
"I'm confident that we're going to win, that America is going to price carbon dioxide and lead the world to solutions on climate change through free enterprise innovation," he said. "I'm absolutely confident about that. The question is, 'Will we do it soon enough to make a difference?'"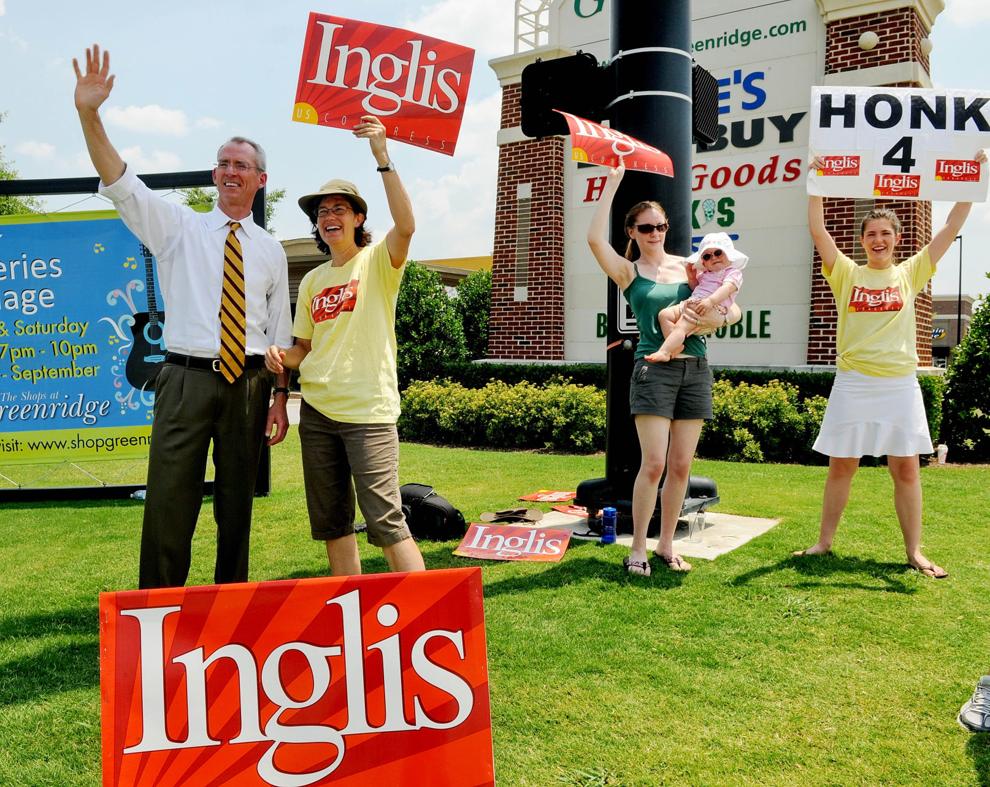 'A tough slog'
Before climate change became his calling, Inglis, who spent the better part of his 30s and 40s in Congress, can trace the end of his political career to a 2010 campaign breakfast in an upscale diner in downtown Greenville called Mary Beth's at McBee Station. 
A man stood up, Inglis remembered. He was angry. 
"He said, 'President Obama is so unpatriotic. He doesn't put his hand over his heart when the Pledge is recited or the national anthem is played.'"
Inglis froze. He knew what the man wanted. He wanted to hear Inglis to call the president a secret Muslim, anti-American, a socialist.
"I could have pulled that off and everybody would have said, 'That's our Bob, by golly.'"
But he thought of his five children. How could he face them?
Instead, he told the man, "I've been with the president. I've seen him put his hand over his heart. What you said is simply not true."
Inglis explained to the group that President Barack Obama was a "loyal, patriotic American who loves his country, who loves his wife, loves his kids. I just disagree with him on most everything."
It wasn't enough. 
Later that year, Inglis lost his seat in a Republican primary run-off to Trey Gowdy, at the time an Upstate solicitor who was aligned with the tea party movement.  
After that defeat, in an article titled, "Confessions of a Tea Party Casualty," a reporter for Mother Jones called Inglis a "politician without a party" and "a policy maven without a movement."
Those words ring true today. While Inglis clearly found a movement in climate change, he still finds himself largely at odds with many other Republicans.
He thought the nationalist and populist elements of the tea party would fade as the economy improved after the Great Recession. 
"I was proven wrong. It hasn't gone away," he said. "It's gotten more pronounced."
Still, Inglis wants to believe that his party can be redeemed. But his hope is dwindling. 
"It's been a tough slog," he said. 
'A part of the debate'
A quick survey of Inglis's Twitter feed shows he regularly posts news about climate change. But he also uses the platform to tear down Trump. 
So now Bannon is thrown out of Trump world. Does anyone have a lasting place in Donald Trump's life? Will Donald Jr. be thrown out if Bannon is right about the treasonous part? https://t.co/u9FuY0YPsA #FoxNews

— Bob Inglis (@bobinglis) January 4, 2018
When @GeorgeWill calls Donald Trump the "nation's worst president," it's important for conservatives to think through the implications. https://t.co/LeHr0cZllo

— Bob Inglis (@bobinglis) December 18, 2017
Sen. Franken and Rep. Conyers are being investigated by the Ethics Committee and there may be consequences. Why no investigation of Trump sexual harassment?

— Bob Inglis (@bobinglis) November 30, 2017
U.S. Rep. Mark Sanford, the South Carolina Republican from Mount Pleasant who served alongside Inglis in Congress during the 1990s, argued that his colleague is asking important questions about climate change and the future of the conservative party. 
"What is conservatism now? Is it populism? Is it nationalism? What does it mean to be a conservative these days?" Sanford asked. "I think it's vital that Bob Inglis be a part of the party, a part of the debate."
Inglis gladly engages in the debate but doesn't much miss Congress these days. He loves his job.
And while he wouldn't rule out the possibility of seeking office in the future, he doesn't relish the idea of working with a president he finds so distasteful. 
In mid-December, he found himself in Washington again for another meeting about energy issues in a room overlooking the White House. 
"I couldn't look at it," he said. "I just cannot look."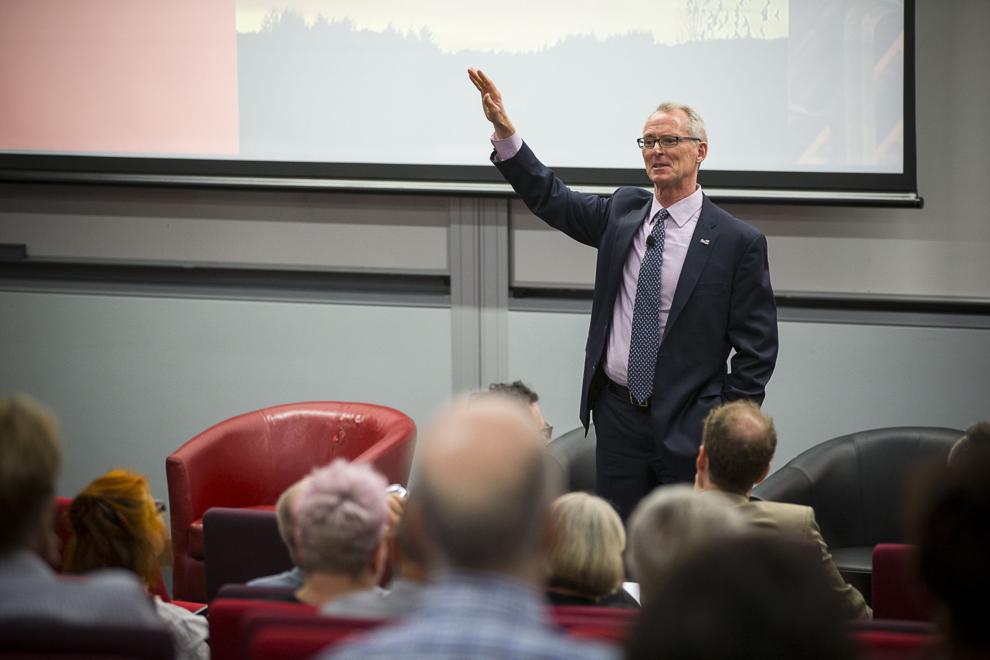 Editor's Note: An earlier version of this story incorrectly reported that Rob Inglis attends medical school in New Mexico. In fact, he is a student in California. The story has been updated to reflect the correction.