Several thousand former Piggly Wiggly Carolina employees would split up to $8.7 million to settle a federal class action lawsuit that alleged the company's senior executives carted away millions as the Charleston-based grocery chain collapsed.
Filed Tuesday in U.S. District Court in Charleston, the proposed settlement would end a bitter two-year legal battle, one that pits the company's employee-owners against their executive team.
"It would be great if we got something," said Shirley Hartley, who worked at Piggly Wiggly for 52 years. "I got a letter the other day that said I had a certain amount of shares and that they now had a total value of zero."
Founded in 1947 by Joseph T. Newton Jr., Piggly Wiggly Carolina became the largest franchiser of Piggly Wiggly stores in the nation, with more than 100 spread across the Carolinas and Georgia.
Over time, the Newton family sold ownership shares to an employee-stock ownership plan, or ESOP, gaining millions in the process. For their part, employees accumulated money that they could cash out when they retired. Over and over, company officials urged employees to work harder because they now "owned a share." 
But Piggly Wiggly's fortunes went south in the mid-2000s as the company's second-generation managers turned over the reins to the third. Employees watched their stock-ownership accounts, similar to pensions, shrivel as the chain shuttered one store after another or sold them off.
Company leaders blamed competition from Walmart, Target and other chains. But the lawsuit painted a portrait of greed and betrayal — of company executives who took hefty bonuses as the company wound down and siphoned money in other ways.
The lawsuit's defendants, including Newton descendants and the company's senior management team, admit no wrongdoing under the proposed settlement.
But under its terms, three executives, David R. Schools, William A. Edenfield and Robert Masche and other defendants, would pay $3.45 million into the settlement fund. They also would sell land they own in Savannah valued between $975,000 and $1.95 million and put the proceeds in the fund.
Company insurance funds and other sources would bring the total to between $7.65 million and $8.65 million.The settlement didn't identify the number of employees who might be eligible, but the company's employee stock plan has had upward of 4,000 participants, documents show.
John C. Moylan, an attorney for the Wyche firm, which filed the lawsuit on behalf of the employees, declined to comment. Under the terms, the employees' lawyers could be awarded up to one-third of the total settlement, subject to the judge's approval.
Charleston attorney Brian Duffy, who represents Joanne Newton Ayers and Marion Newton Schools, two defendants, also declined to comment until the proposal goes before U.S. District Judge Richard Gergel. No date for that proceeding has been set.
The settlement filing stirred powerful emotions among longtime Piggly Wiggly Carolina employees.
"You don't settle for that kind of money if you think you're going to win your case," said Elton Culpepper, who operated and owned an interest in the former Folly Road Piggly Wiggly, now a Harris Teeter. "I wish it could have been more."
James Lewis Jr., a Charleston city councilman, spent 42 years with Piggly Wiggly, starting as a bagger and ending as a department manager at Pig No. 1 on Meeting Street.
"It doesn't sound like a lot of money," he said, especially when you consider how much the owners walked away with when the business folded. "I have to see how they are going to divide that money, but it won't go far with the amount of employees you're talking about."
Levi Bing spent 35 years with the company, most of it managing deli sections. "Something is better than nothing," he said. Bing said he recently got a job with an independent Piggly Wiggly, which isn't affiliated with the defunct Piggly Wiggly Carolina chain. "We'll just have to wait and see where this settlement takes us."
Joe Pinto, another longtime worker, said he was glad "some employees are getting some money. That's the right thing to do, and our attorneys did a fabulous job. But as far as the defendants are concerned, if I were them, I'd be embarrassed for an ex-employee to see me knowing how they failed so miserably." He added that he now works for independent Piggly Wiggly stores. "And I don't want the existing Piggly Wigglys to suffer. They had nothing to do with what happened."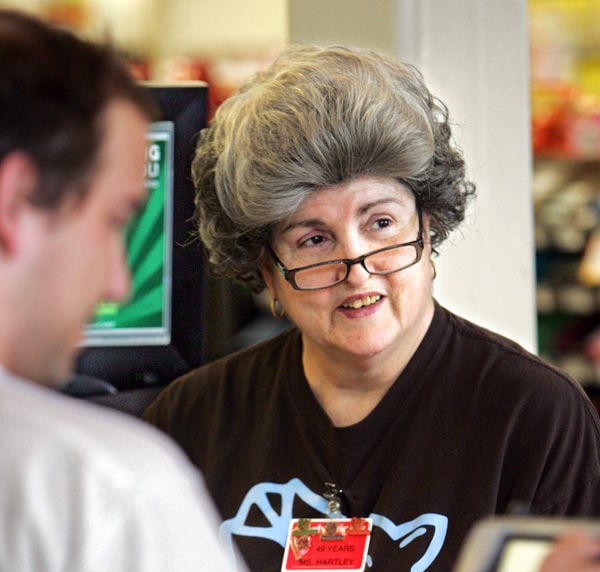 Hartley, who worked for a half-century at Pig No. 1 on Meeting Street, said that while the settlement could help ease some financial pains, the emotional pain of what happened will linger.
"I never would have thought that Piggly Wiggly would have done that to us," she said. "I don't think it will ever make up for the distrust."
Glenn Smith contributed to this report.