Two and a half years after millions saw a cellphone video of Michael Slager gunning down Walter Scott, the 20-year prison sentence he was handed Thursday will be etched into history as one of the most significant for an American police officer involved in a fatal shooting.
Findings by a federal judge aligned with accusations that observers nationwide had aired against the former North Charleston officer since the footage emerged in April 2015: He committed murder when he shot at Scott eight times as the black motorist ran away. He also later misled investigators and lied during court testimony, the judge determined.
The judge rejected the 36-year-old's claim that Scott's own actions at least initially warranted the gunfire.
The decision ended a courtroom battle that has played out since scrutiny befell North Charleston amid a national conversation about police killings. But Slager's penalty on a federal charge of violating Scott's civil rights may extend that legal fight through appeals. It was more than twice what Slager's defense team had hoped for, and it came as a surprise to many on both sides of the dispute.
Officers are rarely arrested in shootings, a product of how much leeway the law gives them in justifying deadly force. Even more seldom are they convicted and sentenced to lengthy prison terms, which was apparent when Slager's state murder trial last year ended with a hung jury.
But Scott's family and advocates who had bemoaned overbearing police practices in North Charleston said justice had been served.
"Hopefully, it sets the platform for the future," Scott's youngest brother, Rodney, said. "I hope that other families that are still trying to get justice will get justice."
The sentence was at the high end of what attorneys for the Scott family had envisioned. Some of Scott's loved ones had feared much less, they said.
"I hope that the entire nation understands how big this is and what this means for everybody. ... This is all people crave: accountability," Chris Stewart, a lawyer for the family, said. "If the death of Walter Scott ... can make the next officer think one second longer before pulling that trigger and changing an entire nation, then it was all worth it."
U.S. District Judge David Norton had acknowledged two families who cried in his downtown Charleston courtroom and described how their lives had been torn apart by the shooting. Neither, he said, would be satisfied with Slager's punishment.
"Judging by (Slager's) history and characteristics, he has lived a spotless life," he said. "Regardless, this is a tragedy that shouldn't have happened."
The judge had witnessed a remarkable display of grace and contrition as Scott's mother, Judy, spoke before he delivered Slager's fate.
She hoisted pictures and showed them to the judge, to Slager's family, to Slager. The photos showed recent family reunions; her son wasn't in them.
"I forgive Michael Slager," she said, turning and looking into his eyes. "I forgive you."
Many of her family members wept. His did, too.
"God loves us all," Scott's mother added, "no matter what we've done."
The former lawman nodded, and he mouthed, "I'm sorry."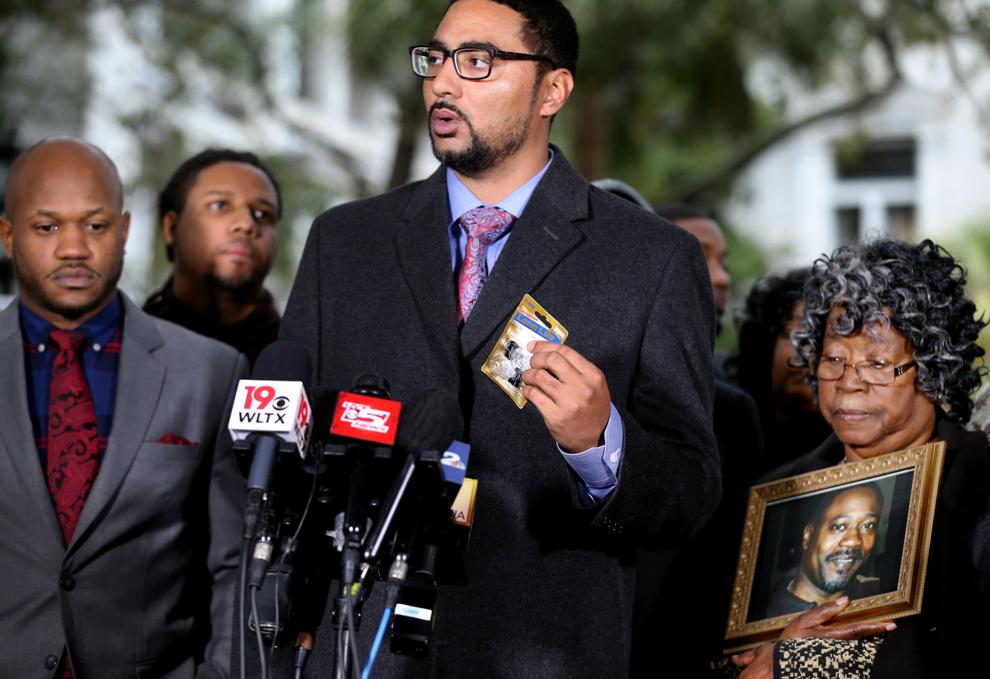 A murder ruling
Slager was patrolling one of North Charleston's most hardened communities on April 4, 2015 when he stopped Scott's car for a broken brake light. The police had long used minor traffic stops to check on residents and look for greater crimes afoot.
This stop was ordinary until Scott, 50, jumped out and ran. Slager gave chase and tried to stop him with a Taser.
But the officer said Scott fought him and grabbed the stun gun, turning the weapon against him. As they rose from the ground, Slager said he feared what Scott might do. He pulled his pistol and fired.
But bystander Feidin Santana's video showed the Taser bouncing behind the officer, though it offered no clear view of who had been holding it. Scott is running away at the first gunshot and is still running at the eighth, which brought him down. Five of the bullets had hit him from behind.
Norton this week listened to Santana, to investigators, to experts from the defense team who portrayed two viewpoints.
The authorities said Scott was just trying to get away, never violently resisting the officer's attempt to arrest him.
Slager's defense lawyers argued the evidence showed a fight that put the officer's life in danger. But he should have halted his gunfire as Scott ran farther and farther away, they said.
Slager pleaded guilty in May to the federal civil rights violation for using excessive force. But it was the judge's responsibility to decide the underlying offense: second-degree murder or voluntary manslaughter.
Norton largely dismissed Slager's manslaughter argument that the officer had been provoked by Scott's resistance, calling the motorist's actions "wrongful" but not deserving of Slager's reaction.
Instead, the officer acted with malice by repeatedly shooting the unarmed and fleeing Scott, the judge said.
In reaching the murder finding, Norton rejected a pre-sentencing report's recommendation that Slager should serve between 10 and 13 years behind bars.
The judge reduced the penalty from the maximum lifetime term for reasons that had little to do with the shooting. He agreed with the defense team's argument that its attorneys were outnumbered by federal and state prosecutors who doggedly pursued a stiff prison sentence. Slager also would be at risk of being assaulted in prison because he's a former police officer, Norton said.
The sentencing relied on several legal determinations based on Norton's view of the facts, and in delivering the penalty, he mentioned that he had consulted his wife, a forensic pathologist, in reviewing Scott's autopsy.
Defense attorneys took exception to those comments and the result, but the judge said their complaints would have to be addressed by an appeals court.
Slager will likely get credit for the more than yearlong stint he has already spent in jail. In the federal justice system, there is no parole.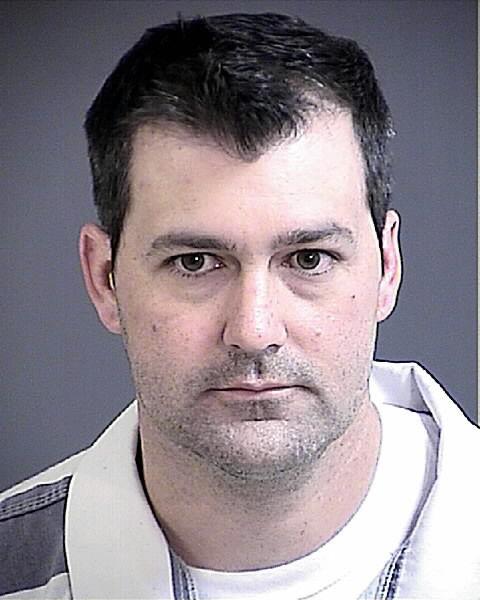 'Waiting for him'
Walking into the courtroom earlier Thursday, Slager had smiled and whispered to his wife, "I love you." He would walk out at the end with a blank expression on his face. Many of his loved ones cried and bowed their heads as Slager, whose toddler son had been born while he was in jail, was sentenced.
Slager's father and his mother had spoken out in his favor, describing a compassionate person who dedicated his life to public service. When he became an emergency medical technician, when he joined the Coast Guard, when he turned to a career in law enforcement, his father had asked him the same question each time: Why?
"The very first thing he said is he wanted to help people," Tom Slager said. "And help people he did. ... He did a lot of good for a lot of people."
But how his career ended, his mother added, would shake him and his family forever.
"I think about this constantly every day," Karen Sharpe said, weeping. "This will be in his heart for the rest of his life."
His wife, Jaime, said her husband had made her into the person she is today. Before, she said, her life was difficult, and he brought stability, accepting her two children as his own before they had a son together.
But she knew he would face a consequence for making a split-second decision.
"I miss him so much," she said, "and I will be waiting for him to come home."
By the time Michael Slager spoke, he already knew he would likely be condemned to a longer prison time than he once anticipated.
Before pleading guilty this spring, he discussed with his attorney how much time he could tolerate, relating to the penalty in terms of his son's age when he is freed from prison. They had hoped for less than 10 years.
But the judge ruled earlier Thursday on the murder finding that established a sentencing range of about 19 to 24 years.
Still, Slager turned to the courtroom gallery opposite his own family and named Scott's parents and brothers.
He apologized to them.
Judy Scott cried. She had also wept in private when she learned this spring that Slager would plead guilty. She cried at the knowledge that Slager, too, was a parent who would be kept from his family for a long time.
But Slager said Thursday that he was the reason that the mother would never again see Scott.
"I wish I could go back and change these events," he said. "But I can't."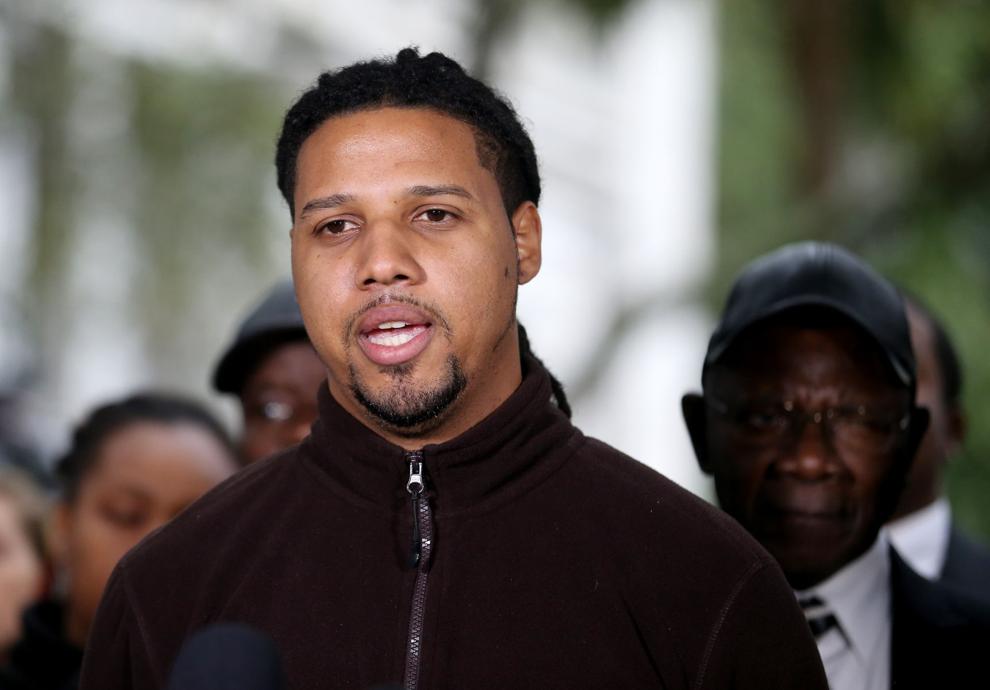 'Over and over'
Scott's family will miss his Sunday morning pancakes with eggs and Jimmy Dean sausage. They will miss his singing, his love of the Dallas Cowboys, his competitiveness in chess.
They accepted Slager's apology, though some said it should have come much sooner.
With each play of the eyewitness video, they relive Scott's death, they said. Santana, the man who filmed it, sat in the back of the courtroom.
"Pow. Pow. ... Pow," Scott's oldest brother, Anthony, said. "We see this over and over again. This is something that can never be erased from history.
"This has changed the course (of policing) throughout the United States."
Of those who were not attorneys, though, Slager got the last word in the courthouse. His voice crackled as he stood in front of the judge.
"I had hoped that some day, (Walter Scott's) family could forgive me," he said. "But after sitting in court and listening to them, I know they have.
"I am grateful for that."