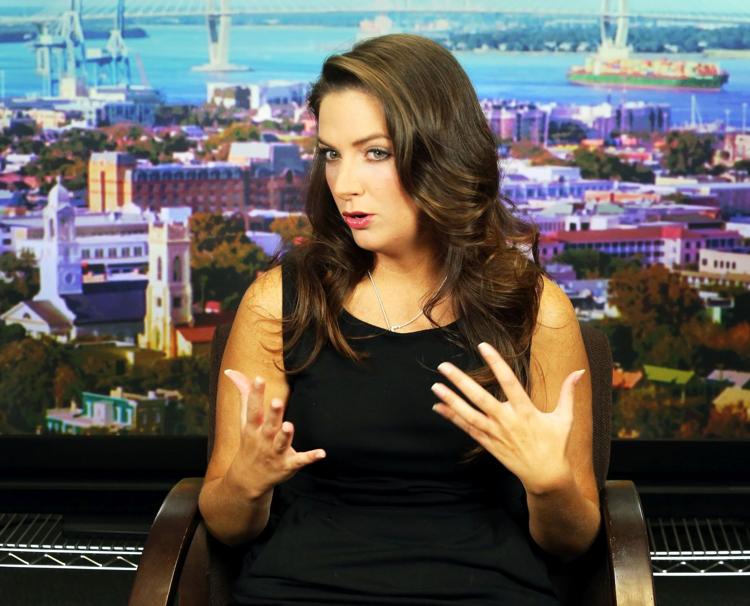 Former Miss USA pageant contestant Samantha Holvey of Mount Pleasant watched last week's presidential debate to see if Donald Trump might have changed his attitudes toward women.
She was disappointed.
Calling Hillary Clinton "such a nasty woman," and then saying that he supports women, came off as shallow, Holvey said.
"I threw-up in my mouth a little bit," she said.
Holvey, 30, represented North Carolina in the 2006 pageant, which Trump owned at the time. She said Trump's conduct was "creepy" around the women participating but never made an advance toward her.
"He wasn't talking to us," she said of one contestant lineup. "He was just looking at us, kind of like when you go to the zoo and you look at the animals in their natural habitat." 
Trump's manners were worse during the final, she said. Holvey recalled sitting in a chair getting her makeup done and wearing only a robe. Trump moved into areas where she and other contestants were getting ready.
"I've never been around men that were like that," said Holvey, who grew up in West Virginia and graduated from Campbell University, a private Southern Baptist school in Buies Creek, N.C.
Today she works for a national health care information technology association. She moved to Mount Pleasant last year and has told her story several times to media outlets. Other Miss USA contestants have reported similar accounts, according to media reports.
Trump and his supporters contend the concentration on negative stories involving women from his past are being pushed by the Hillary Clinton campaign, the media and other opponents.
"We have zero comment on any of the bimbo eruptions contrived by the Hillary Clinton campaign," said Ed McMullen, a Trump adviser in South Carolina.
Andre Bauer's short-stay house
Former S.C. Lt. Gov. Andre Bauer is one of the featured guest commentators on CNN this presidential campaign season.
And up until Friday, one of Bauer's profile Charleston properties was listed on a short-term rental website.
VRBO - Vacation Rental By Owner - featured an 1862 Tradd Street home Bauer owns as being available at an average nightly cost of $429, with a minimum two-night stay.
"Our property is the perfect space for a quaint romantic get away, girls' weekend, golfing trip, wedding party, honeymoon, traveling couples, and more," the ad says. "The historic home sleeps four with two queen size beds and one over sized couch."
The ad continues, "Staying in this property, you will be living like a local. The owner, South Carolina's former Lt. Governor and CNN commentator will be more than glad to assist with arranging reservations at the most sought after restaurants and events (with prior request when possible)."
There's also a picture on the site of Bauer standing next to GOP nominee Donald Trump.
Reached Friday, Bauer said the house was listed by the property company he'd hired to manage what he owns while he concentrates on his CNN gig. He said it was put on VRBO without his okay. He said he ordered all of his property pulled from the site after Palmetto Politics reached out to him.
"I actually told them not to be doing it in the first place," Bauer said.
Bauer also said he received a letter from the city of Charleston a while back telling him not to offer short-term rentals, which is illegal in most parts of the city.
And while Bauer is a Trump supporter, he said he would never post a Trump photo on a real estate site, calling it bad for business.
New Berkeley GOP chairman might bring peace
The Berkeley County Republican Party's new leader says he is focusing on the future rather than the past.
Bruce Gonzalez, 32, was elected chairman of the embattled group during an executive committee meeting last week.
He succeeds county Deputy Administrator Tim Callanan, who in September said he would step down after calls for his removal in recent months.
In May, the executive committee held a meeting while Callanan was out of town – a meeting Callanan said was in violation of party rules – to take a vote of no confidence in him. He had been chairman since April 2015.
Callanan also served as leader of the group in 2011-12.
Asked if he is concerned about the divisiveness of the local party, Gonzalez, who has been a member for two years, said he had lots of concerns.
"I won't lie. We can have diversity but still be aligned in our common goals, and that's going to be my objective," he said.
"This is a new ballgame as far as I'm concerned. I'm going to focus on the current and the future. The objective is positive change."
Mike McCurry at The Citadel
One of the figures behind this year's non-partisan presidential debate committee and a former press secretary for President Bill Clinton will speak Thursday. at The Citadel.
Mike McCurry will speak and hold a Q&A session about the presidential debates and the election.
McCurry is a Charleston native who has held multiple posts in government, including as chief spokesman for the State Department.
The forum begins at 6:45 p.m. in Bond Hall on the Citadel campus. The event is open to the public.
Brenda Rindge and Schuyler Kropf contributed to this report.