Hurricane Irma's wind speed fell to 165 mph Thursday night as the National Hurricane Center in Miami put out hurricane and storm surge warnings ahead of expected Florida impact.
The latest forecast model puts the Charleston area outside of the projected cone as it shifted west.
Forecasters issued a warning for a sizable segment of Florida, including the Miami metro area and Lake Okeechobee.
A storm surge watch has been issued for the east coast of Florida north of Jupiter Inlet to Sebastian Inlet and for the west coast of the state north of Bonita Beach to Venice, the Hurricane Center said.
A hurricane watch was issued for the state's east coast, north of Jupiter Inlet to Sebastian Inlet, and for its west coast north of Bonita Beach to Anna Maria Island, the Center said.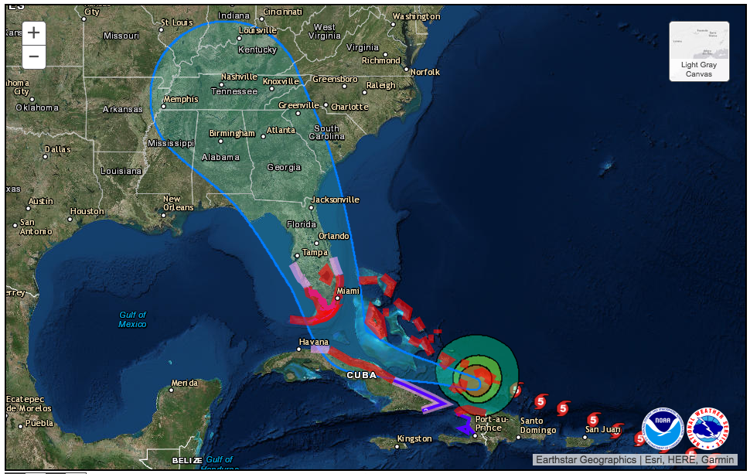 South Carolina
Thursday also saw officials urge South Carolinians to prepare for impacts from the approaching storm.
President Donald Trump declared an emergency for South Carolina ordering federal assistance for state and local response teams in anticipation of damage from powerful Hurricane Irma early next week.
The declaration came hours after Gov. Henry McMaster said he expects to issue an evacuation order effective 10 a.m. Saturday. He did not officially make the order yet. He said that during the evacuation, if ordered, Interstate 26 lanes will be reversed to from Charleston to Columbia.
"Be prepared. Final decision will be made (Friday). If evacuation order is issued in your county, it will be effective 10am on Saturday," McMaster tweeted Thursday night.
The state is prepared to open 200 shelters and transport 10,000 people by bus if needed, he said.
Trump's declaration authorizes the Federal Emergency Management Agency to mobilize, and potentially provide equipment and resources, 75 percent paid with federal dollars.
The announcements came as the forecast track for Hurricane Irma continued to indicate South Carolina will feel at least some of its blast. By Thursday, the storm had become in one sense the strongest on record: No previous hurricane held such strong winds for so long.
"No matter what the scenario, at this point in time we should expect strong winds, heavy rains and lots of flooding," said meteorologist Shea Gibson, with the Charleston-based private forecasting company WeatherFlow said on Thursday. "We still have standing water in many portions of the region. Add a foot or more and we have a real disaster ahead."
Rising winds and storm rain are expected by Sunday night. As the storm closes in, tornadoes are possible north and east of its eye.
Charleston evacuation
The city of Charleston has declared a state of emergency and area county officials are urging people to leave early.
If an evacuation is call for, shelters will be opened and locations announced. Some shelters might be opened whether or not the evacuation is called. The county can provide shelter for about 2,500 people if Irma is a Category 3 storm or stronger. If Irma is a weaker Category 1 or 2, shelter space will be available for about 6,000 people.
Transportation to shelters will be provided for local residents who need a ride. Folks who need a ride should go to one of about 85 locations throughout the area that are marked with a sign with a bus and a hurricane symbol.
Charleston officials said staff began notifying vulnerable populations about the storm's potential impact. The effort included outreach to homeless individuals and those in public housing.
More than 20,000 sandbags were distributed to Charleston residents on Thursday from four pick-up locations. Distribution of a final 8,000 bags will take place on Friday.
Hurricane Irma's Impact
With the evacuation announcement widely expected, coastal residents in South Carolina on Thursday began to evacuate on their own, one by one.
Cars were lined up at gas stations. By the afternoon the wait for sandbags at Milford Street in North Charleston was two hours long.
Flights to and from Charleston International Airport are expected to be affected as Hurricane Irma approaches the U.S. over the weekend. Passengers are urged to check with their airline for the latest updates.
The College of Charleston and The Citadel planned to close Friday. Local school districts all announced within minutes of each other Thursday that they will be closed until Wednesday. All athletic events at Charleston, Berkeley and Dorchester county schools have been canceled. (See more closings)
On Thursday, concern for the Southeast coast began to turn to the potential for what one forecasters called record storm surge from a storm about as large as South Carolina. The coast is still repairing millions of dollars of damage done Hurricane Matthew in 2016.
If Irma is as strong as predicted when it moves up the Southeast coast, "the portions of the coast that the eyewall touches will potentially see a massive and catastrophic storm surge, breaking all-time storm surge records and causing many billions of dollars in damage," said Jeff Masters, meteorology director for the private forecasting company Weather Underground.
"Even areas up to a hundred miles to the north of where the center makes landfall could potentially see record storm surges," he said.
The rising surge can be tracked from an array of sensors being deployed along the coast by the U.S. Geological Survey. Survey crews are installing sensors as well as other equipment at 70 bridges, piers, and other structures in South Carolina.
The information is expected to help public officials assess storm damage, discern between wind and flood damage, and improve computer models used to forecast future floods.
To track the incoming data, go to http://water.usgs.gov/floods.
Forecast Models and Impact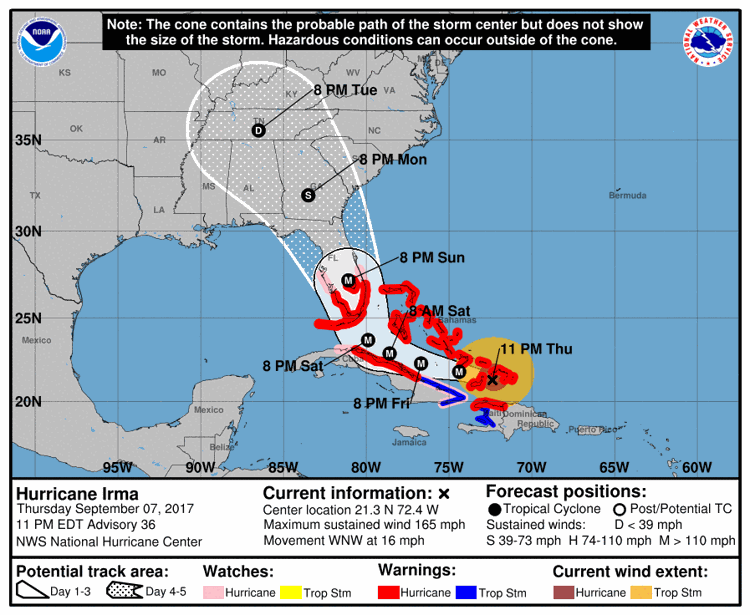 The Hurricane Center in an 11 p.m., update, showed the track heading up Florida after making landfall in the southern part of the state, and heading into Georgia.
A more westward-trending track could mean less impact on South Carolina, but the margin of error was still wide enough that some of the storm's force may be felt. 
"Global (computer) models still show differences regarding the exact path Irma takes into the Southeast and its intensity leading up to and at landfall. Everyone is reminded not to focus solely on the eye because impacts from the storm can be felt hundreds of miles," National Weather Service, Charleston, meteorologists said.
At 11 p.m. Thursday, Irma located 585 miles east-southeast of Miami, the Hurricane Center said.
The Post and Courier staff contributed to this report.