For three days, officials saw eastbound motorists creeping over the two interstates in the Charleston area, hoping for no accidents that would make the traffic even worse.
The congestion since Interstate 526 became a two-lane, two-way road around a shuttered Wando River bridge caused headaches for many using that highway and Interstate 26 to get from Summerville and North Charleston to Charleston and Mount Pleasant.
For three days, it was an inconvenience; many commuters had dealt with slowdowns before.
On Thursday, it turned into a nightmare.
With four cars involved and five people injured, the wreck that officials had feared came to pass, backing up eastbound I-26 from the Charleston peninsula 15 miles to Ladson and turning commutes into hours-long journeys. The ordeal provided fodder for critics questioning the crossover lanes on I-526 — the state's temporary solution for moving traffic through the region during a four-week repair job on the westbound James B. Edwards Bridge, which closed May 14 because of a broken support cable.
"It was just a backed-up day," North Charleston Mayor Keith Summey said. "There was not anybody who was happy out on the roads. ... It was the worst-case scenario, and I told them this is what could transpire."
Summey had asked the S.C. Department of Transportation earlier this week to undo its reversal of eastbound I-526 for the morning rush hour. His idea, he said, was rejected.
Without plans to revise the measure, the DOT said it can do little about the poor driving that tied up traffic Thursday morning. The agency said it did not have tow trucks or emergency vehicles stationed on I-26, as it had on I-526 near the troubled bridge.
"That's driver behavior, not the DOT," agency spokesman Pete Poore said.
'Nowhere to go'
Thursday's gridlock had motorists apprehensive of more trouble over the next two weeks until the bridge's scheduled reopening on June 11. Travelers trying to reach the Mount Pleasant area had been seeing 40 minutes added to their travel times, but state officials insisted that their commutes were getting shorter by the day.
But about 6:29 a.m. Thursday, as the morning rush hour ramped up, four cars crashed into each other on I-26 near North Meeting Street in Charleston, police spokesman Charles Francis said. Officers called for help from Mount Pleasant police, but together, the officers wouldn't clear the scene until 7:07 a.m.
The cars stacked up.
Two minor rear-end crashes were reported. One car ran out of gas, S.C. Highway Patrol Lance Cpl. Matt Southern said.
The average speed on I-26 near Dorchester Road stayed below 10 mph at 8 and 9 a.m., DOT data showed. It hovered around 23 mph until noon, when it recovered to 58 mph.
Some drivers kicked off their shoes and put their feet on dashboards. A few stepped outside and took bathroom breaks — a scene reminiscent of a hurricane evacuation. Some said they hadn't seen traffic so bad in decades.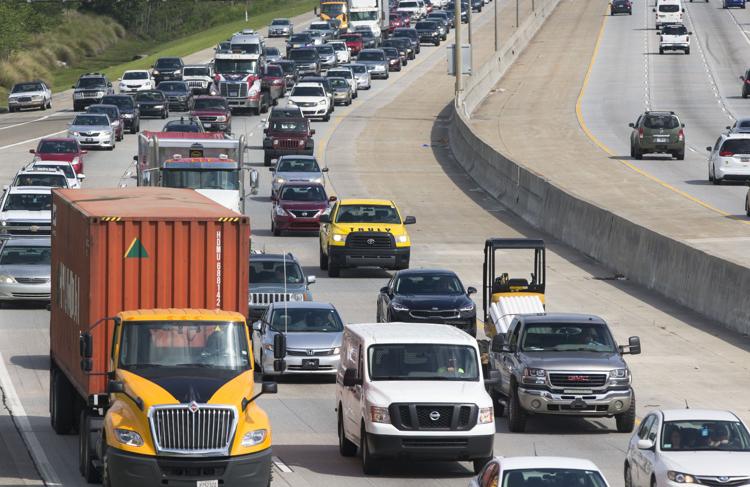 Lauren Blanton, 35, has spent up to two hours this week traveling from her West Ashley home a mile from I-526 to the place where she works as a paralegal on Long Point Road in Mount Pleasant. The traffic conditions are unprecedented and prove the need for better transportation infrastructure, the lifelong local resident said.
"Traffic has never been anything like this," Blanton said. "Something has to give, and (officials) need to start planning for the future. ... The people who drive to and from Mount Pleasant from other parts of the tri-county area are getting screwed."
Two-way traffic on the eastbound side of the Wando River bridge started Sunday afternoon. Blanton and other critics said the switch transferred the gridlock seen in Mount Pleasant last week to other parts of the metro area.
Summey immediately saw the effects for motorists in North Charleston and points north and west. Drivers from Summerville and Goose Creek saw treks to Charleston and Mount Pleasant that lasted two or three hours Thursday morning.
The traffic spilled over to secondary roads such as Spruill Avenue, he said.
"I think the backup (Thursday) morning was an indication of how bad it can be," the mayor said. "It's hard to send them anywhere when there's nowhere to go."
Thirteen troopers from other parts of the state are stationed along I-526 throughout the day. Tow trucks sit at both sides of the closed bridge. But no such measures have been in place on I-26, which has seen heightened traffic since the span's closure.
"We're not putting any additional resources out there" on I-26, said Lt. Bob Beres of the Highway Patrol. "But we're still going to respond to collisions like we normally do."
'All in this together'
Mount Pleasant Mayor Will Haynie reiterated state officials' argument: that the reversed traffic has helped the greatest number of people and a critical port terminal on the Wando River.
But Haynie was among the people who, after the bridge's closure, voiced concerns about rapid development in the region. Mayhem, he said, can result from just two traffic lanes being shut down.
There are plans in the works for improving highly traveled roads in the tri-county area, but it will be several years before any new construction is finished and brings relief. The projects include a reconfiguring of the oft-troublesome I-26 interchange with I-526 and a widening of an 8-mile stretch of I-526 between West Ashley and North Charleston.
Part of Clements Ferry Road, a key link between the Mount Pleasant area and I-526, will be widened by next year. The route became especially clogged during first days after the bridge closed down, though the traffic has thinned out this week.
"We're all in this together," Haynie said Thursday. "I don't think anybody is getting a better deal than anybody else. I just think the effects are hitting other areas after they hit us last week. I wouldn't wish our first week on anybody."
Still, motorists took to social media and expressed their frustration, saying Mount Pleasant has fared the best in the ordeal. It would have taken less time to travel from Summerville to Myrtle Beach than to downtown Charleston, some said. Lamenting how long she had been stuck in her car, another Twitter user posted a picture of a skeleton behind the wheel.