State regulators say a platform moored in a creek near Folly Beach needs to be removed in 30 days.
The "floating island," as some have dubbed it, has provoked both fans and foes. Some say the roughly 20-by-20 foot wooden float is marring the natural beauty of the area. The structure has furniture attached and resembles a deck that drifted of its own accord into the waterway.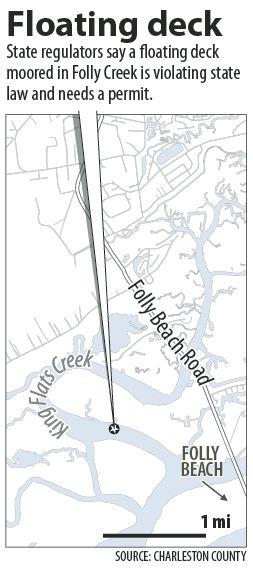 Others have admired the pluck of the people who put it there, and suggested they might pay it a visit on a sunny day. The platform is moored in Folly Creek, a little more than half a mile north of where the creek dumps into the Folly River at Mariner's Cay Marina. 
But the S.C. Department of Health and Environmental Control asserts in a letter sent to the owners this week that the structure violates state law.
The builders did not seek a permit to put it in the creek. The waterway is "critical area," or one of the types of sensitive environment that the agency is tasked with protecting.
Steve Turano, one of the people behind the float, said lawyers are reviewing a letter sent by DHEC and will respond with their own missive shortly. 
"We are very, very confident that we still do not need a permit," said Turano, who is a captain with Huckfin Charters. 
What's still unclear is the purpose of the platform. Turano said it is purely for personal enjoyment, and that it was never meant as a place of commercial activity. But Huckfin posted a picture of the platform under construction on its Instagram page last month. 
"We figured If you name your company HUCKFIN CHARTERS.......you need a raft!!!!!" the company wrote in the post. 
It's also unclear whether the public has taken to using the raft, as some have suggested on social media. Turano said he checks on the structure daily and often more than that, but admitted he was not able to police it every hour of the day. 
Turano did categorically deny one rumor that's popped up around the float: that the charter company intended to have customers shoot skeet from the deck. That is something Huckfin does from a boat, but Turano said that was never the plan for the floating island.
"That's not the intent at all," he said. "There were no plans to shoot off a dock."