COLUMBIA — For the 20th time, a state parole board Wednesday denied the release of Folly Beach killer Richard Valenti, who was convicted in the infamous slayings of two teenage girls in 1974 but remains eligible for parole every two years. 
The five-member S.C. Board of Paroles and Pardons voted unanimously to deny parole after emotional testimony in a brief Columbia hearing from the mother of one victim and the sister of the other.
"He's not cured. He's an evil person," said Mary Latimer, mother of Alexis Ann Latimer, who was killed when she was 13 years old. "Please, I implore you, keep Richard Valenti in jail until he dies."
Latimer was flanked by a dozen family members, former detectives and other supporters, including Paula Clark Marion, sister of Sherri Jan Clark, who was killed at 14 years of age.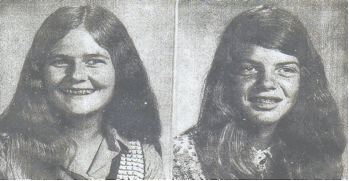 In a video feed from Lee Correctional Institution, where Valenti is living in his 44th year of imprisonment, he told the board he has been saved by God and is no longer a danger to society. 
"Those things which plagued me are no longer a part of my life," Valenti, 75, said. 
But the board didn't discuss the matter and voted immediately to deny his request. 
Valenti was given two life sentences for the two murders, but because of state law in the 1970s, he's eligible for parole every two years. Typically, S.C. prisoners now given a life sentence for violent crimes, such as murder, aren't eligible for parole. 
That old law has caused a decades-long fight among the victims' families to keep Valenti in jail. And it forces them to relive the crimes every two years, unsure if Valenti will ever get out.
"I was terrified," Mary Latimer said after the hearing Wednesday. "I am so relieved that they did this and that they did it immediately."
Ahead of Wednesday's hearing, Marion collected roughly 4,000 signatures on online petitions in support of denying parole, which she shared with the parole board. 
The details of Valenti's crimes have stayed with the families for decades. 
The two teens went for a walk on Folly Beach in May 1973. More than 10 months later police unearthed their bodies from shallow graves near Valenti's home. 
Valenti, then 31 and a former sailor, had kidnapped the girls at gunpoint. He then tied them by their necks to water pipes, kicking out chairs from underneath them to watch them struggle. 
Authorities tied Valenti to another homicide of a 16-year-old girl, in addition to attacks on five other women, but declined to prosecute those cases while pursuing life sentences on the others.