Tropical Storm Florence is moving into warmer water and is expected to become a catastrophic hurricane again by Wednesday.
The odds have increased that it could make landfall on the East Coast anywhere from South Carolina to the north, perhaps as a Category 4 monster with pummeling winds at least 130 mph — similar to the devastating Hurricane Hugo, which struck Charleston in 1989.
Computer runs suggested that Thursday is the earliest any landfall would take place.
North Carolina Gov. Roy Cooper declared a state of emergency Friday night, urging residents to use the weekend to prepare for the possibility of a natural disaster.
In South Carolina, state and local emergency management operations began to ramp up Friday, and Gov. Henry McMaster canceled a planned weekend trip to a Republican Governors Association event in Sea Island, Ga., to monitor storm preparations.
Charleston, Berkeley and Dorchester counties all increased their awareness levels, as well.
If the new odds aren't bad enough, forecasters on Friday began eyeing a storm off Bermuda taking on the traits of a tropical system. Florence, whose maximum sustained winds had dropped to 60 mph late Friday night, is likely to pull in that storm, making Florence bigger, maybe more powerful, and tugging its path somewhat more to the south.
Something similar occurred with Hurricane Katrina before it struck the Gulf Coast in 2005 as a Category 5 storm with winds at times more than 175 mph.
"We sometimes see the transfer (of the pulled-in storm) become an integral part of enhancement for the larger system," said Charleston-based meteorologist Shea Gibson of the private company WeatherFlow.
"At times, there can be some fluctuation in the intensity and structure until the storm can reorganize given the new influx of energy," he said. "One thing we don't know is exactly which way Florence will go."
The tropical storm was about 1,000 miles southeast of Charleston on Friday night.
High surf pushed up by Florence is expected to begin pounding South Carolina this weekend, and the risk of dangerous rip currents will rise with it.
"The risk of other direct impacts (besides high surf) associated with Florence along the U.S. East Coast next week has increased," said Hurricane Center specialist Robbie Berg.
"However, there is still very large uncertainty in model forecasts of Florence's track beyond day five, making it too soon to determine the exact location, magnitude and timing of these impacts," he said.
Even if the storm stays offshore, it could well get close enough to bring several days of damaging surf, coastal flooding and beach erosion, said meteorologist Jeff Masters, with the private company Weather Underground.
"All interests along the U.S. East Coast from Florida to New England should monitor closely the forecast of Florence. If you live in a hurricane-prone location, now is a good time to make sure you have a preparedness plan in place," Masters said.
Mark Malsick, the S.C. Climate Office severe weather liaison, said he expects Florence to intensify rapidly on Monday to a major hurricane. Until hurricane hunter aircraft begin taking more exacting measurements on Monday, the forecast tracks and computer landfall predictions would be expected to change considerably from run to run, he said.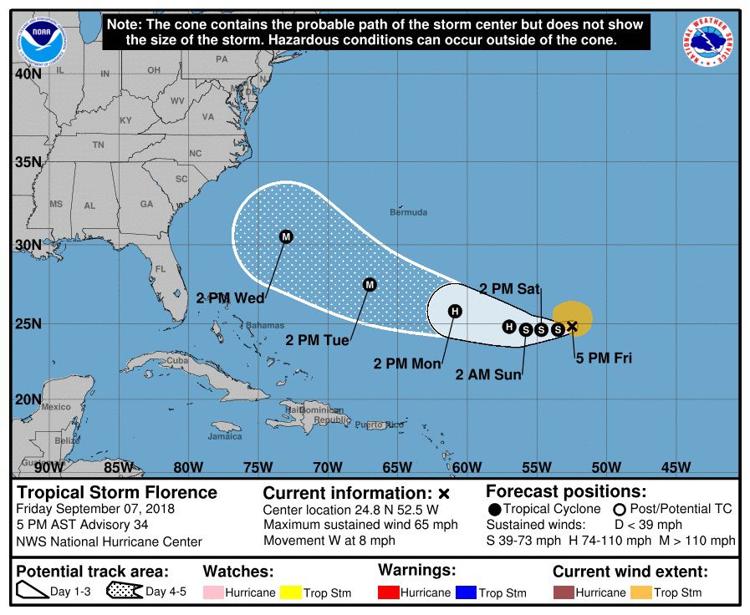 Florence and the storm off Bermuda were two of four systems in the Atlantic basin as of Friday, as the hurricane season moves toward its peak day of potential hurricane formation on Monday. Two more storms are emerging off Africa in the tropical Atlantic and both are expected to be tropical storms or worse by Tuesday.
What happens with Florence could decide whether they track toward the outer Caribbean islands and potentially the Southeast, forecasters said.