CONWAY — They arrived at this town's Riverwalk area by the dozens, slack-jawed and holding up cell phones to record a sight they'd never imagined possible.
Normally, the Waccamaw River that runs through this historic town meanders within sight of downtown's Riverwalk with its pretty fountain, restaurants and wrought iron benches. On Sunday, there was only river, coursing from its banks to transform the Riverwalk into a lake, one with a current.
A bar and grill sat in the middle of the deluge, an island now, as boats glided past an area where normally residents buy produce at a farmer's market.
Streets all around Conway were barricaded to keep people out of flooded neighborhoods. Water swelled into homes and, on this Sunday, churches, too. It flooded businesses, including swamping Darren Smith's restaurant Bonfire, "a smokin' tanqueria," with a good 3 or 4 feet of water, so far. Smith has 48 employees depending on him.
"Now what do I do?" he asked.
Nearby, Santee Cooper flew a helicopter carrying massive sandbags to reinforce its Aqua Dam. The government-owned power company is engaged in an all-out effort to protect its coal ash pits in Conway from rising floodwaters and a potential environmental disaster in the wake of Hurricane Florence.
"We're using every opportunity we can," spokeswoman Mollie Gore said.
The fire chief had heard that almost half of the roughly 2,000 houses in Conway, the Horry County seat, likely would suffer flood damage.
"Dear God, dear God," Libby Lewis murmured to herself walking along the Riverwalk's submerged railroad tracks to see the damage. "It breaks my heart."
They had known it was coming. Since Hurricane Florence stormed by and leading up to this moment when floodwaters from North Carolina arrived has been tortuous days in the predicting. The Waccamaw, its crest still two days away, is expected to rise 4 feet above its previous record set after Hurricane Matthew two years ago. That was back when people thought it couldn't get any worse.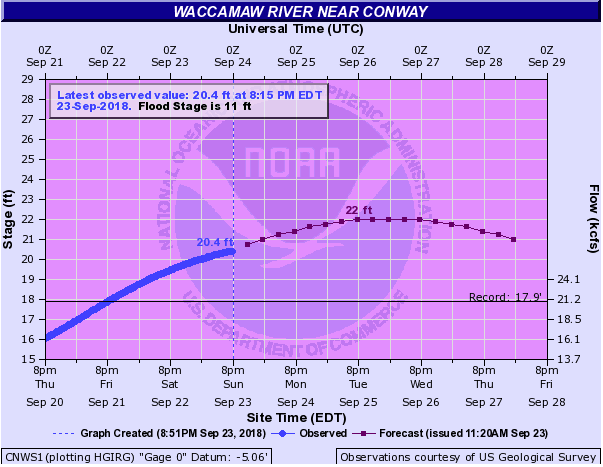 Then they saw pictures out of Nichols late last week, an entire town underwater for the second time in two years, and they knew it was real. They were next.
"Every year, we're thinking, 'This is it,'" said Joe Burroughs, who with his wife Nancy owns 104 Laurel, an elegant event venue that held a wedding the previous night. Now, water lapped within inches of its 1930s-era pine floors.
On Sunday, residents estimated that in 24 hours, the water had risen a good 16 inches or more with almost three more feet to go until it crested, if National Weather Service predictions prove correct. 
"We've never seen this before," Conway Councilman William Goldfinch said, watching water course through businesses.
Now, that water is all heading downstream.
Change is here
In tiny Bucksport to the south, it came. Water crept up residential streets, flooded the marina, and soon flowed over the main road in. 
When people living on Martin Luther Drive saw it filling their street Sunday morning, they hurried out. They remembered Hurricane Matthew, which also swamped their street and left a devastating legacy of damage. 
Groups of family members hurried out, then met up at Victoria Chapel Holiness Church across the street watching the water come. Another church down the road already flooded. 
Roosevelt Sherman has lived here all of his 70 years. He hadn't seen water come up like this and was heading out.
Blake Morgan McCray was leaving, too, but with some flare. As the 19-year-old's mother watched, he drove their pickup down the increasingly flooded street.
"Oh, Lord, he's coming," his mother, Denise, frowned.
The teenager cranked up the old tune "A Change is Gonna Come" on his speakers and plowed on down the road, creating a tremendous wake as he drove.
It's been a long, long time coming
But I know, but I know a change is gotta come
His mother met him, relieved he made it. 
"I think it's going to be worst than before," she worried as they headed out.
Indeed, by day's end, the road into Bucksport was closed, water flowing over it.
'We might not go back'
At Whittimore Park Middle School, 54 people, mostly from Bucksport, approached their third week in a shelter.
For many, it was their second stint after a shelter to the community between the Waccamaw and Pee Dee became surrounded by floodwaters and was itself evacuated.
Still, Hazel Bellamy was thankful. This was the second time she and her many family members, all of whom lived on or near Martin Luther Drive, had their homes flooded by a serious storm.
Two years ago, during Hurricane Matthew, they'd woken up to the National Guard pounding on their doors, with about five minutes to escape before the water rose. This time, there was notice days in advance.
"I thank God we didn't have to wake up to that this time," Bellamy said.
Letha Cantey, Bellamy's sister, was grateful to have a place to stay where shelter staff worked hard to keep the place clean and livable. Row after row of green cots, brought in by the Red Cross, lined the middle school's halls.
But it's uncertain what her family will do next. Many still had mold in their homes from Matthew. Bellamy said if she had the means to leave her home, she would. But she hadn't gotten enough aid money to fix it up after Matthew — and wasn't optimistic about this time.​
"From the looks of it, we might go back, but I don't know if we can live anymore in those homes," Cantey said.
Preparing downstream
The floodwaters kept flowing. They'd flowed through Nichols, now through Conway and Bucksport, and headed for Georgetown.
There, transportation officials and the S.C. National Guard prepared for an expected deluge of water from the Waccamaw and Pee Dee rivers to flow south over the coming week — potentially inundating a potion of US 17 and cutting off yet another major road near the Grand Strand.
Officials from S.C. Department of Transportation began sandbagging and building a water-filled barrier along low-lying sections of the road, including near the Georgetown Marina. 
The National Guard turned to another strategy in case the barriers failed. Guardsmen stitched together seven rafts to create a floating bridge that could carry semi trucks of supplies, equipment or personnel across the water, if needed.
Folded sections of the bridge were lowered into the water of the Sampit River in a boat landing just south of Georgetown, and then unfurled, splashing in the murky brown water as they flattened.
It was the first time the technology had been deployed by the S.C. National Guard, said Capt. Joseph Varin. He said it still wasn't clear what path the raft would take if it was used as a ferry in an emergency situation.
"We're trying to research where we can have access, based on the flood models. So we need to try to understand where the water might go and how deep it may be," Varin said.
But with a record-setting flood traversing such a large swath of the state and now heading for the heavily populated coastal towns, they are trying everything they can.