At 8 p.m., the core of Tropical Storm Florence had crossed from North Carolina into South Carolina, still throwing around 70 mph winds.
It was within 15 miles of Myrtle Beach and had turned west but barely creeped along at 3 mph.
In Charleston, sunset in the clouds had taken on weird glows of orange and then pink. The earliest bands of heavier wind kicked in the palmettos and gusts approached tropical storm strength of 39 mph. But little rain had fallen.
Florence was expected to weaken overnight, reach the vicinity of Columbia by Saturday afternoon. From there, it was forecast to dissipate into a tropical depression, a weaker tropical storm, and turn northwest into the mountains. By Sunday afternoon, the remnants of the storm's core should cross back into North Carolina.
National Hurricane Center specialist Stacy Stewart warned of life-threatening storm surge on the upper South Carolina coast continuing into Friday night, and catastrophic freshwater flooding inland following the slow storm's downpours across the counties on either side of the North Carolina border.
In Charleston winds were gusting to 30 mph. In Berkeley County a flood warning had been issued for the South Santee River and the National Weather Service in Charleston cautioned people to stay off Lake Moultrie, where wind-driven waves could get 4 feet or higher.
The storm was still a menace.
Nearly half the counties in South Carolina were under a tropical storm warning, a caution that winds of at least 39 mph were expected. They included Charleston, Berkeley and Dorchester counties.
The worst of the storm was expected to include gusts near 60 mph and 5 inches of rain in northern Berkeley and Charleston counties. But the farther south you go, the less severe winds and rains were expected. Little more than an inch was forecast for Charleston.
By Friday evening, five people were confirmed dead in North Carolina, including a woman and an infant when a tree fell on their house in Pender County outside Wilmington, near where the storm made landfall.
Earlier Friday, the National Weather Service cautioned South and North Carolina residents in a tweet that this storm "will be a marathon versus a sprint. In addition to the ongoing, dangerous storm surge and flash flooding, will be a long-term river flood threat WELL INLAND as very heavy rainfall continues to fall in the coming days."
In Columbia, state and local government offices had closed, along with schools and the University of South Carolina. The Gamecocks football game versus Marshall for Saturday previously was canceled as have most events around the capital city. Some businesses around the region have already made plans to close Saturday.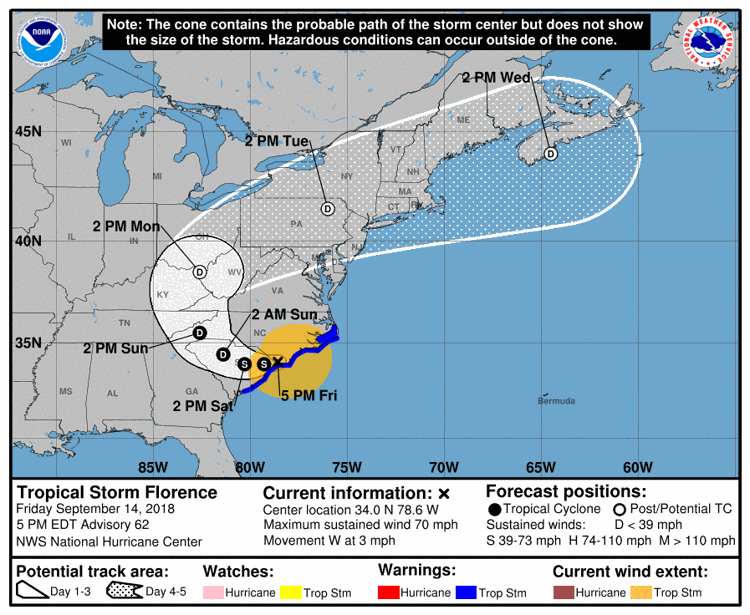 Disastrously flooding rain continued to be considered the main threat to the Palmetto State — three years after an historic flood and two years after floods from Hurricane Matthew's rain devastated towns such as Nichols along the North Carolina border.
As much as 40 inches of rain could fall in spots near the eye of the storm and 6 inches fall in the Charleston area. A storm surge of anywhere from 2 to 6 feet was expected along the South Carolina coast from Charleston north.
"The rain from Florence may go well past one or more all-time state records for rainfall from a hurricane or tropical storm," said meteorologist Bob Henson with the private company Weather Underground.
"North Carolina's state rainfall record from a hurricane is 24.06 inches from Hurricane Floyd in 1999. South Carolina's is 17.45 inches from Hurricane Beryl in 1994," he said.
Southeast SC and southeast GA not only have wind concerns from #Florence but also threats for heavy rain. Notice there is tight rainfall gradient along the South Carolina coastline with greater flooding impacts more likely for areas north of I-26. #scwx #gawx pic.twitter.com/c1Nkko0IS7

— NWS Charleston, SC (@NWSCharlestonSC) September 14, 2018
On Friday, Lowcountry residents who did not evacuate were taking this storm in stride. Bikes crisscrossed downtown Charleston streets where few cars passed. People hunted for unusual shells washed up on the beach on Sullivan's Island.
With Berkeley County expecting maybe the hardest hit in the three counties, Joe Mirenda, 38, was shopping at Henry's Bait and Tackle in Cross.
Mirenda said he wasn't worried about his home and that he's weathered many storms here as a longtime resident.
"We've got it locked down like Fort Knox," he said. He planned to go to a friend'a house and fire up the grill.
The Hurricane Center first reported Florence ashore at 8 a.m. Friday after the eye started making landfall near Wilmington, North Carolina starting shortly before 6 a.m.
At that time, the storm packed dangerous 90 mph winds and had wracked the North Carolina coast for six hours before coming in. A wind gust of 105 mph was recorded at the Wilmington International Airport.
Gusts peaked at 108 mph, the highest winds in Wilmington in six decades, and a deluge of rain showers had prompted overnight flash flooding warnings for the area.
Those who tried to get some sleep Thursday night were woken up by battering winds. The pouring rain seemed to fall in all directions. The storm's winds continued to span 80 miles at hurricane force and 195 miles at tropical storm strength. Wilmington is about 170 miles north of Charleston.
That level of deluge will put to the test any number of repairs and improvements made by local governments in the wake of the historic 2015 flood and Hurricane Matthew in 2016.
Folly Beach Mayor Tim Goodwin watched the wind pick up outside his window Friday afternoon. He was frustrated, because $11 million was pumped into renourishing the beach this year after Matthew and Irma, and the sand was already starting to move around.
Folly Beach is severely erosive. Goodwin said the re-positioned sand, dredged from the Folly River, is more likely to shift than sand that's been in place for years.
"We're in the middle of a renourishment project, and here comes a hurricane," he said.
The project is funded by the federal government. Goodwin said surveyors would have to check the beach after Florence passes to know just how much damage was done.
North Charleston has spent more than $100,000 on a hazards mitigation plan, and spent countless employee hours in flood-prone neighborhoods making repairs, cleaning storm drains of debris, trash and silt.
The city used historic flooding data from the last few years' heavy storms to target their efforts in the problem spots.
Andy Shain, Seanna Adcox, Joseph Cranney, Paul Bowers, MK Wildeman and Greg Yee contributed to this report.